The bedroom is where you start and end each day and oftentimes ends up being neglected as it's not the focal point of the house.  Even though not many people see your bedroom, i's an incredibly important space. The bedroom is  a safe haven for you to relax and rest your mind after a long day. A popular fact is that an adult spends an average of 9 hours in the bedroom everyday. A place where so much time is spent should be kept as beautiful and sustainable as possible. Everything about your bedroom should be pleasing and advantageous to your health. 
An Eco-Friendly bedroom is not only important to your health. It can help save our planet too. There are several pollutants in the air that are depleting the ozone layer and making the air we breathe less pure. This is why having a green bedroom is important because a good health starts with your body and immediate surroundings. 
Below, we will go through ways to make your bedroom practical, sustainable and aesthetically pleasing.
Eco-Lighting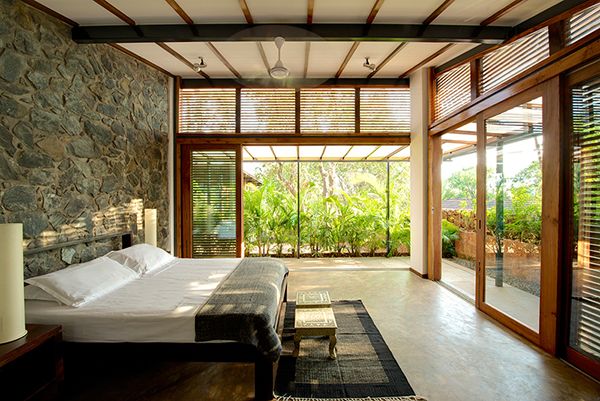 source: pinterest.com
Lights make up an important part of a bedroom. The correct illumination produces a relaxing ambiance. Lighting that is strategically placed can improve your emotions, enlighten your daily tasks, help you relax, and even make you more productive. However, the kind of lights you should get in your room need to be sustainable. 
LED lights are the way to go because they are safer and do not emit toxic rays. Additionally, they have low power consumption and are energy saving. This shows that they even last longer than conventional lights. You can get LED lights in your room and design them the way you want from ceilings, frames, walls and tables. You will be amazed at how beautiful your room can be with the perfect LED lighting. 
Non-Toxic Decorative Plants 
You can spice up your room while maintaining its eco-friendliness by using ornamental plants. They provide beauty and make the bedroom very cozy and welcoming. Plants generally help in purifying the environment by absorbing the carbon dioxide from us and releasing oxygen into the air. Therefore, it is very beneficial to have plants in your room.
With plants, you can keep your room smelling fresh and nice with the perfect humidity. Lantana Camara, sometimes known as the Feston Rose plant, is one such houseplant. The most amazing quality of this plant is that it produces an abundance of varied colored flowers. 
The lovely plant not only purifies the air but also emits a pleasant perfume.
Eco-Friendly Furniture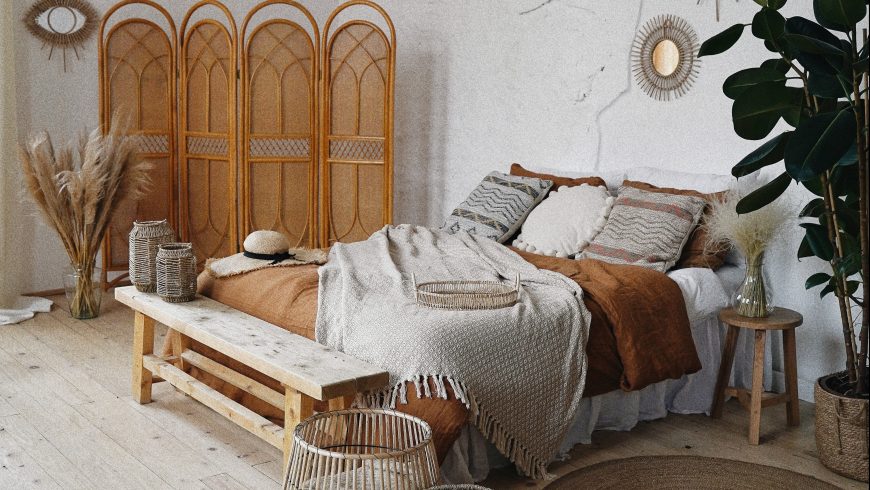 source: ecobnb.com
Having a stylish bedroom without beautiful furniture is out of the question. Furniture plays a huge role in a bedroom. There are several companies using wood scraps or broken wood pieces for the construction of their eco-friendly furniture. Some online retailers like houseandhold offer stylish eco-friendly bedroom furniture by dozens of the worlds top brands. Trusted brands like this are a great place to start.
The most environmentally friendly furniture is made from recycled resources such as reclaimed wood, recycled textiles, and other reused materials such as wood shipping pallets. Natural materials such as bamboo, rattan, and seagrasses are also good for furniture and home design. 
There are different options available. The goal is to make your room pleasing to you by using beautiful furniture that is also great for the environment. 
If you're looking for a popular brand of furniture that makes their products out of eco-friendly materials such as wood, leather and natural fabrics like cotton and linen, then Four Hands is a great choice.
Temperature Control and Less Electrical Appliances 
A different option to make your bedroom more eco-friendly is to turn off the thermostat. As previously said, an eco-friendly bedroom must be both healthy and energy-efficient. As a result, it's better to avoid using temperature controls. Air conditioners and heaters, especially central systems, consume a lot of energy and produce a lot of CO2. You can use windows and blinds as well as curtains with thick linen materials during the winter and during summer, you can open them all to let in some natural sunlight. 
Also, you should avoid clustering the room with several electrical appliances that may not even be in use or can be plugged elsewhere. Take out all devices you don't need and keep the room as neat as possible. It is important to avoid them because most devices emit rays that may be toxic and you should keep the air and bedroom space very clean. 
Hardwood Floors and Rug
source: pinterest.com
In the process of having a green bedroom and home generally, the flooring choice plays a huge part. Most carpets contain chemicals that are toxic and artificial and are not suitable to achieve a green bedroom. You need to stick with timber or bamboo flooring. Many people are opting for bamboo flooring instead of wood because they desire the beauty and durability of wood without the environmental risks associated with forest cutting. 
Plant fiber is inherently antibacterial, resistant to water, and durable. You should use materials like this in your bedroom. You can style them and use the rugs as you deem fit. Rugs come in various designs and colors. They will aid your good health and save our planet in the long run. 
Organic Mattresses and Bedding 
A lot of mattresses are made with PVCs which are a type of plastic and are not very beneficial to the environment. If you currently have PVC mattresses, you will want to get rid of them because they can also make health issues arise. You should use a mattress made from organic and natural products such as hemp, bamboo, cotton and the likes. 
There are several companies such as AmeriSleep who specialize in making sustainable mattresses and bedding. For that stylish look you have in mind, you can choose from the various options available and combine the colors to complement other materials and elements in your bedroom. 
Acrylic Water-based Paints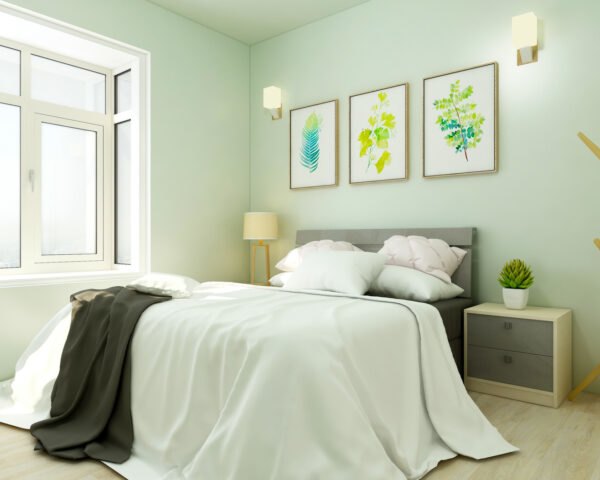 source: inhabitat.com
Water-based paints are the most environmentally conscious choice. You should use paints that are VOC-free. Standard types of paints contain petrochemicals and other toxic chemicals that are harmful to the health especially the respiratory system. This implies that only paints without volatile organic compounds should be used in your bedroom. Anna Sova is a popular paint company that makes organic paints. There are many paint options you can choose to make your bedroom stylish and to your taste. You can even combine the colors. 
Final Thoughts 
Through planning and some effort, you can create a stylish eco-friendly bedroom. The process of making your bedroom stylish and sustainable should not be tedious or rushed. You should make it happen naturally. 
Take your time to check out the various options you can buy from the lights to furniture, paints and more. The goal is to make the bedroom very stylish and aesthetically pleasing while saving the planet at large. Green living is healthy!