If you love turf, then you have to be ready to do this! Turf is a way to make your yard neat and stunning, not caring about the unsightly or uneven condition of the yard. Once you know, how to lay a turf will help you to create a final look, as you desire. It makes your yard with greater space for decorating and beautifying your outdoor events.
Though, it is not easy to spread the turfs layer of grass as compared to freshly-delivered layers. No need to think more! This guide given below will help you to lay a turf without any help, and you can give it a final look successfully. Make sure you understand the required things about the land preparation, maintenance method, and types of turf installation Texas.
Sites for Laying Turf!
source: hgtv.com
Before ordering any track, get known about the size and area of your yard, and then make a decision, as there are two types of turf – 'rolls' or 'tiles' shaped turf. Be ready with the prepared area for sod, as soon as your sward reaches to you, lay it quickly. Steps that you must follow to prepare the site –
Clean the site
Unwanted elements and waste not only make your yard dirty and ugly but also engages you in, by not allowing measuring the exact dimension of territory. So, wipe out your site and you can use herbicide, if necessary to clear it out. Hold on for two weeks, if you have spread out herbicide, then you can continue with your work.
Level the site
You can maintain the level of the site by excavation using a rake to complete your job, it keeps the grass at the same level, and if there is any gap you can fill it with organic matter or gypsum.
Project the measurement of site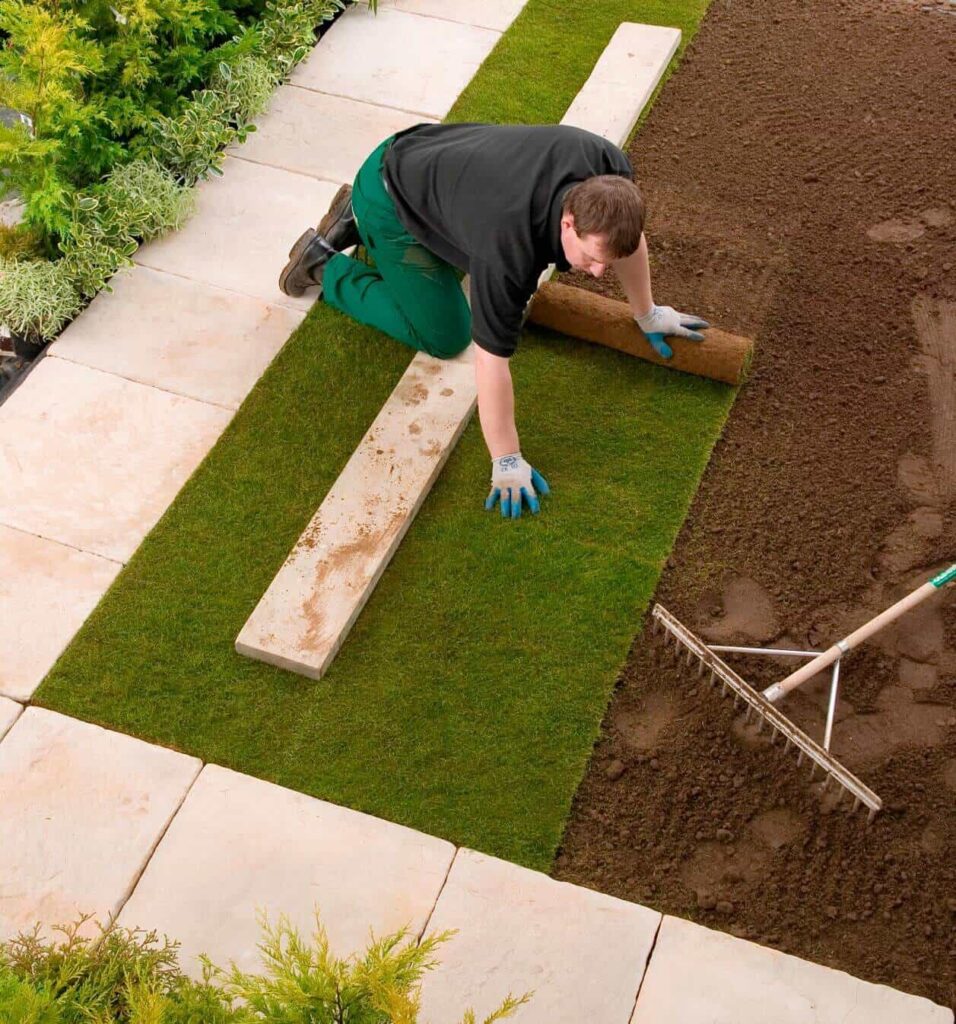 source: theenglishgarden.co.uk
After the measurement of the site, you can order turf, if your yard is large enough then you can divide it or make specific areas in a square, circle, or triangle. You can make such a dimension around any obstacle to get better looks.
Stability of soil
Laying sod is required for perfect soil; if you want to loosen the soil then use a rotary hoe, if the condition of the soil is not well then add topsoil.
Even without adding greensward, you need a good amount of soil to make a better layer to lay your turf. 
How to Lay New Turf Accurately!
If you are unable to do so, then it's better to hand it to a professional. If your yard is small and you can handle it properly then follow the steps efficiently, you can save your money too, let's see how to lay it accurately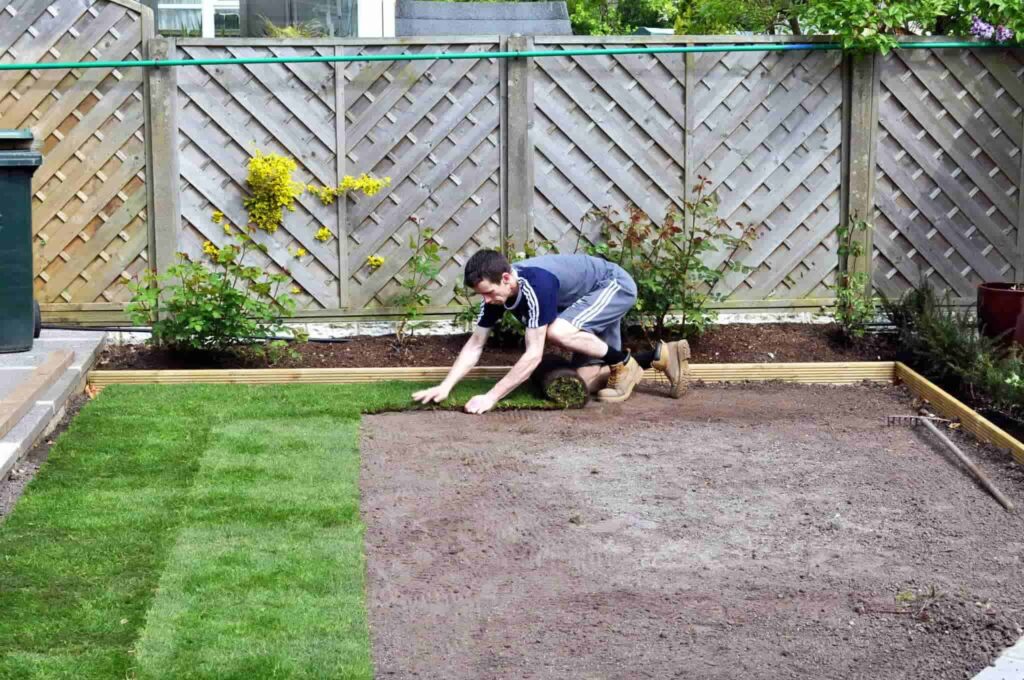 source: unhappyhipsters.com
Start from farthest, and start from the edge and large surfaces
Start unrolling your greensward roll from the farthest area to your yard, so that this prevents you from stepping on a fresh layer of turf. Edges and larger areas are the perfect places to begin your business, you can lay them in any area, but do remember there is no gap between them.
Tips to Maintain the Newly Installed Turf
You have to maintain the new sod to keep them fresh until their roots become stronger in the soil. As soon as you lay the turf, do watering twice a day.
You can lift it up to have a look if something new grew or not. If you are unable to lift up the sward then you can reduce the watering regularity. 
Common Types of Turf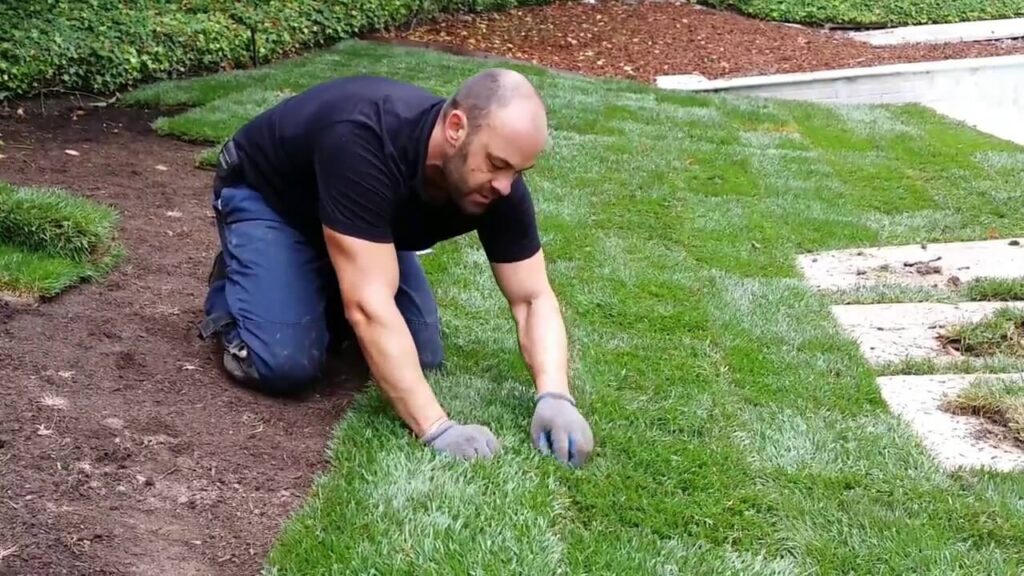 source: youtube.com
        Sir Grange Zoysia
        Eureka Kikuyu
        Tiftuf Bermuda
        Sapphire Buffalo
        Aussie Blue Coach