Interior design is a vogue idea. After erecting the four walls of our room we look for trendy finishing items that can complement the room. Decking out our room is a favorable chance to showcase the aesthetic aspect of our personality. But the art pieces that we insert today for interior decoration may look outdated after a while. So we need to know the latest trends of home decoration as interior decor is an ever-evolving phenomenon. We look forward to opting for ageless designs that can turn our home suitable for a contemporary lifestyle.
One vintage cum latest idea of home decor is laying down rugs in your home. In old ages, people used to weave durable and stylish rugs for their rooms. Modern lifestyle has also added more to this fashion. Today, home decoration looks unfinished without rugs.
Read on the full blog and we will let you know some stunning rugs types that can appraise your interior at The Architecture Design.
Area Rugs: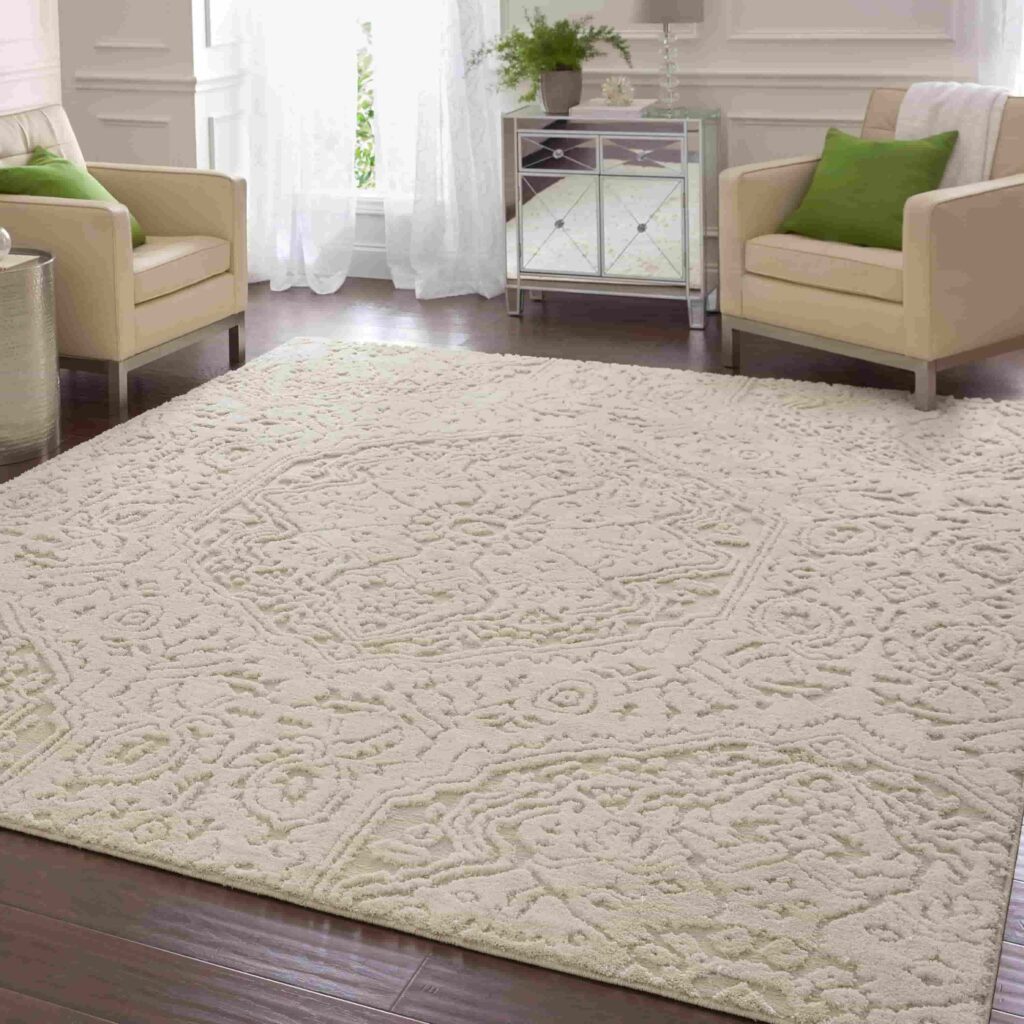 source: walmartimages.com
Area rugs are the hallmark of today's interior. We introduce rugs in our inland environment to add colors, patterns and comfort that we feel when staying home. Area rugs have particularly been fabricated with diverse elements that give out a wide range of designs to suit every spot. Put a small-sized area rug in front of the main door. The rug is durable enough to receive high traffic with original warmth and freshness. Place an area rug of appropriate size in the living which is a family union resort. Area rugs for the living are always comfortable and charming that catch your eyes right at the moment you step in.
Runner area rugs are also long lasting and can greet your guests with their catchy colors and engaging patterns. Add a superb area rug in the dining and turn it more fascinating to enjoy hearty meals there. Installation of a graceful and comely area rug in your office can enhance inspiration towards achieving your goals. New, pick your cherished area rug and settle it down in your bedroom to enjoy its cozy perks. Miss it not in your kids' room and make it more colorful and florid! In short, area rugs are spot-friendly and can maximize grace and attraction of your indoor and outdoor space!
Moroccan Rugs: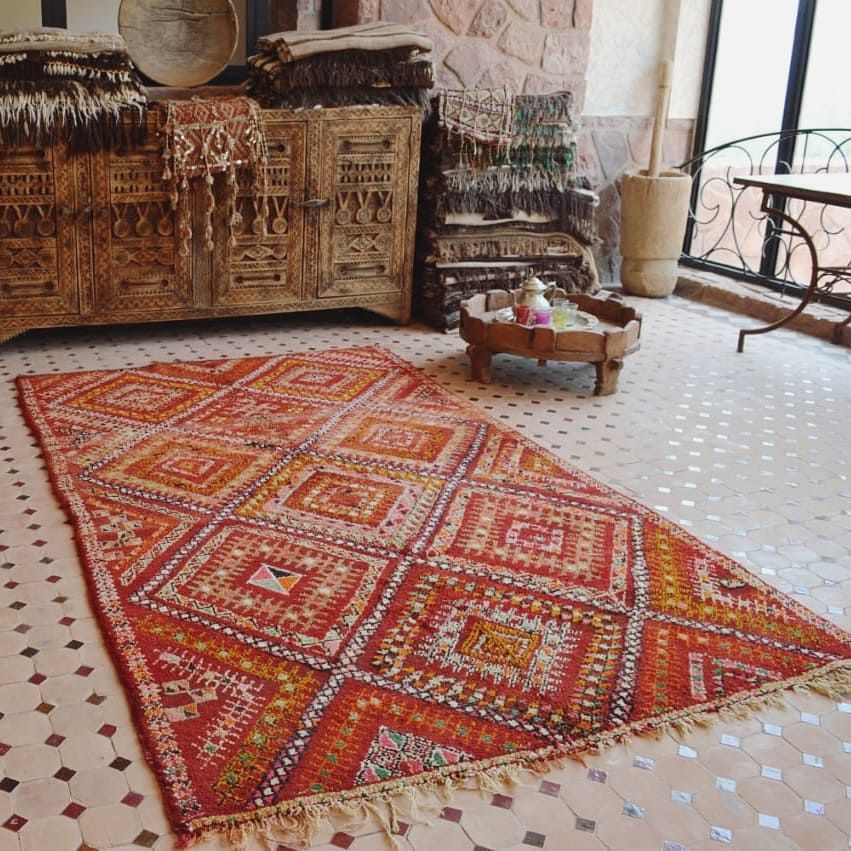 source: pinterest.com
Moroccan rugs are exclusive for their unique geometric patterns. These rugs are the masterpiece of the skillful hands of the tribal women of Morocco. It's not surprising as women in many parts of the world have been knitting superior quality rugs in the past. Their hand-knotted rugs were used to enhance the elegance and luxury of the royal palaces. The demand of Moroccan rugs is on the rise in the rugs industry, in the contemporary age. Originated in the mid-19th century, the rugs have come to the present day owing to their longevity, classic appearance and lovely shades.
Today these rugs add character to the floor and the room where placed; in past women crafted this distinguished art piece to cover the floor, beds, furniture and to use as a blanket in the chilling winter. It took 20 to 30 days for its finishing and stood as the symbol of its designer's expertise.
The skill of the Berber women handed down to the next generations and artists of the today combined their crafts with ancient artistry and produced heaps of amazing Moroccan rugs!
Braided with pure wool, the rugs have no match to deliver warmth and coziness in your interior. We recommend you to adorn one spot of your inland with Moroccan rugs. It will lighten up space with its creamy and ivory shades thus bringing it back to life!
Hand-Knotted Rugs: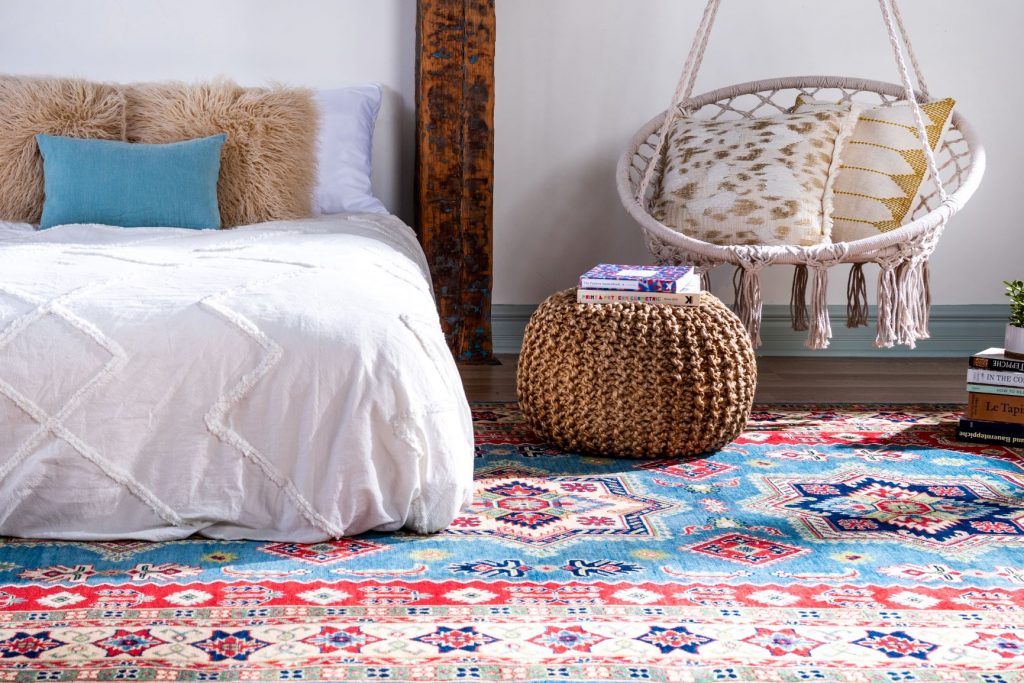 source: rugs.com
As the name represents, the manually crafted rugs are the world's best variety of rugs. This is another voguish rug that we want you to know about. Hand-Knotted rugs last long as compared to the machine-made rugs and create a majestic feel in the space. Hand -knotted rugs take more time for their accomplishment, so take more ages to wear and tear. Any manually furnished art bears exceptional beauty and stands out in the test of the time.
What do you want for your in-house amazement? Obviously, a piece of art that can praise your perfect selection. Moreover, the rugs deliver a vintage vibe in the modern interior. Adhesive free rugs are knotted with 100% New Zealand wool and bear all the coziness, warmth and durability of wool fiber.
All rugs users already know that wool strands cast off in the beginning but stop themselves with time. This is not at all to worry about as wool fiber constructs the most durable fabric. Anything kept with love and care lasts long! Do keep the rug meticulously and hand it down to your grandkids! Their conscious care is vital as its porous surface readily absorbs dust particles. Vacuum your room's beautiful hand-knotted rug twice a week, before the debris can spoil the fresh and neat look!
Play room Rugs: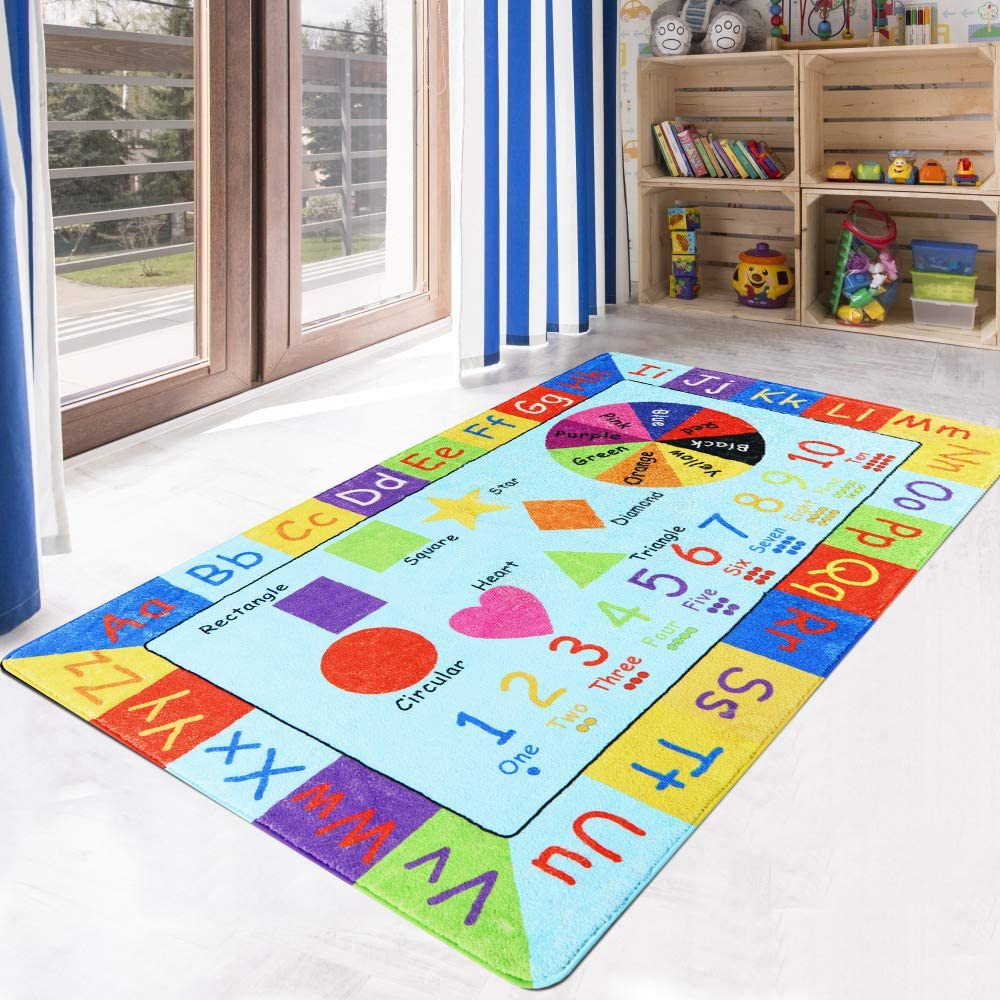 source: amazon.com
Interior decoration is all fun and creativity. We are to exert more deep thought when it comes to the moment of dressing up your kids' room. Dedicate your creativity to produce a kids learning environment for kids. Get to know their interest and level of activities and set down the items likewise.
Usually, the playrooms give a bright and colorful pop. And the rugs companies too, weave special playroom rugs that express a variety of learning and entertaining shapes. Playroom rugs are also durable and represent catchy colors thus creating a fitting environment in the playroom.
Spread a playful and stylish playroom rug in your children's room and make it the most vibrant and sparking section of your home interior.
Entryway Rugs: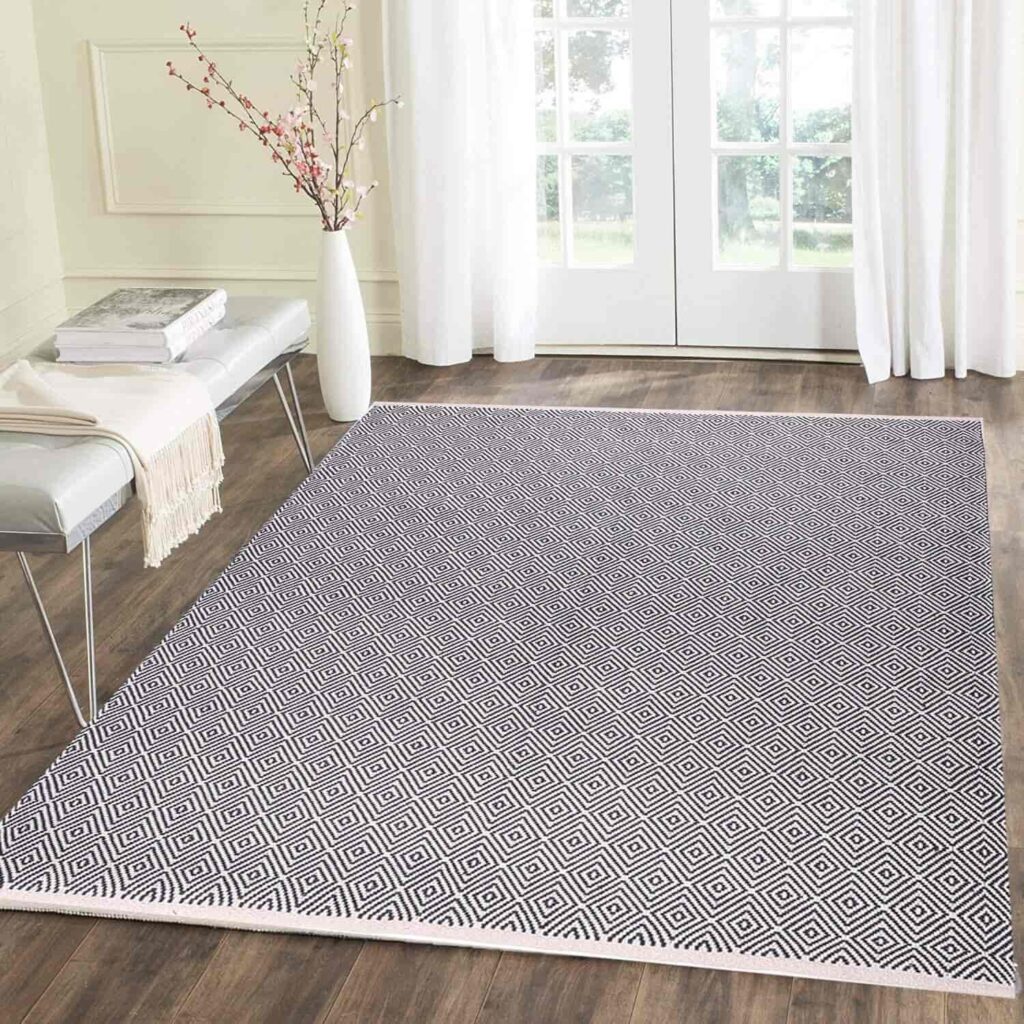 source: amazon.com
The outdoor appearance and entrance of your home says the story of the internal atmosphere. Don't neglect the outdoor look of your dwelling and make it one of impressive. We offer you the dynamic and alluring entryway rugs at RugKnots to alter the exterior space from that of distasteful and uninviting to one of graceful and captivating.
Only simple and neutral rugs create a catching environment in the entrance. What if placed bold and bright colored entryway rugs to conceive a nice contrast there!
The entryway rugs solute all your visitors, they should be tough and long lasting so it can tolerate high foot traffic. We own plentiful entryway rugs made of sturdy material, reflecting beautiful designs and shades. Lay down a lasting entryway rug and turn your entrance welcoming!
Get Your Dream Art Piece at Rugknots: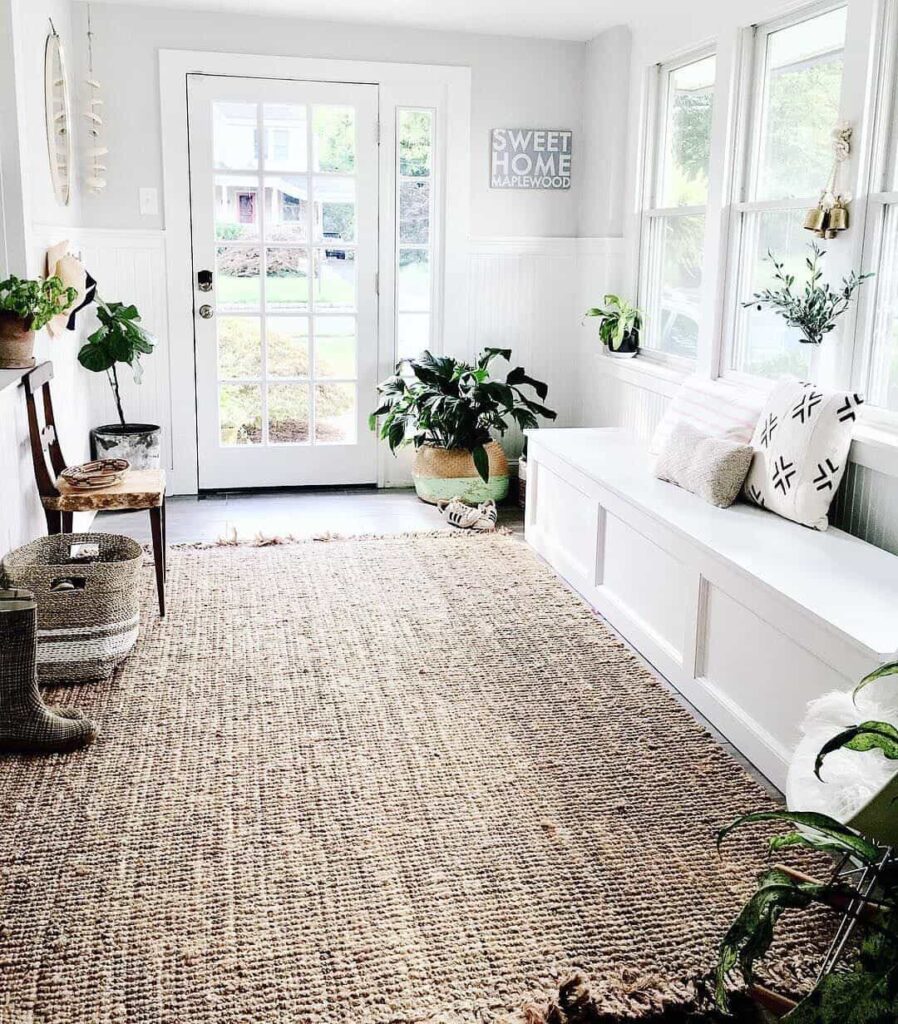 source: pinterest.com
The 5 above described rugs are of exceptional quality, unique allure and appealing designs yet there is much to offer at Rugknots. We have employed artists from all the corners of the world so they can create a fragment that would be a paragon of beauty, art and design. Such millions of art pieces are shimmering at our warehouse. We recommend adding diverse rugs in each of your rooms so your interior can achieve timeless refinement and eternal elegance!