Here, we'll take a glance at trending home renovation Ideas. We offer suggestions and methods for you whether you are renovating your overall home or just designing a single room! If you want to renovate your entire home or several areas of your home! These unique, yet simply implementable house remodeling ideas and Beacon Construction will ensure that your home is both elegant and meets your demands and expectations.
First Exterior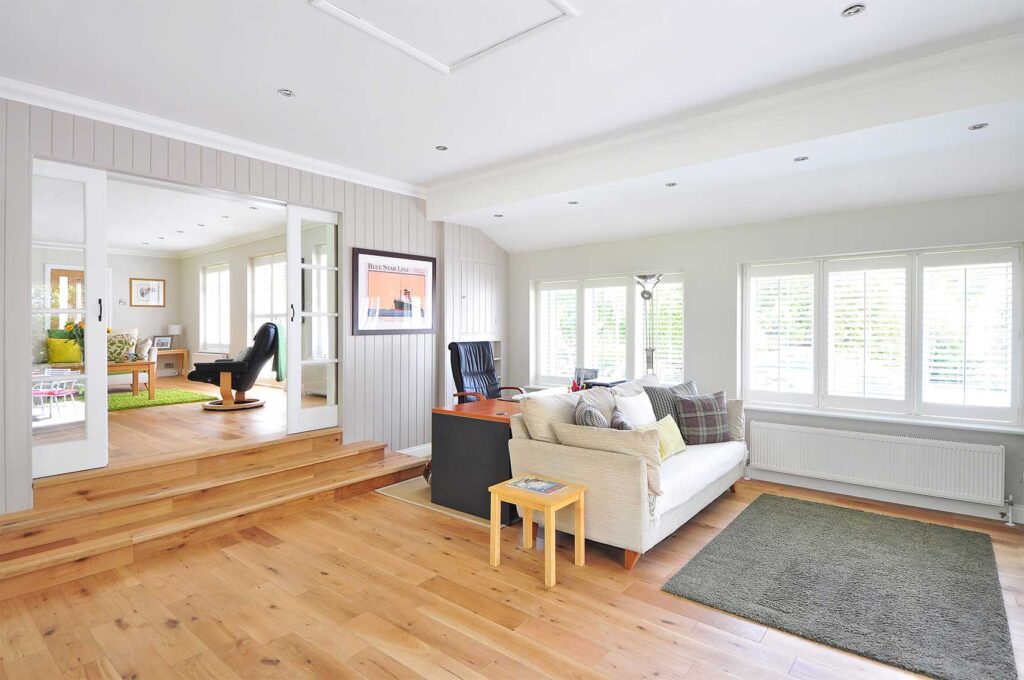 source: mydecorative.com
The exterior of your home is equally as valuable as the interior. So, when renovating your home, remember to include a few accent pieces to give your home a pleasant and attractive aspect. Quick ways to improve your outside include adding a garden, revamping your mailbox, adding cheery and colorful elements to your home's entrance, and adding curtains, window boxes, or planters to your window area.
Stair Space
If you're rebuilding a home with a staircase, don't underestimate the importance of ignoring the big space beneath the stairwell. Add some shelves to flaunt your bookcases or music collection, or fine wine enthusiasts can design a gorgeous wine rack to complete your comfortable nook. You can even create a wonderful secret reading nook in a small room inspired by your childhood vision of living like Harry Potter.
Add More Space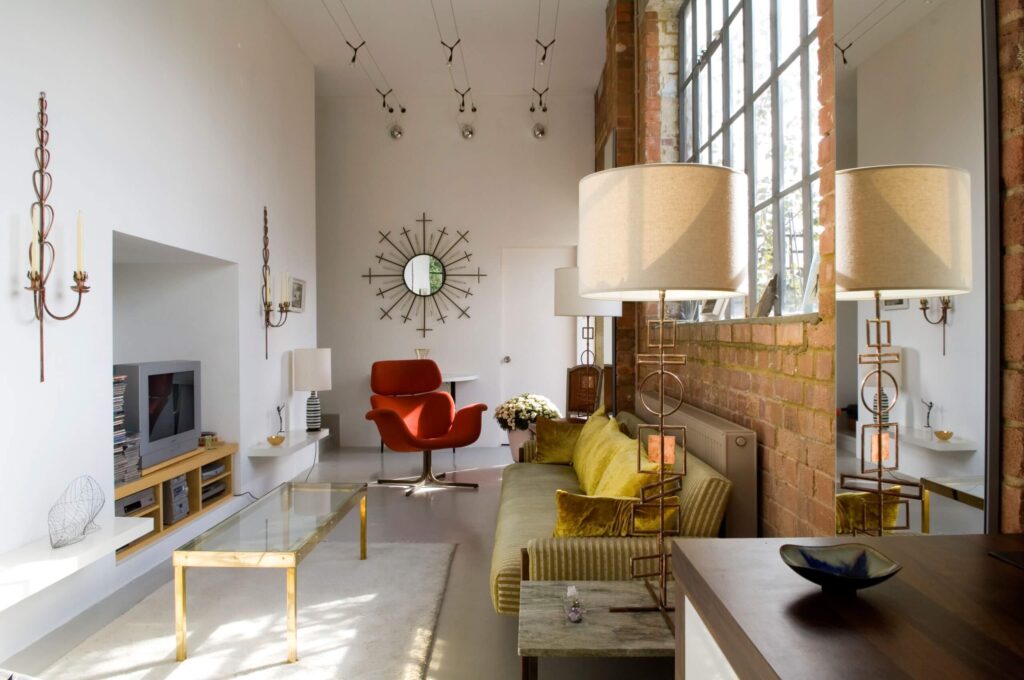 source: vogue.com
Another wonderful home renovation concept is to optimize your home designs to make more usable space out of your existing furnishings. If you have a patio, for example, a railing can be used to create a lovely bench for outside dining. Also, rather than adding a traditional built-in cabinet, use this home makeover to design pull-out cabinets, which provide additional countertop and storage space while also giving your home a creative charm. Looking for decorating tips for the patio? This is especially beneficial if you're looking for budget-friendly home decoration ideas because you're enhancing spaces and things you already own rather than reinventing the wheel.
Highlight The Light
You can make an interesting focal point of the area by using lighting fixtures such as low-hanging chandeliers or spotlights. If you're putting lighting above a counter or table, make sure the material you choose for your home renovation has a lot of effects so you can enjoy a great visual treat. Materials such as recycled glass, granite, or marble are ideal. Check out these magnificent lighting ideas & add charm to your place.
Choose Colors Wisely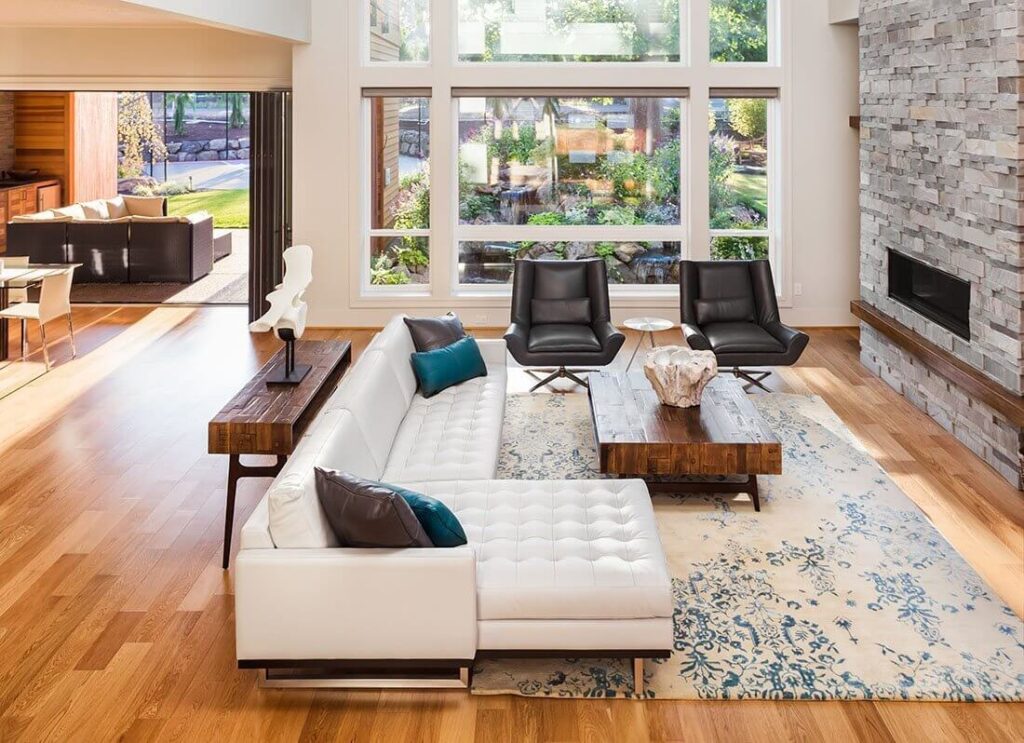 source: homeworxiowa.com
Different paint color combinations will give your home a different vibe, so make a conscious decision to select a palette that reflects your desired taste. Use a large contrast of colors in your home makeover for a more dramatic effect. Try an all-white palette for a more minimalist and orderly aesthetic that is both clean and attractive. Use bright and colorful colors that make you happy to create a welcoming and alive living area. Accent walls are a terrific way to add color, richness, and texture to a space.
Shrink The Living Room 
Sunken zones for sofas in living rooms are a current home improvement trend. It gives the space a more intimate feel while simply maintaining the living room appear much larger than it is. If you want to modify an entire room or space, give it a shot for a creative home design.
Revamp The Kitchen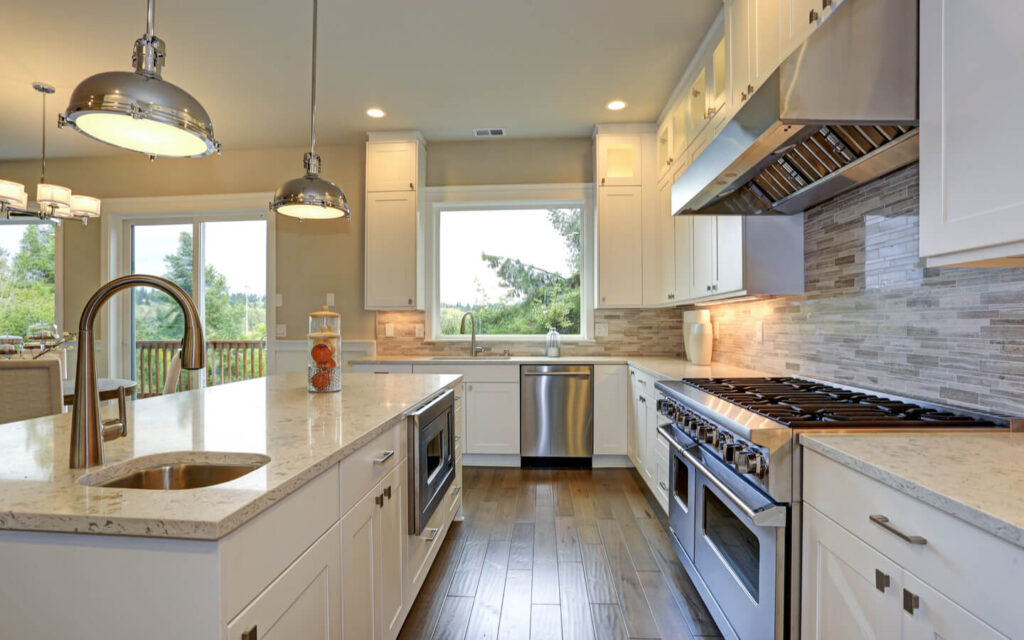 source: pinterest.com
A kitchen table gives you more counter space, more storage space, and more seating alternatives. One wonderful approach to improve the kitchen design is to have it double as a minibar, with racks above the counter with adequate shelves for drinking glasses and storage space below for your drinks. To ensure full functionality, install more electrical outlets on the counter during your kitchen redesign. The backsplash is also made out of patterns, which lend texture to the space
Upgrade The Floor 
Many stick and peel materials are thin enough that you don't have to remove your present flooring to give your space a low-cost update underfoot. Even if the floor must be removed because you can't bear it any longer, a new floor can be a long-term project that isn't too expensive on its own. Furthermore, there are numerous DIY projects available to help you save money on labor.
Window Makeover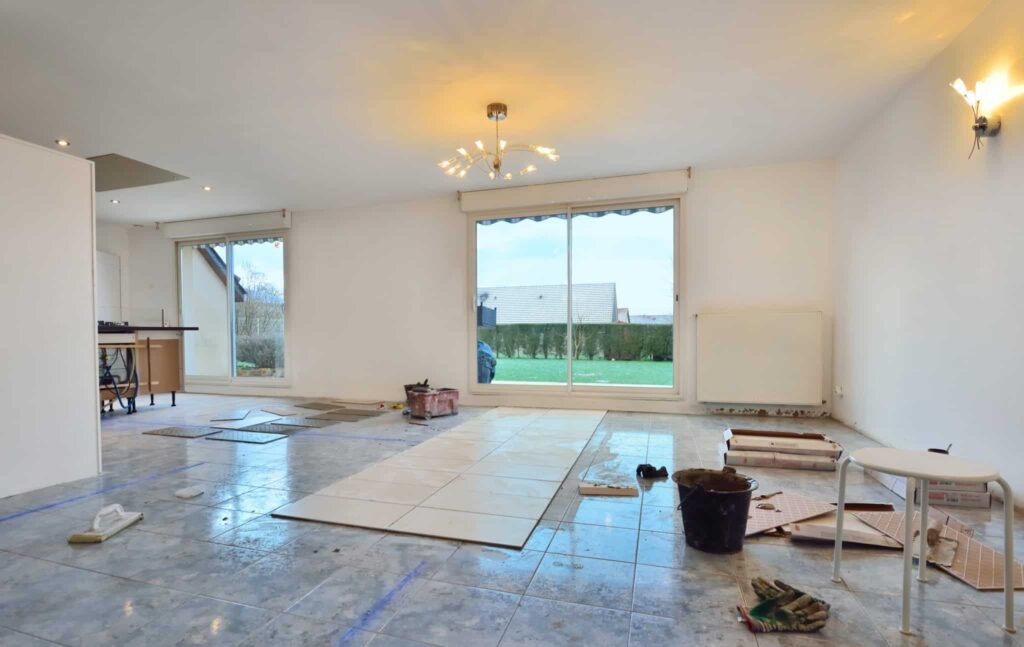 source: domilyagroup.ca
A new fabric, new shades, or a combination of the two can give a window a nice makeover. A wide variety of sewing options can go a long way toward concealing ancient windows. To save money, try to recycle the current curtain rods and hooks.
Medicine Cabinet Storage
A new medicine cabinet can add both flair and storage to your bathroom with a simple budget-friendly update. To gain space and a fresh style, replace a conventional wall-mount mirror. If you're feeling creative, hang a corkboard or blackboard on the inside of the door to work as a daily reminder and inspiration.
Paint The Stair
Innovative use of paint is a cost-effective technique to remodel the stairway from one step to the next. Make your stairs a showpiece by using a design, a pattern, or a bold, eye-catching shade. After they've dried, coat them with polyurethane to maintain the finish. Just do it and you're done, or have joy with it and make seasonal modifications to keep folks impressed.