Are you tired of trying your best to keep your wardrobe arranged, but your clothes just end up thrown on the floor or spilling out of your closets? You're not the only one! Plus, it's not a matter of laziness either! In order to organize your clothes, shoes, and accessories in a logical and stylish manner, you should have a well-designed closet. By doing this, you will not only make your home look more tidy and luxurious, but you will also find it more enjoyable to get ready.
In order to create a beautiful in your home, you should consider installing a closet island! Below, we will reveal what a closet island is, as well as discuss some of the best closet island ideas to give a perfect makeover to your walk-in closets. So without further getting late, let's get to the topic. 
What is Closet Island?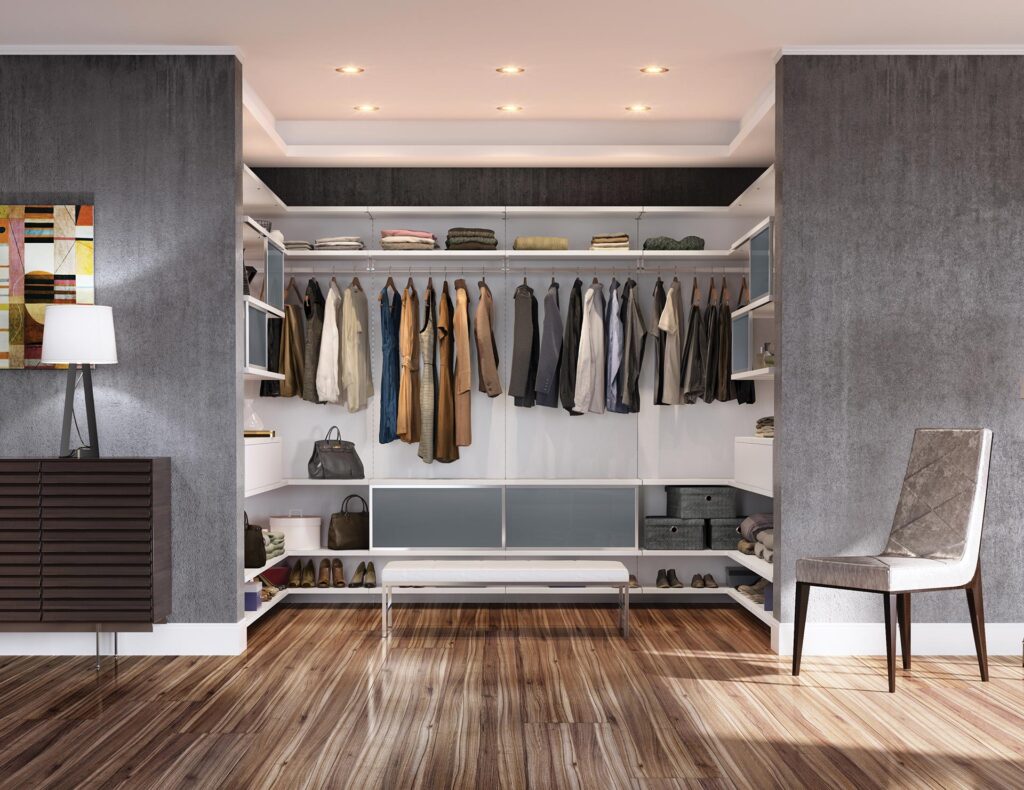 source: pinterest.com
Every room in the house has to be organized, but your closet could be the most crucial. Your closet is something you use every day, so having to deal with a messy mess may be really depressing. Additionally, since you spend a lot of money on clothing, footwear, and accessories, keeping things organized should be a top concern. A closet island may revolutionize your life.
A floating storage area in the center of your closet is known as a closet island. It may have a solid surface on top for folding clothes and getting dressed, with shelves and drawers underneath. Although closet islands may be any design, you do need enough room in your walk-in closet to make one work. The great thing about closets is that no matter how small they are, you'll still be able to feel like you're living on an island.
The Best Closet Island Ideas: 
Here is a collection of fabulous closet island ideas that range from styles to sizes to structures, and we've laid them out here for you. 
Classic Closet Island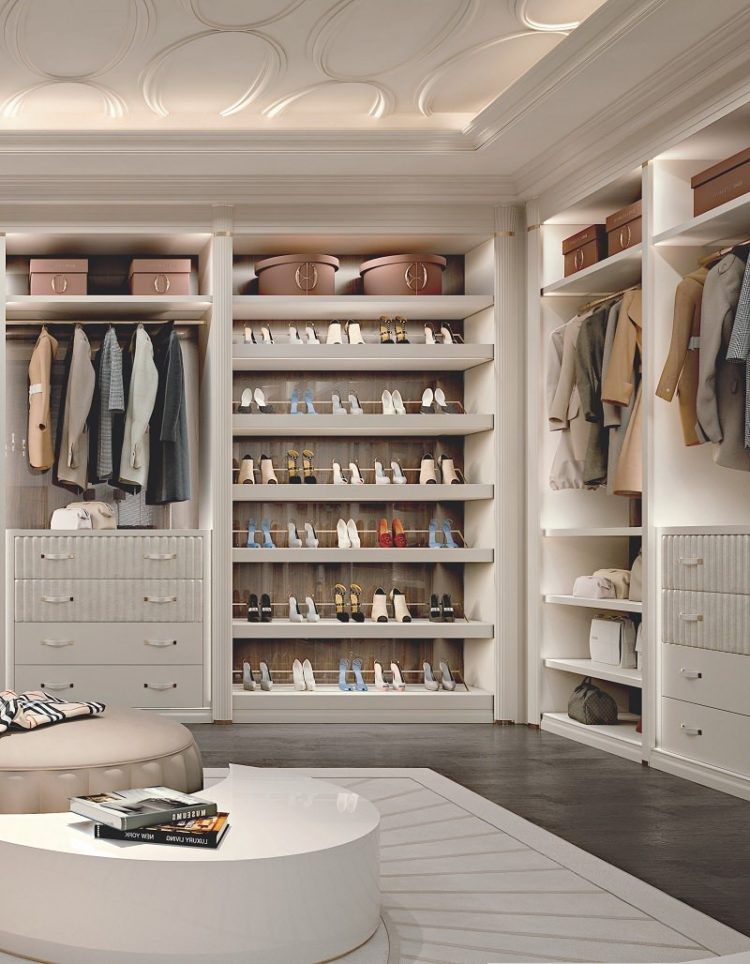 source: pinterest.com
A closet island is a great way to organize your clothes and keep them neat and tidy. You can use any type of material to build your own closet island. Wood, plastic, metal, glass, and even concrete can be used to create a unique design. If you want to make sure that your closet island stays organized, then you should consider using hanging rods instead of shelves. Hanging rods allow you to hang clothing vertically and they do not take up much space.
Comfy Closet Island
Some homeowners find it difficult to decide whether to use a standard closet island or forgo the additional storage space in favor of more seats. The ideal compromise is when you can obtain a multi-functional closet island with a built-in seating space. It's not necessary to construct an elaborate bench. When putting shoes up, even a modest seat added to a standard closet island may make a big impact.
Glass Closet Island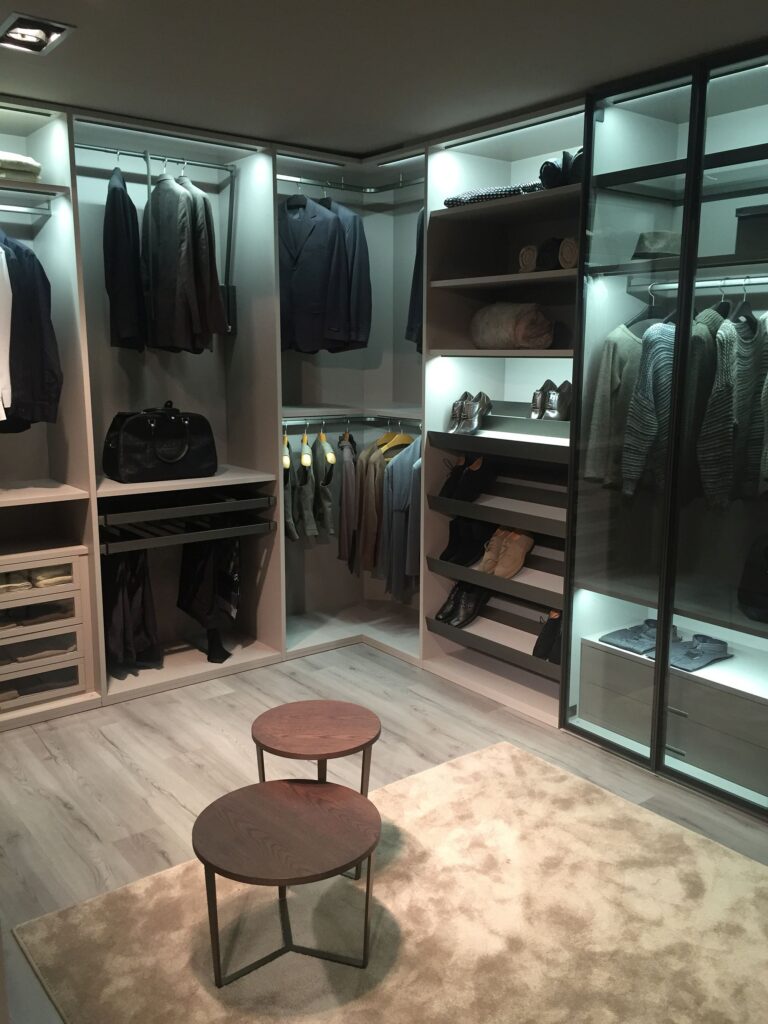 source: pinterest.com
Glass islands for closets are excellent for storing your clothing. They may be conveniently and neatly stored. If you have a lot of clothing, you should correctly arrange it. Your clothing will fit perfectly on a glass closet island. They're not only practical but also gorgeous. These kinds of closet islands are great for dressing up your walk-in closet.
Extravagant Closet Island 
Consider adding some ornamental accents to make your closet island stand out if you want to place it as the room's focal point. Create a unique look for the closet island with the aid of gracefully curved shelves that you can use to exhibit different decorative items. Consider focusing on priceless pieces that express your style and add a little bit of yourself to the space.
Space Efficient Closet Island
Most people who want to install an island in their closet are usually concerned with increasing storage capacity. When it comes to increasing storage efficiency, even minor adjustments may have a big impact. For instance, take into account placing hooks on a straightforward closet island that may be utilized for a variety of accessories. It will be simpler for you to grasp scarves or handbags, and it shouldn't take much work to attach the hooks.
Closet Island Dresser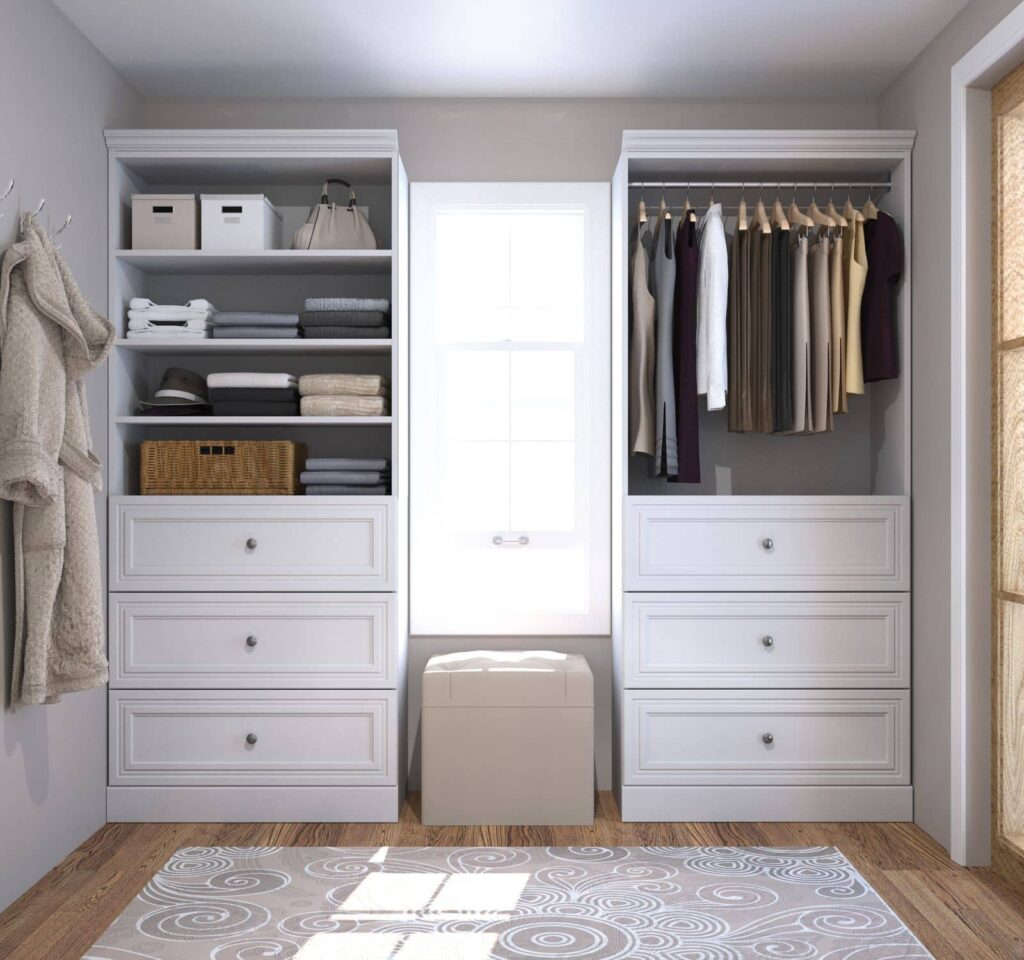 source: pinterest.com
Since they are intended to be independent from the bedroom, walk-in closets are seen as useful. The benefit of this is that you may utilize the extra area in your bedroom for purposes other than storing clothes. You may take the conventional clothing dresser out of your bedroom and set it up as an island in the walk-in closet. This type of option offers some much-needed flexibility, so make sure you have enough space.
Shoe Closet Island
The use of a closet island can make storing shoes easier for those who have a large collection. With its marble countertop, this luxurious closet island makes a great first impression. In spite of this, the island's main highlight is its functionality. It features pockets that are sized just right for all your favorite pairs.
Round Closet Island 
Typically, closet islands have a rectangular shape. This is a practical choice, but it might not be appealing to everyone's aesthetics. A unique shape such as an oval or round might be a good choice if you want your walk-in closet to stand out. In comparison with rigid straight lines, this could be a refreshing change. In addition, by having a rounded closet island, you'll draw more attention.
Drawers Closet Island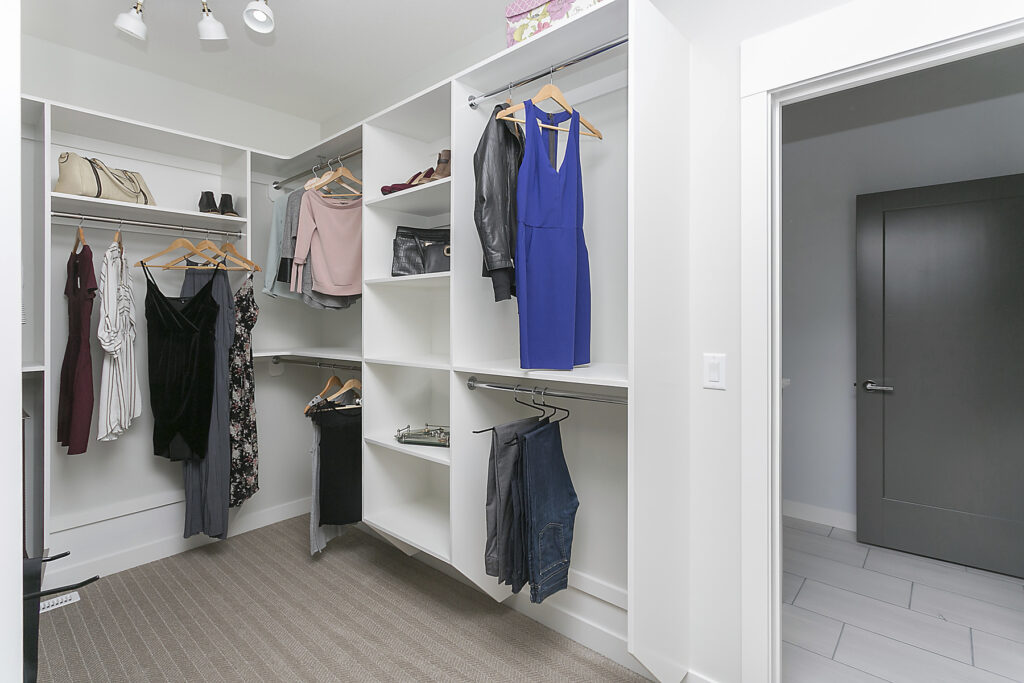 source: pinterest.com
When it comes to organizing accessories, things get more complicated when it comes to storing clothes and shoes. It is not appropriate to leave small items, such as jewelry, on the island's counter. It is much better to store them using drawer inserts designed specifically for this purpose. Similar solutions can be used for other accessories, which can be well organized with dividers or organizers in the closet island.
Closet Island Accessories…
Built-in, functional features can add a lot of quality to your life. These include closet island accessories such as velvet-lined jewelry drawers for your collections, lingerie organizers, and drawer dividers of all kinds. You can also add built-in ironing boards, custom-sized boot shelving, and pretty much anything that suits your daily needs. 
Don't forget about lighting and seating. You will want overall lighting for your closet, as well as specific task lighting. Increase the wow factor with LED lighting installed inside the drawers and cabinets that turn on when opened. Another unique idea is to backlight your countertop for added ambiance. 
For seating, if you have the room, you can install a bench with a flip-up top for added storage, perfect for bulky or off-season items. This is the perfect spot to sit and put on your shoes. If there's no room for a bench, add a free-standing stool.
Keep this in Mind: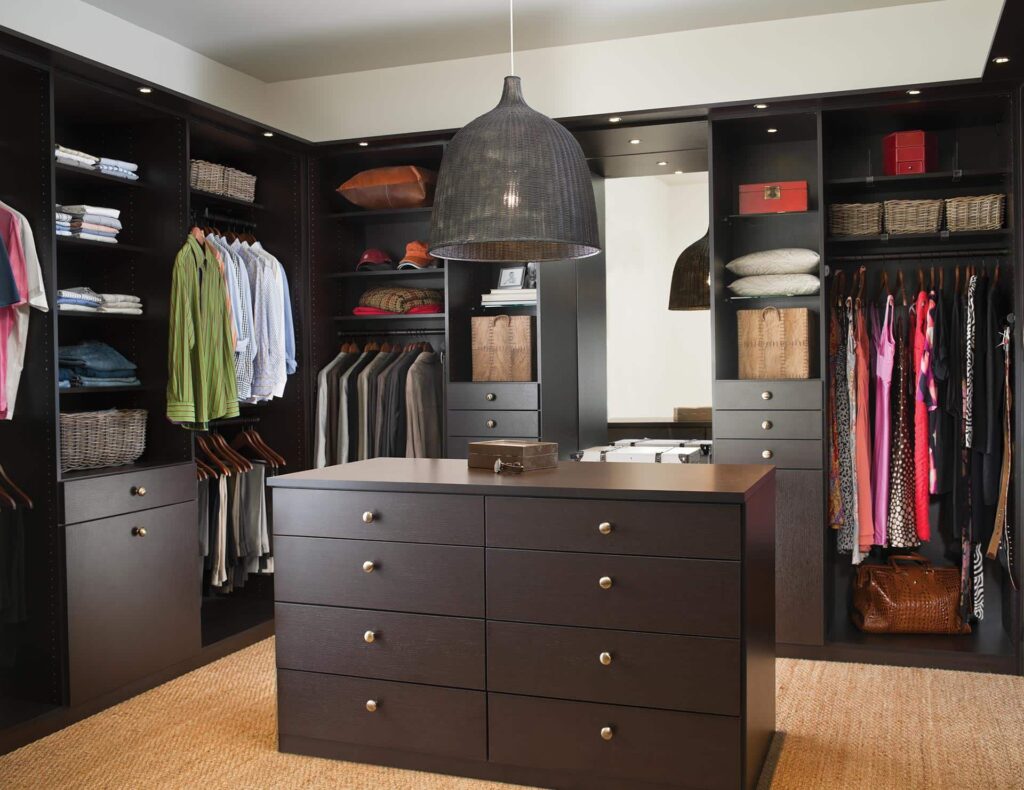 source: pinterest.com
When purchasing closet islands, make sure to follow these tips and tricks to ensure that they last long and function properly. 
First, choose sturdy construction materials. Wood is always a good choice, especially hardwood. Avoid using cheap plastic shelving units. 
Second, make sure that the shelves are securely attached to the wall. Third, keep the shelves clean at all times. Make sure that nothing gets caught between the shelves and the wall. 
Lastly, install a locking mechanism on each drawer to prevent anyone from opening them without permission.