You've probably seen or heard the word Yurt Tent House floating around the small house town and kept wondering, what it meant… Yurt Tent!
Yurts may be a great way to spend quality time with family and friends while camping, as long as you do your research. Stay tuned as we attempt to deconstruct Yurt Tents and explain what a yurt is, some advice for living in one, and how you may convey one for yourself. Let's get all information at The Architecture Designs!
How It All Begins!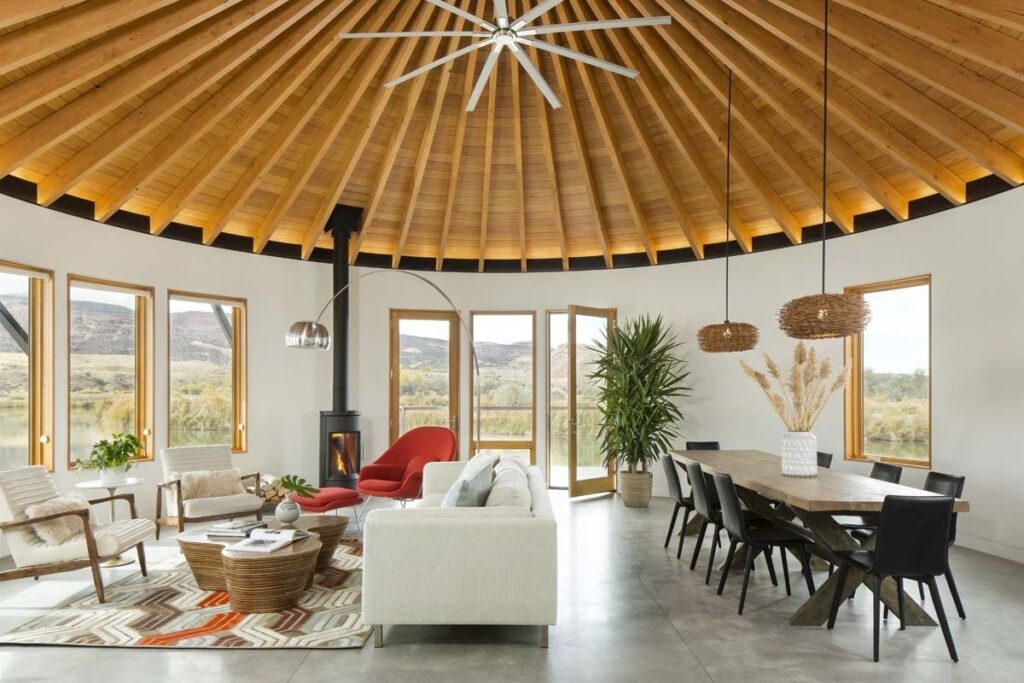 source: dwell.com
Yurt houses were invented by nomadic nomads in Central Asia's steppes, with covers composed of animal skins or wool. The structure traces back millennia such as ger in Mongolian, a yurt in Turkestan, and yurta in Russia all have a 3,000-year legacy.
In the fifth century B.C.E., the Greek historian Herodotus is credited with the first documented mention of a yurt. He reported tent-like homes of the Scythians nomadic population of the central Asian plains who moved with their stuff on wagons in book four of Historia.
The yurt house has a longstanding experience among nomadic populations in Kyrgyzstan, Kazakhstan, and Turkmenistan, in addition to Mongolia. The customary design of these yurts is unique to every nation's cultural history, with national artifacts such as legendary monsters, components, and geometric patterns. The crown of the yurt is a beautifully ornamented object that has been passed down through generations from Central Asian traditions.
And In the 1960s, William Copperthwaite brought yurts to the United States. Pacific Yurts, the first firm to begin building yurts in North America, was founded in 1978 and was successful in enabling yurts as a replacement to tents and camping fans. Nowadays yurt Houses are now more substantial constructions, you may build one yourself by purchasing a yurt kit. Yurt construction instructions are accessible online, and several firms sell yurt kits.
What Is Actually Yurt Tent House!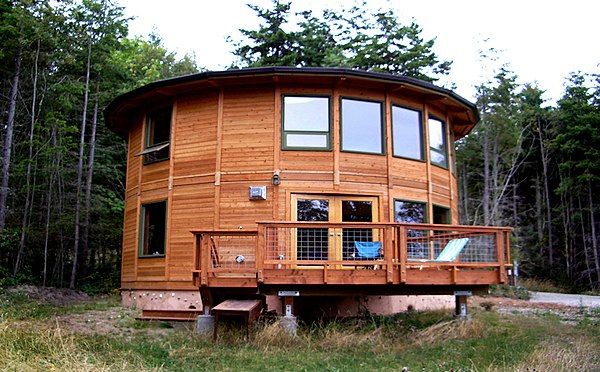 source: pinterest.com
A yurt house, also known as a ger, is a circular tent built of a foldable timber inner framework wrapped with wool felt. Yurts are readily put up and dismantled while migrating from one location to another. Yurts, which originated in Central Asia, are still utilized as a kind of shelter for many people in rural Mongolia. In reality, the yurt is equivalent to the homeland in Turkish.
A ger, unlike a camping yurt house tent, works as a genuine house, shielding people from the elements but being basic enough in design to accommodate a nomadic existence. The yurt has a room in the center for a wood-burning fire and a chimney, which provides the yurt warmth and comfortable.
Traditional yurts house tents are decorated with patterns that depict numerous ethnic symbols and religious rituals. These ancient patterns may still be found in the following yurts in Central Asia. Because yurts are such an essential part of cultural heritage, they are used as spaces for cafés serving traditional cuisine, galleries, and cultural institutions across Central Asia. Turkmenistan has one of the biggest yurts.
Construction Process Of  Yurt Tent House!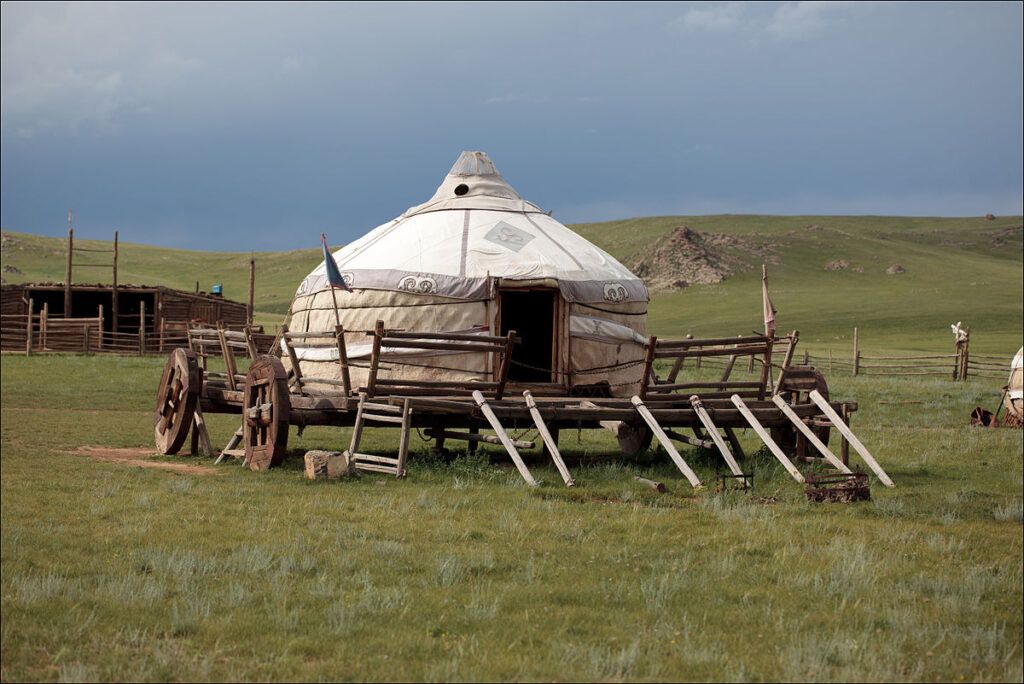 source: pinterest.com
A yurt house's frame is often comprised of a large number of collapsible poles that are woven together just to form lattice walls. The lattice construction for the yurt house tent walls is covered with fabric or another sort of fuzzy material.
When building a yurt, you should utilize flexible wood. Since the yurt's structure must be woven, you'll need a malleable wood that allows you to easily create crossed or vertical designs.
Yurt tent coverings can be made of a number of textiles, including tarpaulin, linen, woolen, knitted fabric, or any other sturdy material. Animal skin was a common covering for yurts in the past since it is a natural insulator, according to historical texts. In harsh weather, this would be a major benefit to the yurt tents.
A contemporary yurt, often known as a North American Yurt, differs very little from the ancient Asian Mongolian Ger, from which the modernized yurt evolved. Both yurts are transportable and round in form. The primary distinction is that ger in Mongolian translates to "house," although it's a little less sophisticated than the western yurts.
Modern Uses Of  Yurt House Tents!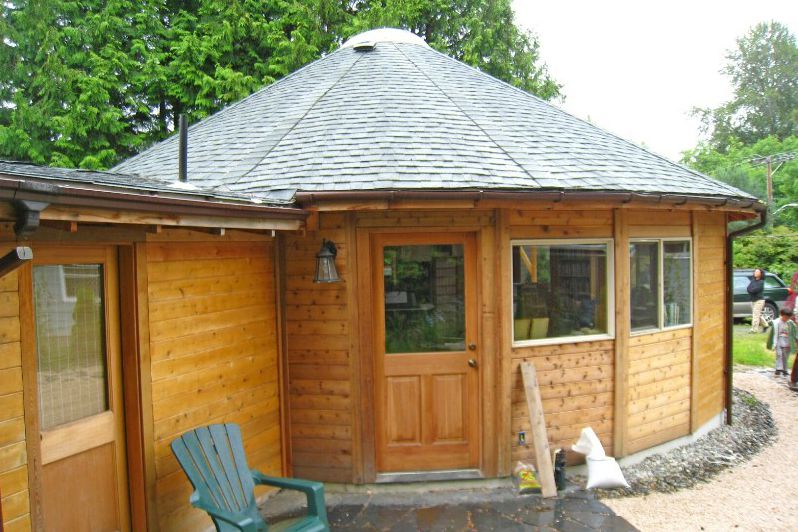 source: thespruce.com
The yurt remains popular in Mongolia, with "yurt quarters" taking up space in large towns such as Ulaanbaatar. Yurts are growing increasingly popular in other regions of the world since they are easy to build and yurt kits are commonly accessible. Yurt camping is particularly common in backcountry areas of North America, such as California, and Europe.
Although native hardwoods are still used for yurt building, contemporary materials like structural systems, tarpaulin, fiberglass domes, and wire cords are also in use. These elements are more durable and designed to allow a yurt to remain in one location for an extended length of time.