Introduction
Setting aside household temptations and focusing on work is easier when you have a designated workplace in your home. 
We've compiled a list of workroom design ideas to help you create a work-friendly environment in your own house. Create a sophisticated environment free of enticing distractions like television and snacks.
After you've selected a suitable location, consider the color scheme, workroom ideas, chair type, shelving requirements, and storage furniture to keep everything neat and shiny enough. Don't worry, we've thought of everything. Let's delve deeper to learn more.
Private work from homeroom design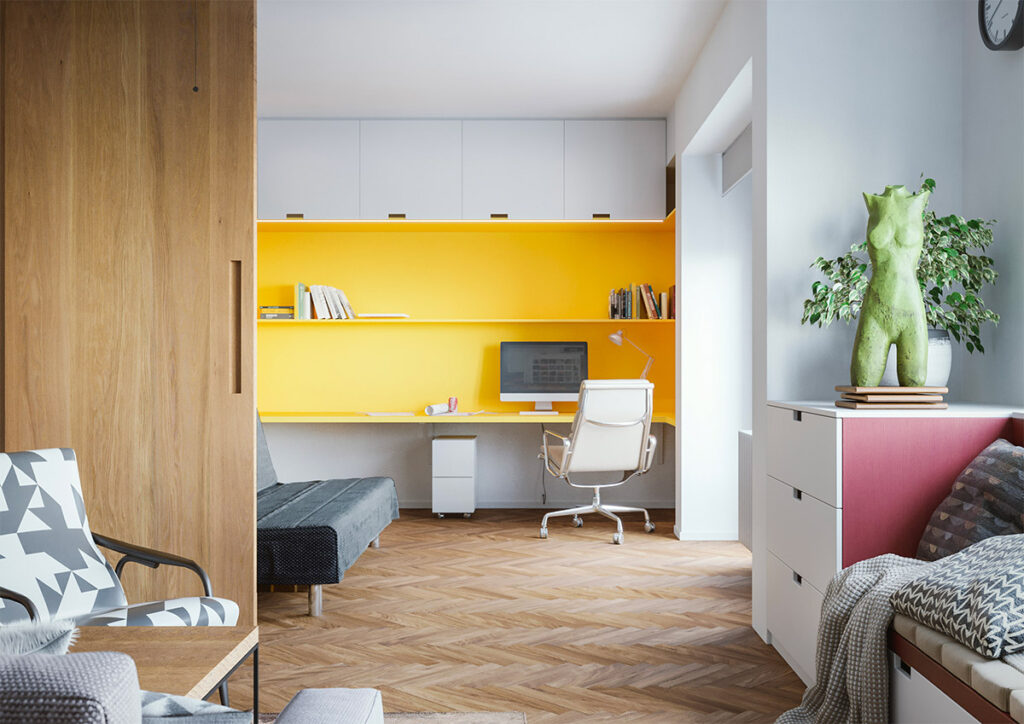 source: home-designing.com
We frequently remove interior doors when older homes are remodeled to create a more open concept in the home. But excessive open space can make it difficult to establish an office space that provides the isolation you require. 
In that situation, interior doors in the corner of the main living space are an excellent choice to add privacy to your office space. 
Close the doors to separate critical calls and limit noise from adjacent rooms, but ensure the glass divisions don't detract from the open layout look. Finally, decorate it with your favorite plants and books.
Cheerful space 
This bright environment is full of sharp edges while being lighthearted. Acrylic desk, side table, and shelves for the home office can be used to liven up the room. This elegant area also features abstract artworks, a large magnificent lamp, a flower vase, and some wooden seats to create a more sophisticated appeal.
Love the blue!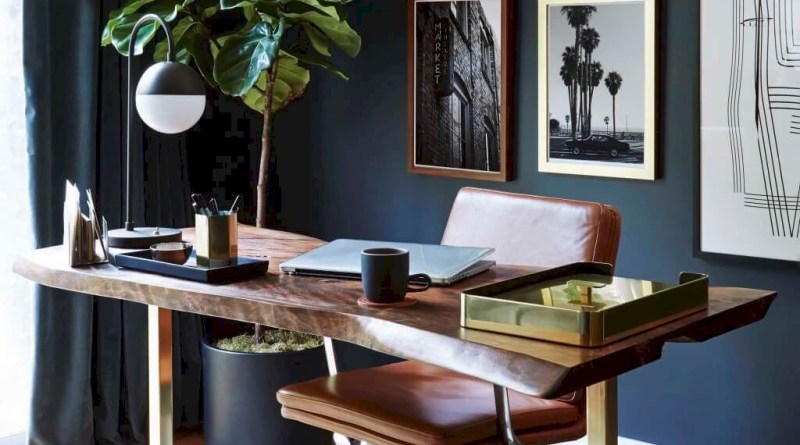 source: chiquehomeliving.com
The books in the home office add some color to the blue bookcases. The sea theme paintings, aquarium, chairs, and much more light up this blue color-inspired home office environment. Here's another reason to adore the color blue.
Storage and more storage 
Including built-in storage in your workroom idea is a terrific way to expand your storage systems while also making the most of your available space. 
Leave niches for two discrete workspaces rather than a continuous line of floor-to-ceiling bookcases. 
If you live with your spouse or partner who also works at home, you can split space and save a lot of room by not having to create two separate spaces. Finally, all you need to spice up the space is a carpet, some plants, and some coordinated drapes. Home decor boxes are also great for your home office decor, you can check this out to find where to buy best home decor subscription boxes online.
Lit up with industrial things 
If there's one space where the industrial design belongs, it's the home office. The relaxing yet focused atmosphere created by unnecessary materials, effective layouts, and an operational concept floor plan is excellent for any work endeavor, from study alone to interactive demonstrations. 
To begin, consider an industrial-style rusty metal bookshelf; the clean lines will help you stay organized, while the statement finish will provide a rustic, carefree feel.
Hidden workspace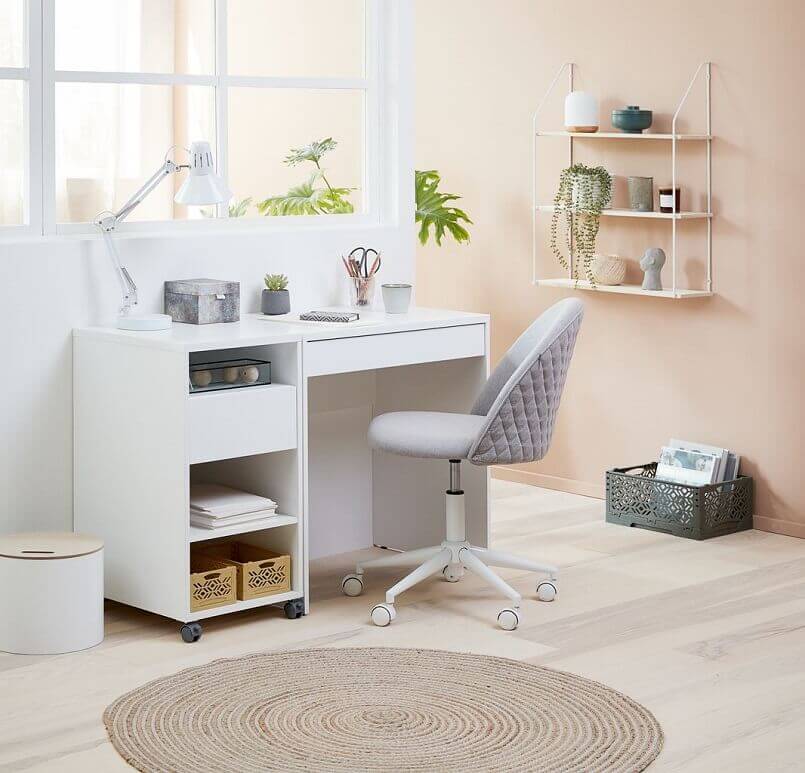 source: pinterest.com
Hideaway workspace is ideal for remote employees who prefer to keep their professional and personal lives separate when working from home. 
Choose a Hideaway desk that can fold out of the wall to provide plenty of storage and a strong work surface. 
When you're finished working for the day, just fold your workplace back into the walls to expose recently liberated living space, allowing you to make the most out of your leisure time.
Opt for a minimalistic look 
Allowing your personal style to pop through in your work from home design idea isn't only for looks; it may also help you think more creatively. And there's no great way to achieve that stimulating vibe than with innovative office elements that express your unique individuality. 
Keep the colors vivid and the designs clean and simple to preserve the aesthetic flow continuing without diverting you from the task at hand or mixing up your workplace.
Cute yet unique space 
source: homedesignlover.com
This work from home design idea combines traditional and contemporary features that provide a discreetly luxurious workspace. Modern accents like gold chrome accents and angular furniture well-matched more traditional elements, such as the overstuffed soft desk chair. 
Organic resources like wood, wicker, and jute, as well as vases loaded with dried flowers, give warmth and texture. This creative and practical solution for building a home office area is adorable and practical.
The functional and open workspace 
You will not have to depart your office to enjoy the refreshing advantages of cool wind on a hot day; simply arrange your table and chair to front a door or window that leads to a garden or patio area. 
Opt for see-through components, clean and simple fabrics, and organic colors to retain your workplace in line with the airy feel and scenic beauty. 
A table lamp coupled with a wood workstation provides subtle boldness to supplement an open-air visualization while keeping you engaged in your work.
Mobile work from home design idea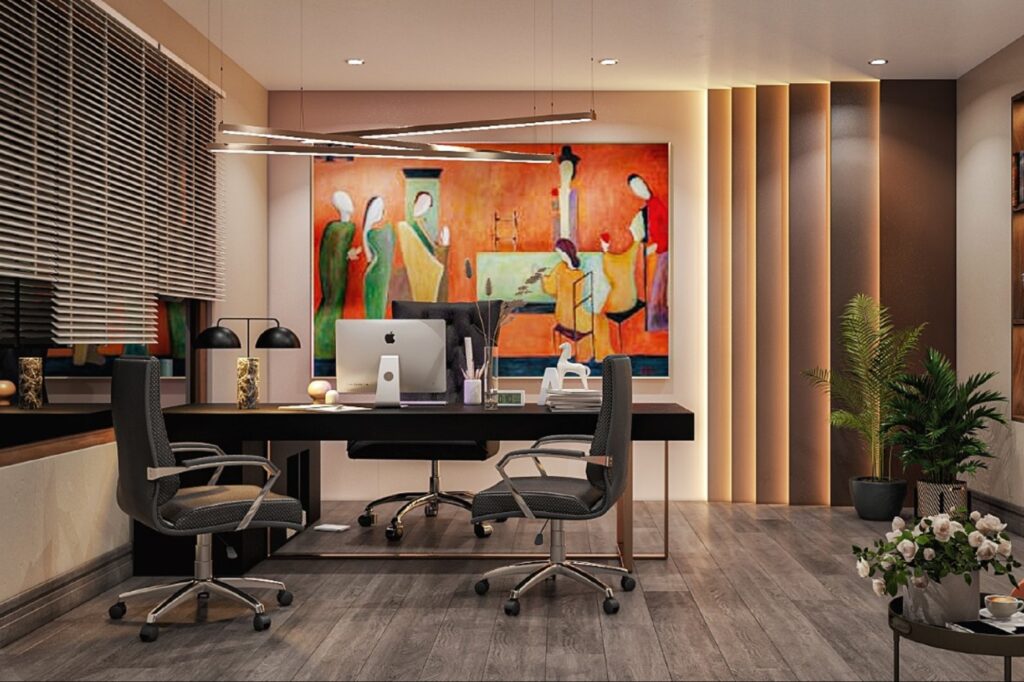 source: entrepreneur.com
Work trays are the major breakthrough of hyper-mobile workspaces, providing the ideal devoted workplace for mobile workers who don't want to be bound to the same location every day. 
Simply place the tray on the table and get to business to begin your day. What's the finest part, by the way? When you're through working room design, simply switch the tray over and put your work materials within; then, until you're required at your remote workforce again in the morning, you can put your entire workplace out of sight.
Decorate your home office, not like office! 
Who says a home office has to look like one? Colors, styles, and sizes of home workstations and chairs are now practically limitless, as are your decorating options. 
In the middle of a traditional-style bedroom, a rustic wooden desk and plush faux-leather seat will not only integrate effortlessly but will also bring it to life. And as a result, you'll feel more motivated to work.
The mobile workspace will also do the work!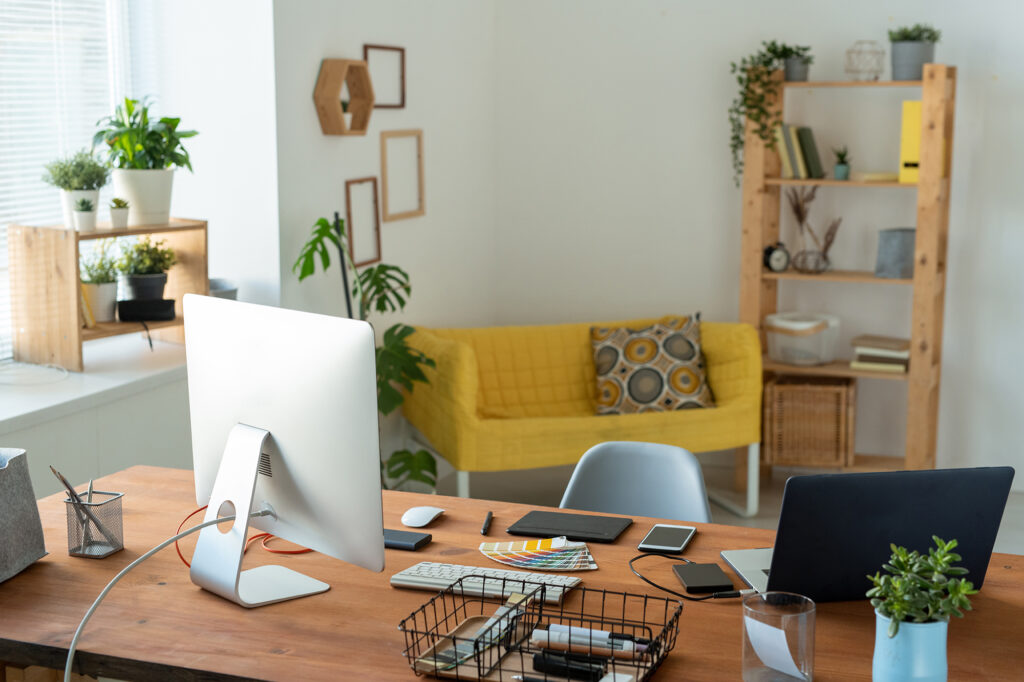 source: nypost.com
Don't worry if you don't have a specific space in your work from home design idea where you can work from every day; you're not out of luck. Rather than having a small workspace in your home, you can just create a mobile workspace.
Dedicated workplaces are ideal for remote workers who like to work from a shared living environment, such as the kitchen table. You can quickly convert any shared room in your home into a dedicated workstation with the appropriate dedicated workspace.
Make it lively & colorful 
If you work in a job that requires a lot of visual thinking, such as event planning or working room design, you'll need a lot of space to visualize ideas. 
They kept the decor in this home office to a minimum, allowing one full wall to be dedicated to vision boards. Another wall has various storage drawers, allowing multiple tasks to be arranged while still being easily accessible. 
The beautiful rug adds color and texture to the room without obstructing practicality. So, make your home office colorful and lively to help you be more creative and more motivated to do the work.
Make it look authentic. 
Warm, earthy colors are common in the Arts & Crafts movement, affecting the Craftsman form of homebuilding. 
Architectural details such as built-in cabinets, window frames, and molding have been painted black rather than maintained in their rustic wooden state in this home office. The walls are a bright white rather than the traditional neutral tone. 
The distinctive geometric wallpaper accenting the built-ins adds to this bold reimagining, making the space feel more authentic and natural.
Add some humor to your work from home office ideas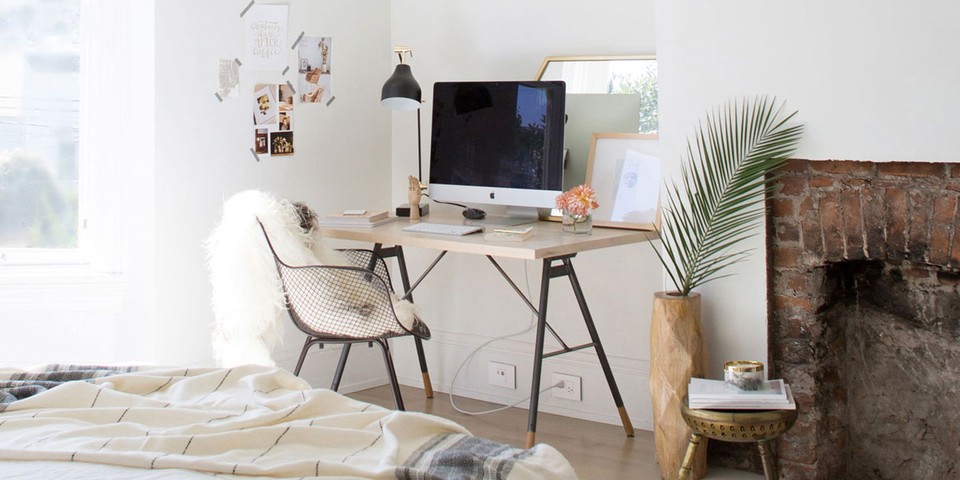 source: pinterest.com
You don't have to abandon luxurious, over-the-top workroom design ideas if you just have a tiny room to work with. The majority of the furnishings and decorations in this area have transparent and reflecting surfaces, allowing the natural light to shine through.
The light floods in via the single window, and the gentle grey, white, and baby pink color palette helps to expand the space. On top of it, the decorative plastic chair adds a sense of quirkiness to the room.
Lightning is most important. 
Late-night projects don't just occur; they require utmost devotion, enthusiasm, and, of course, a lot of lighting! A strong table lamp is a necessary fixture in every sort of home office. It is also one of the most straightforward methods to enhance your home office space while also motivating you to work late at night without letting you sleep.
Wrapping up! 
Unlike a corporate office, a house is meant for long-term living, as a home base outfitted for leisure, reclining, and relaxation. Integrating an office into a home requires bridging the gap between furniture and décor to keep you focused and motivated to work.
To ensure maximum productivity, the best approach is to dedicate a specific area in the home to the home office.
And we hope you loved the above workroom ideas to make it look beautiful and aesthetic. Do let us know about the workroom design idea you loved the most. Thanks for reading!