Remote or telework is the future; so, everyone must prepare for it by creating that office feeling in their homes with a proper home office.
Remote jobs allow you to work from the comfort of your home. Teleworking is the same, except you may be required to come to the company's office sometime. Both terms, however, can be used interchangeably.
As the workplace changes from traditional offices to virtual spaces, it is crucial to create a proper workspace at home to avoid distractions.
But first, what's the fuss about remote jobs and teleworking?
source: pinterest.com
There are benefits associated with working from home that only an appropriate home workspace can leverage. These benefits include:
Convenience

Flexibility

Comfortability

Effectiveness and

Improved work-life balance 
Motivated by these benefits, you can produce at your own pace. You dictate the speed of your job and the direction it goes in. This form of work is known to lead to maximum productivity. Still, a separate home office will help to utilize your full working potential.
There are about 4.3 million remote workers in the United States today, and the stats are growing every year. The trend will probably endure due to its role in helping both companies and their remote employees to save costs on transport and preserve the environment for sustainability. 
So, why should you set up a workplace in your home?
source: halfhalftravel.imgix.net
The ideal modern home office is furnished with the right pieces of furniture from the best office furniture companies. You can also deck your space with plants and flowers. If you're looking for someone to do it, Tree Triage is a certified arborist.
Here are six reasons why having a proper office in your home is important:
The Workspace Feeling
An office at home gets you into the office feeling. You are inspired to begin work and create wonders. Furnished with the right furniture and gadgets, you are flexibly and conveniently right on course towards meeting your targets for the day.
Minimum Distractions
Having a home office workspace shuts out all domestic activities and thereby minimizes distractions. With minimal distractions, you can concentrate on the work at hand, efficiently producing at improved capacity.
Creativity
source: pinterest.com
Creativity thrives in an environment that supports work. With distractions out of the way, you can turn new and imaginative ideas into realities. Only a home workplace can unlock your creativity.
Productivity
Maximum productivity is a result of creativity. Remote jobs themselves tell us a history of human creative processes. Since you will be working out a set of solutions to find the best one, there is no doubt a lot would be done from the creative outcome. The more reason to create an office in your home?
Discipline and Result
A workspace at home makes you more disciplined and result-oriented. The moment you are in space, you are after one thing, and that is the result. You combine all the processes that ensure the result is guaranteed.
Personal Improvement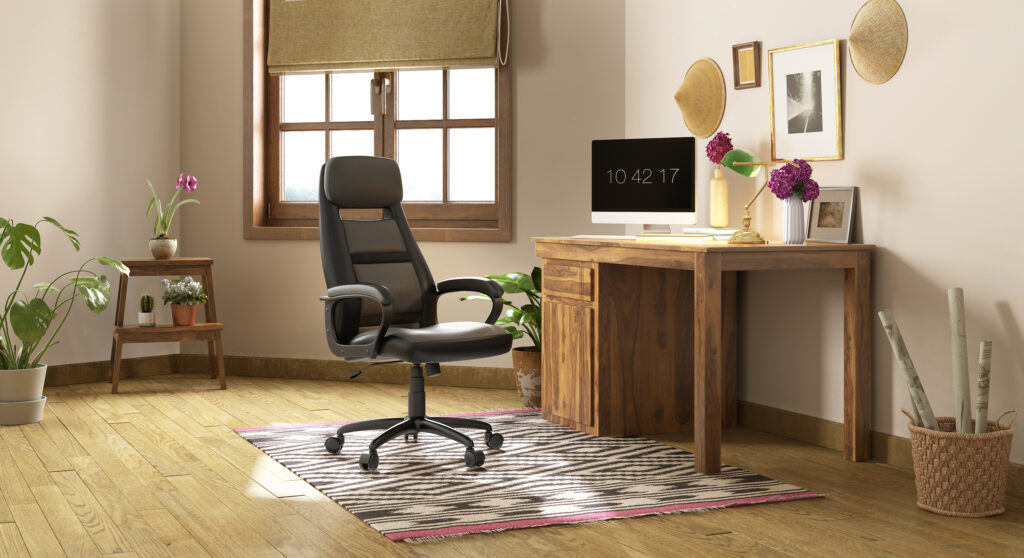 source: ulcdn.net
Personal improvement is a conscious and continuous process. Iterating all these benefits from reworking in a serene work environment in your home will improve your emotional and intellectual abilities. The routine is sure to enhance your work rate, allow you to produce at minimum effort, and put you in charge of time management.
The Bottomline
Although dictated at your volition, teleworking comes with corporate rules. These rules hinge on productivity and time management which are best optimized by creating a good office at your home. Also, when you have to do an online video conference, you want to give your employers a corporate impression and a touch of professionalism with your home office.