Your bedroom is a personal space that should encourage relaxation. There is a range of colour schemes that you can look into, but going for the soothing ones really help in calming your mind. These colours should go really well with your floor porcelain tiles for the best result. The best thing about porcelain tiles is that they come in various patterns, designs and colours to glam up your space. Not just that, it also protects the surface as well as makes the cleaning process a bit easier.
The first thing that comes into planning when renovating your interior is the colour of the interior. It usually starts from the living room leading to the kitchen, but the most important part is the bedroom area. When opting for a perfect colour scheme for your bedroom, make sure it compliments your aesthetic and aura. If ignored, the entire look can go wrong. We have a bunch of colour ideas that can never disappoint for any bedroom design.
Colour Schemes for Your Bedroom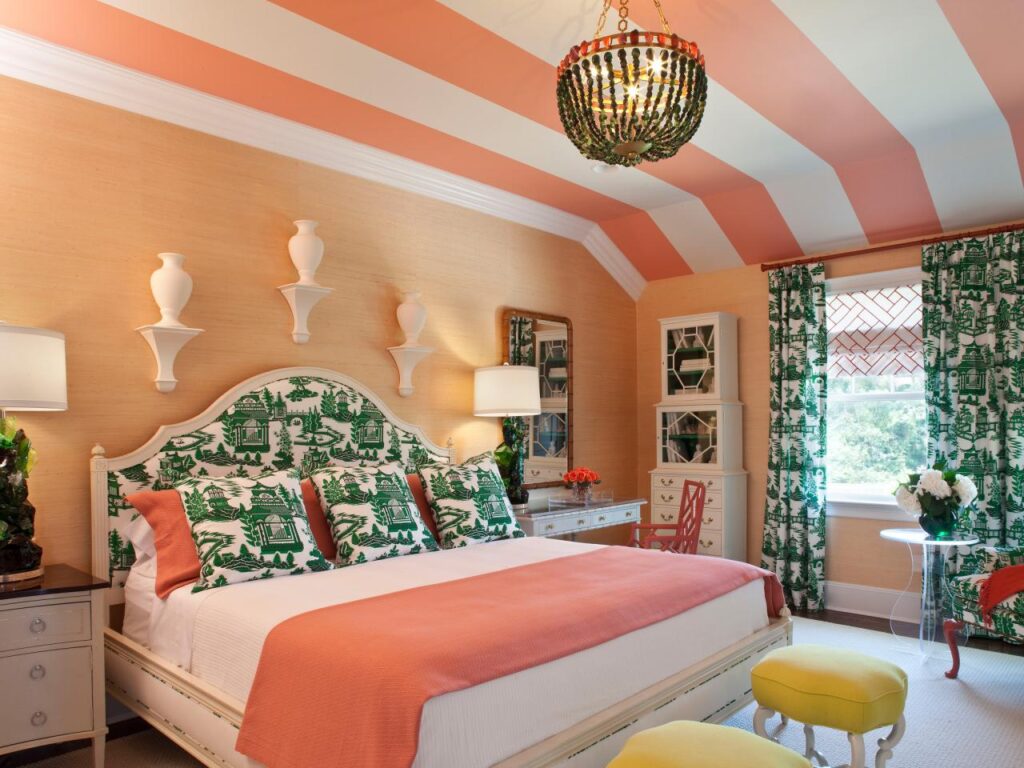 source: hgtv.com
A bedroom is a personal space for the person living in it. Therefore, it is important to get a sense of warmth and calmness when entering your personal space. Thanks to the advanced technology that you can get your favourite porcelain tiles in different designs, colours and patterns. Here are a few colour schemes that we have shortlisted for you to consider in your next bedroom makeover inspiration board.
Calmness of Blue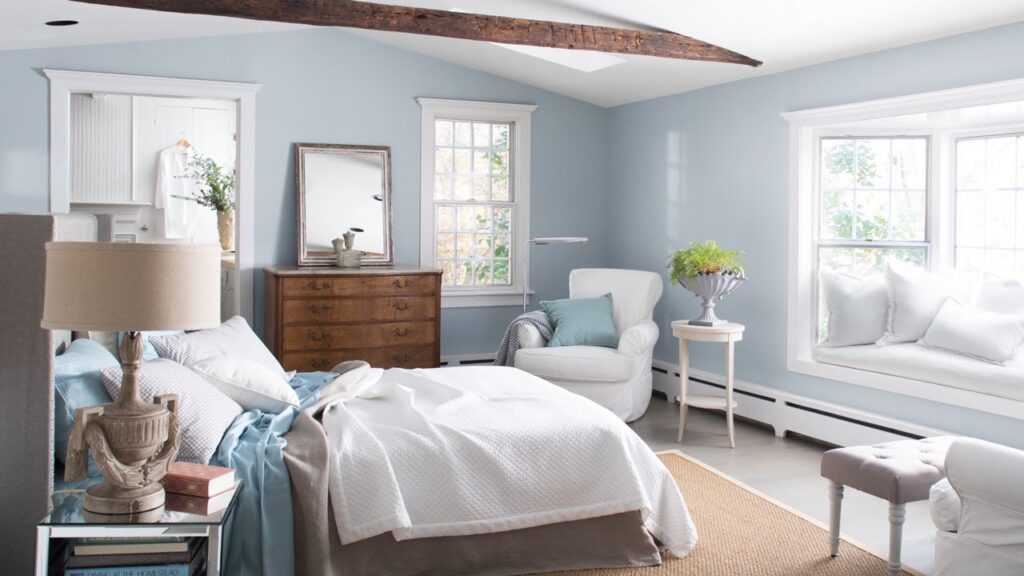 source: pinterest.com
Whenever in doubt, go for a soft and subtle shade of blue. You can also pick dark blue shades like navy blue to add depth to the space. It is one such colour that can never let anyone down. Blue is a very versatile colour that can seamlessly be styled in different ways. If you have a small bedroom, blue will definitely make it more welcoming. The best colours to go with blue are white and grey. You can explore different shades of grey to play well with the blue colour. Blue resonates with water, therefore, it gives a very calming and soothing effect. The darker shades can be paired with grey tones for better interior designing purposes.
Vibe With Yellow
source: hgtv.com
Yellow is an uncommon colour to be used in a bedroom space. But if you are into Mediterranean, farmhouse, or rustic looks, pick your favourite shade to go with it. Yellow is a bright shade that is perfect to open up spaces. You can also use it as an accent and give a very adaptable look to the space. It is extensively used in the large modern bedroom to add a splash of colour. If you like your bedroom to be quirky and crazy, you can use a lot of different colours of your choice too. Yellow is a happy colour, so make proper use of it.
Subtleness of Lilac
Any shade of lavender is perfect to add calmness and subtleness to your bedroom. The soothing effect of this colour is everything you need in your personal space right now. Lilac also exudes calm and serene energy to the surrounding. When picking your perfect muted tones with your wall as well as stone porcelain tile flooring. You can pick up different shades from your supplier.  Go for a light lilac shade if you are really into muted tones.
Blush Pink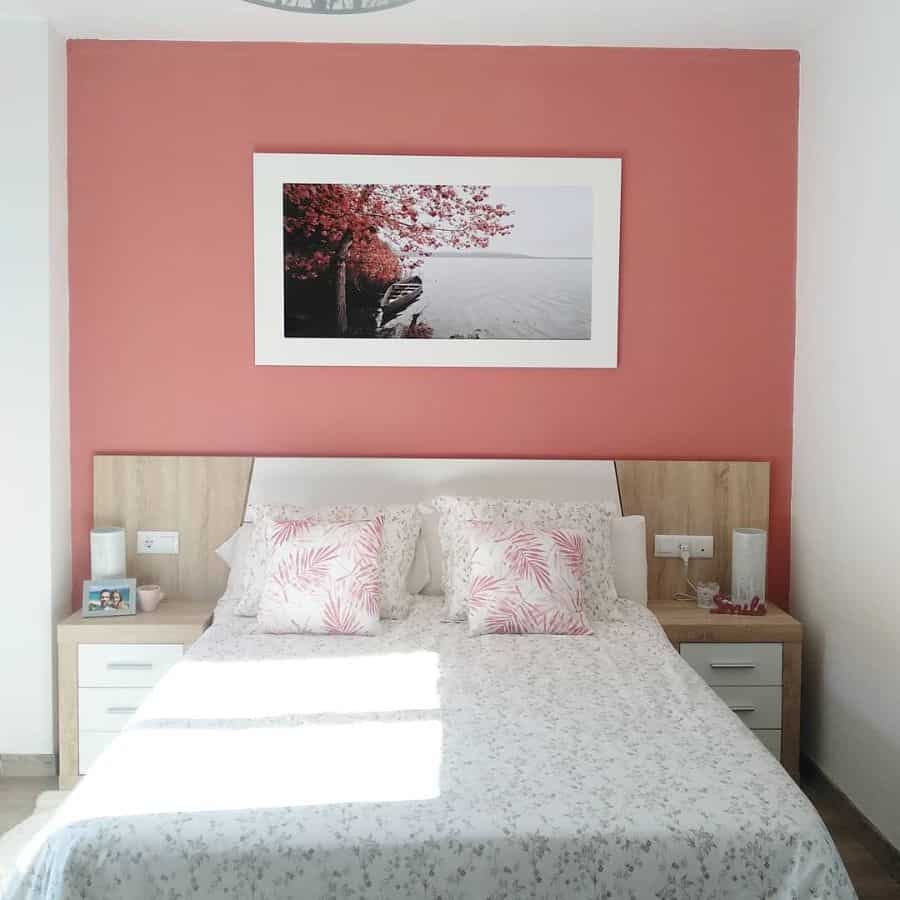 source: nextluxury.com
When it comes to picking bedroom colour tones, pink is the most common one. It is exuberantly feminine yet powerful. Picking the right shade of pink can never go wrong. Blush pink tiles are available in various designs and patterns to match the overall look of your space. The bedroom is supposed to have a calm and composed effect on your mind so that you can feel relaxed. Picking the perfect shade can really add up to it. Other than a blush pink, you can also try out different other shades of pink in muted tones to add brightness and more space. Pink goes really well with white. Make use of these two colours to create accents or any other designs. You can also pink porcelain floor tiles with different patterns of the same combination to save a lot of time. Take the help of a professional for a great result.
Gray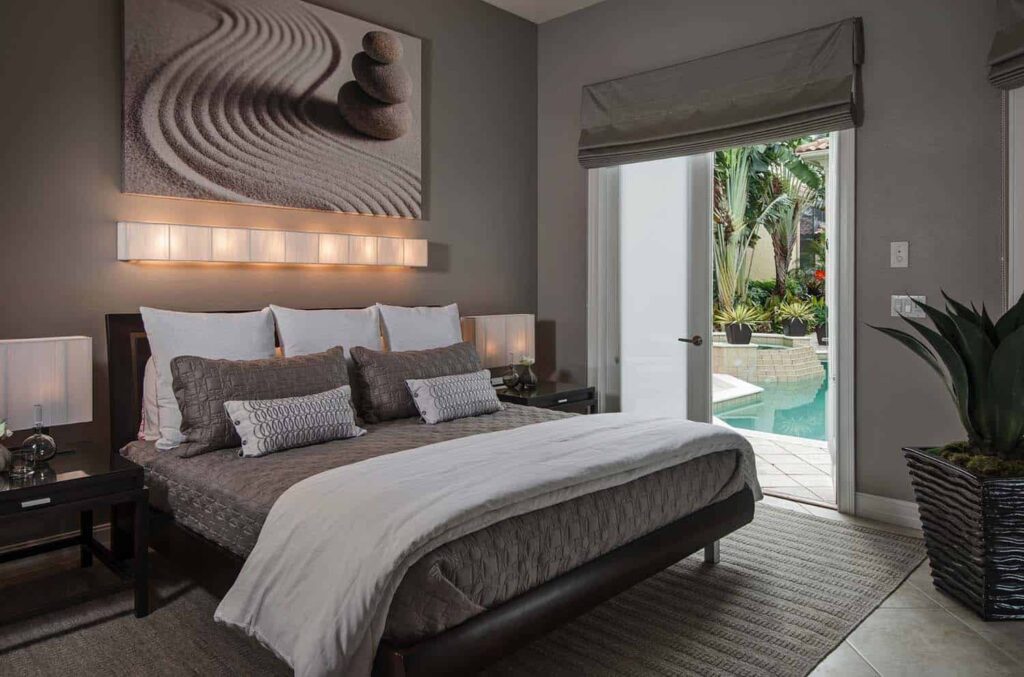 source: onekindesign.com
One of the most common misconceptions that a lot of people have is that grey colour cannot be used in the bedroom. It is a great flattering shade to incorporate into your personal space. Pair it up with green or indigo tones to give it a neutral tone. Look for different shades of grey that can add subtle Ness as well as add brightness in the bedroom. It is easy to give depth to your room with grey shades. Pick a darker complimenting colour for a great result. Take inspiration from Victorian designs for decorating your bedroom with grey colour walls and floor tiles. Create a stripe detailing on one wall with two different shades of grey to give it a sophisticated and rich look. A lot of interior designers suggest going for golden detailing with a dark grey shade 
To have a hassle-free colour picking session it is always advised to go for the manufacturers who can assist you online. You can pick inspiration and ideas from different magazines, blogs etc when renovating or remodelling your space. Before picking a particular design of tiles for your bedroom, get a few samples of different ones to see what works great for you. You might pick up one design, but what if you do not like it later. Tiles are a huge investment so we do not want you to make any mistakes choosing them. Always buy tiles in abundance so that you can replace any tile pieces in the future if chipped or damaged completely. Store it in a safe place so that you can find it whenever required. 
Research thoroughly before starting the purchasing process!