You don't want to waste the next five years debating with your son about his room, so choose a color scheme and theme that you both enjoy. No, it doesn't have to be all shades of blue with a fluorescent wall, superhero bedding, and piles of toys; the room's owner may have other ideas. Keep in mind that his preferences are still developing.
Boys' bedroom ideas don't get a lot of attention in the interiors world, do they? We assume it's because, while all bedroom ideas are technically men's bedroom ideas, certain looks are more relevant for men's spaces.
So we thought we'd put together a gallery of stylish, cool bedrooms that strike the perfect balance between polished sanctuary and cozy sleeping space. All of our suggestions are (as always) extremely simple to implement and can be used to decorate any bedroom, not just men's. As a result, anyone can find creativity here.
Color, Color, Which Color! 
source: home-designing.com
When deciding which paint to use on the wall, you have a lot of options, and it's difficult to choose one that won't make you regret it. However, you no longer need to be concerned because you will be provided with the perfect color palette, which you will undoubtedly enjoy.
The right colors for boys bedrooms are totally dependent on the preferences of the man who lives there, but darker colors such as chocolate brown, classy black and ultimate grey boys bedroom colors are often used. Of course, lighter colors like reds, oranges, greens, and yellows may be added as well.
The uniqueness of neutral colors is that they adjust to their surroundings almost instantly. As a result, the best masculine bedrooms often use a neutral color scheme that is dichromatic or trichromatic. Feel free to incorporate a few bold textures or patterns into the space through carpeting, pillowcases, or artwork, and rest assured that the design will be thanks to the overall neutral vibe.
Age Is Not Just A Number!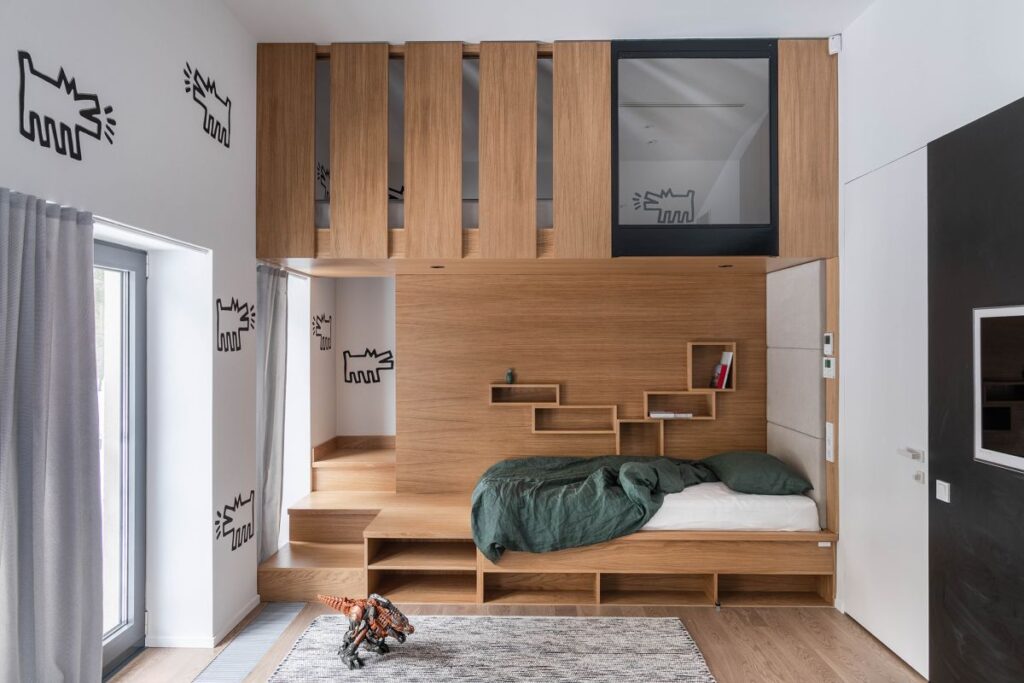 source: homedit.com
Choose a few things to have fun with while planning a bedroom for a precocious adolescent, but make sure each object speaks to the rest of the home's theme for a seamless whole. This way, it can double as a guest room until he moves out (you don't have to tell him just yet).
Example: Find decorative components that are both vibrant and refined for a smooth transition from childhood to teenage life and adulthood. For a little boy, a map on the wall may be an engaging piece, while for an adult, its unique painting makes it a great accent. The complimentary scattered blues are energising, but they also have a positive affect.
Game On 
I'm sure your son loves to play games so creating a small gaming area is not a bad idea. This artistic sports-themed area, with its polished wooden floors, flush interior lighting, and wall-mounted hoop, looks more like a championship baseball field than a little boy's bedroom! This creative style is a straight-up winner! It's slick, trendy, and designed around joy!
Nook For Book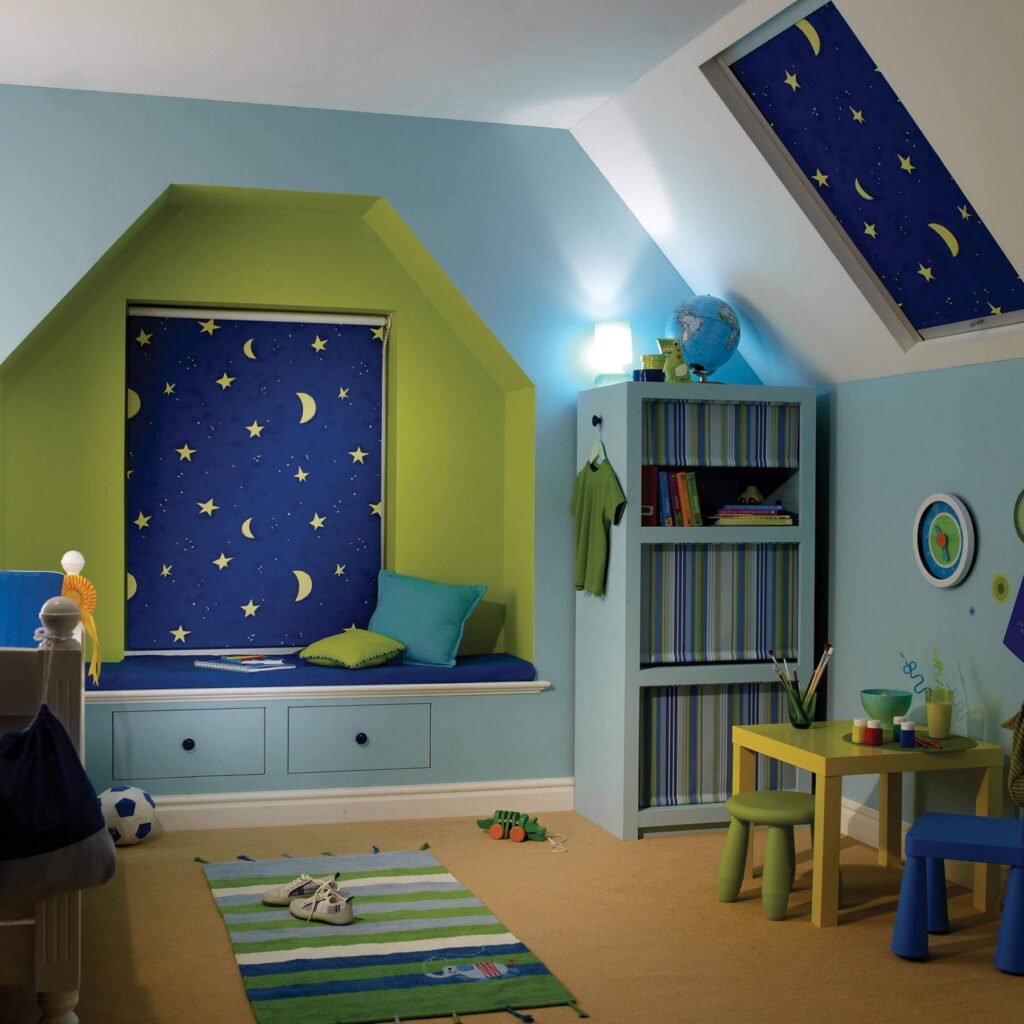 source: houseandgarden.co.uk
In a bedroom, a chair is a lovely thing. It not only looks chic, but it also provides an elegant little zone in your home where you can read, drink coffee, and focus on life. They're ideal for filling an empty corner of a bed, and don't forget how useful they are for throwing clothes you wear all the time. Let your son room feel more sophisticated by arranging their books on wall-mounted shelves. To make it feel like its own reading nook, add a reading lamp on the study table to enhance the design.
Example: The playful mood is set by the sky walls and grey ceiling. A teeny-tiny daybed in front of the window is the ideal place to curl up. Things also stay organised thanks to a constructed shelf loaded with books and toys. The presence of family pictures on the wall add heartfelt touch.
Woke-up With View 
If you're lucky enough to have a view, take advantage of it to the max. A cityscape or woodland outside the window will do too, if not, than any wallpaper or piece of art. In cases where the vision is genuinely near. Consider a luxurious dark bedroom with tall mirrors to complement those stunning high-rise views, or brilliant wood paneling and a rack of outdoor photography books to complement the nearby trees.
Hidden Zone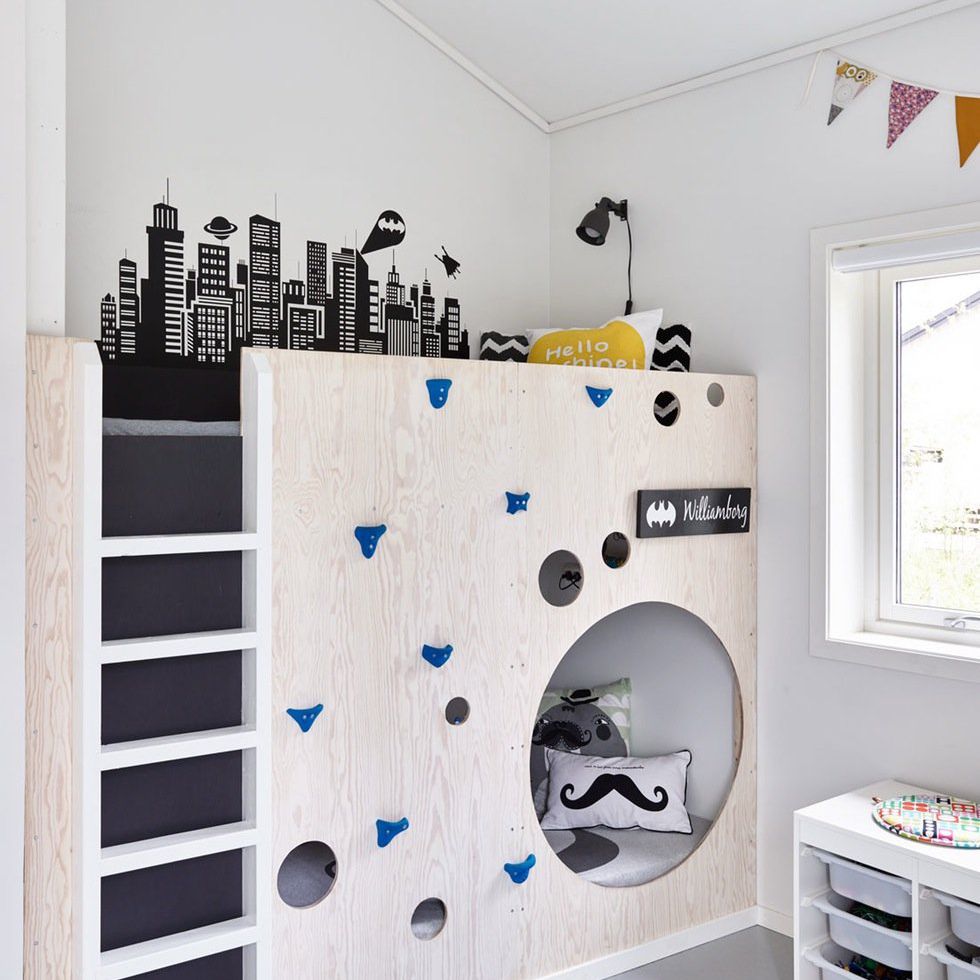 source: thespruce.com
Accept it. We've always dreamed of finding secret passages or hidden doors in our homes that lead us somewhere amazing. That dream has now become a reality for these lucky folks You can also generate new hidden spaces, nooks, and passages for your children. You should reuse your doors as bookshelves or your cabinets as doors. Since secret rooms are so cool, this will be a favorite hangout spot for your child's peers.
Time To Bed
Boys bed canopy: Canopy beds were once considered a sign of wealth. They were popular in the upper crust of society as a glamorous token of prosperity. Canopy beds are now pretty cheap and surprisingly simple to install yourself. They're still a great way to bring your own distinct personal look to your bedroom. Here are a few suggestions!
Example: Some people like the classics, which is why this exposed wooden beam canopy is a perfect choice. It has a timeless look that can be left as is for a minimalist look or added curtains in the winter to add a bit of cosines. This bed will quickly become your next bedroom standard, no matter how you decorate it.
Toddler' bedroom can be styled in an interesting way. This bed is decorated in the style of a canopy camping tent. Simple colors look great in every little boy room. This bed has a sturdy frame and a soft mattress.
Older boys bunk bed: A bunk bed is a collection of elevated beds that are constructed on top of each other and are protected by four posts and have an attached ladder or built-in stairs for easier access to the upper bunk. The price of this bed can vary depending on the options desired or the style of frame (wood, metal, etc.).
 Example: This triple bunk combines perpendicular top bunks with a futon that extends to a full-size bed. With this style, you can comfortably fit 3 to 4 sleepers while still freeing up floor space for more storage.  The futon also pulls out, eliminating the need for a back wall. This bed is an excellent choice for older boys bedroom ideas in tight spaces.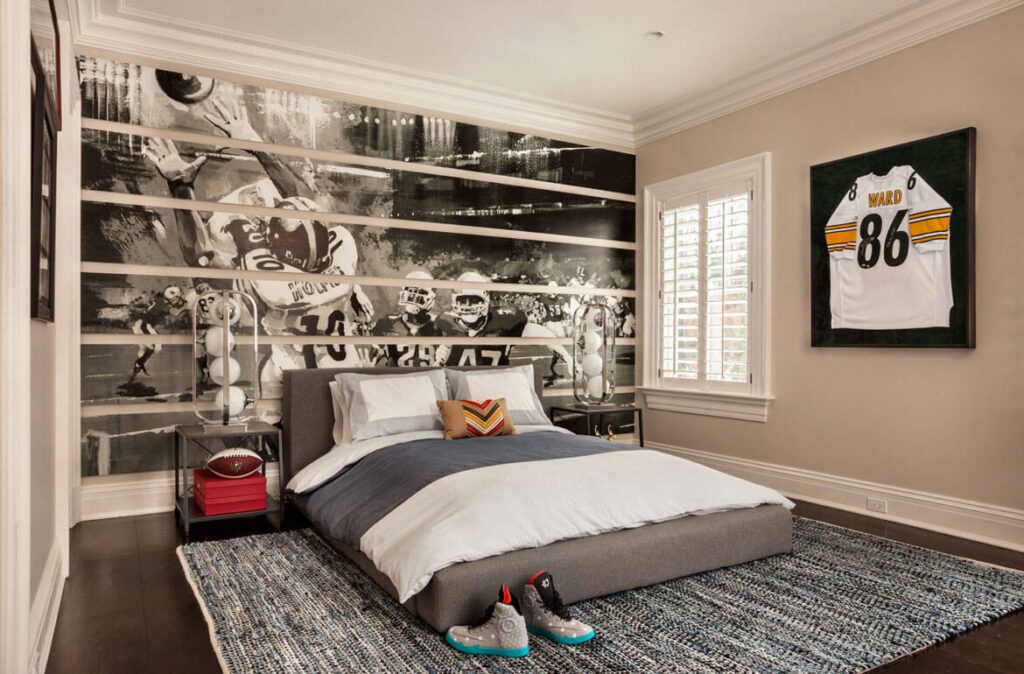 source: sebringdesignbuild.com
King Classic beds: A contemporary bedroom does not have to be freezing and stark. Consider it a more toned, sleek style that is key to getting a good night's sleep. Creating a polished, modern look that is still comfortable requires the use of luxe bedding, rich fabrics, and the odd splash of color.
Example: Beds with storage for small spaces are an excellent way to maximize your space while maintaining a high level of comfort. Most storage beds have plenty of drawers and shelving for storing items while also being built to support a regular mattress.
Boys bedroom set: What are any ideas for getting your kid ready for bedtime? Involving your kid in the decision-making process is a smart way to go. Boys may have a favorite cartoon character or superhero that they admire. If they can choose a bedding set that represents something meaningful to them, bedtime can become even more appealing. You may also take over and choose the right bedding sets for your kids.
Example: Bed sets include adorable prints like aircraft, tractors, boats, and trucks in crimson red, navy blue, sunshine yellow, grass green, sky blue, white, black, and grey. The comforter also has a big gingham check pattern in sky blue and white on the reverse. In addition, the pillowcases have a small-scale pattern of cars in a horizontal striped style.