For many couples, the bedroom is the most important room in the house. If you're in a healthy relationship, you'll probably spend a lot of time in bed with your partner – if you get what we mean! 
A bedroom doesn't just have to be a place where you sleep; it can also be a place where romance blossoms and passions come to life.
This site users shared their opinion that designing the bedroom can be tricky considering that the room should speak of the aesthetic of both you and your spouse.
Without further ado, we present 12 decorating ideas that will cause envy among your friends. Be warned: you may never want to get out of bed again!
1 – The open concept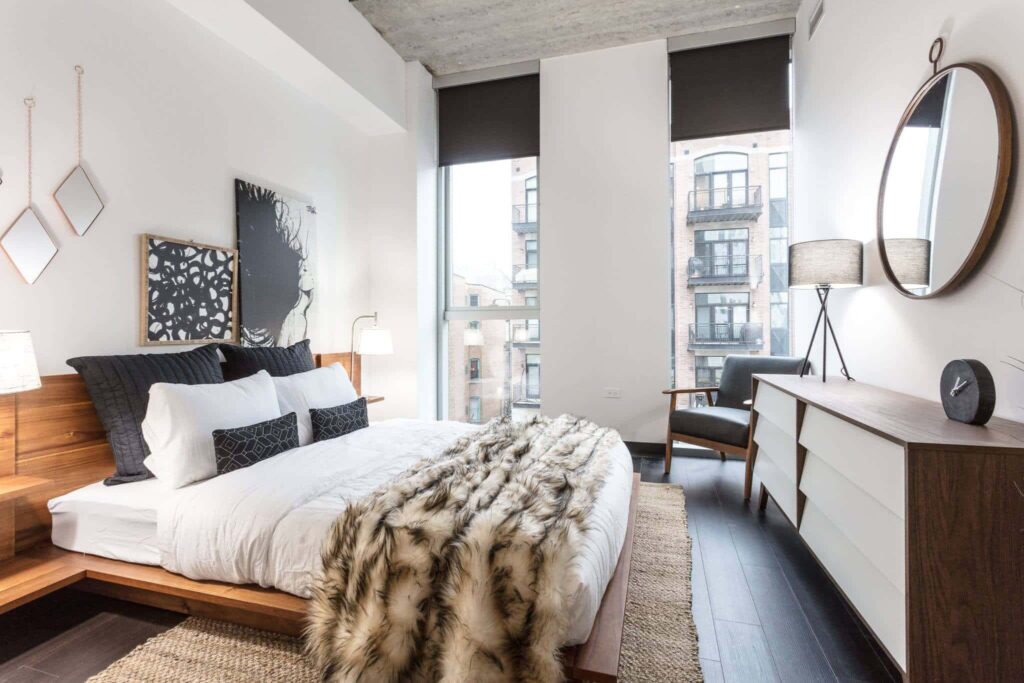 source: luxurychicagoapartments.com
Nobody wants to live in a cluttered hovel. Swap the multitude of furniture and mountains of clothes and start minimalizing your bedroom. Not only does this have proven psychological benefits, you'll also want to spend more time relaxing in your safe space with your partner if you have room to actually move around.
2 – Add romance with wood
There is a reason so many people crave a romantic trip to a log cabin in some beautiful part of the wilderness. Try to recreate that sort of setting in your own home and make every night feel like a sensual getaway in your very own cabin in the woods.
3 – Combine the bathroom with the bedroom
No, we don't mean plonking a toilet right in the middle of your bedroom. En-suites are an amazing addition to your house. Having a bathroom right next to the bedroom is a great way to get ready for a night of intimacy. You can even try the technique they use in movies, where the partner seductively opens the bathroom door to reveal a sexy outfit.
4 – Bohemian decor with textures
source: ostkcdn.com
And here's the good news – Boho décor will never go out of style. For those who are unaware, Boho fashion relies on layers of color, texture, and artistry, combined with upcycled and second-hand objects.
5 – Create romantic lighting in your bedroom
If you can afford to change your lights, we certainly recommend investing in a dimmer switch. Low lighting is traditionally more romantic for a number of reasons. Scientifically speaking, wyour pupils dilate when you are excited or aroused. The same thing happens when you are in a dimly-lit room. 
6 – Light a Fire
Nothing says romance quite like a burning fire. If you have the money, install a fireplace in your bedroom and buy a rug so you can both sit in front of the flames with a glass of wine and relax in each other's arms.
7 – The storytelling wall
Have a wall that tells the story of your relationship. Hang pictures from your days out together. Find posters or ornaments which have sentimental value and use them to create a space in your bedroom that portrays the good and the great things about your love story so far.
8 – Draping luxury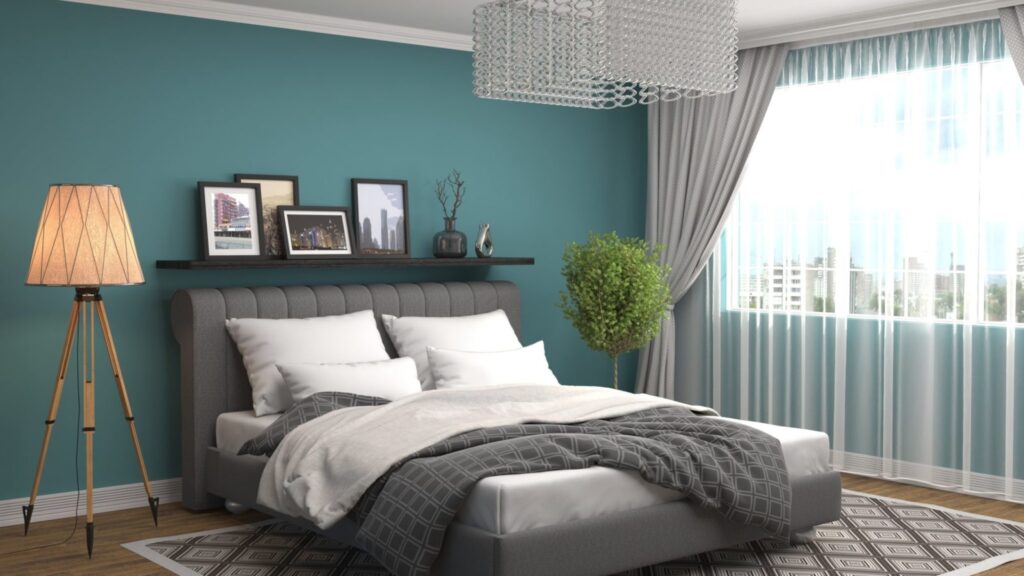 source: mydomaine.com
A good pair of drapes can really make your bedroom come to life. Go shopping together and see if you can find a pair that speaks to you. Heck, if you've got the space, why not go for broke and buy a four-poster bed.
9 – Boho chic
Boho chic is the most in-trend fashion craze of the last few years. This is a tasteful and funky way to spruce up your bedroom, doing away with your typical out-of-the-box. Adding a touch of the bohemian to your living space will result in a laid-back vibe.
10 – Flickering Shadows
If you are going to invest in candles, you'll also benefit from flickering shadows which dance all over your wall.  These shadows help create a relaxed vibe and make your bedroom feel more like the setting for a Jane Austen novel than your standard 21st century fare. 
11 – Add Artwork, You Both Love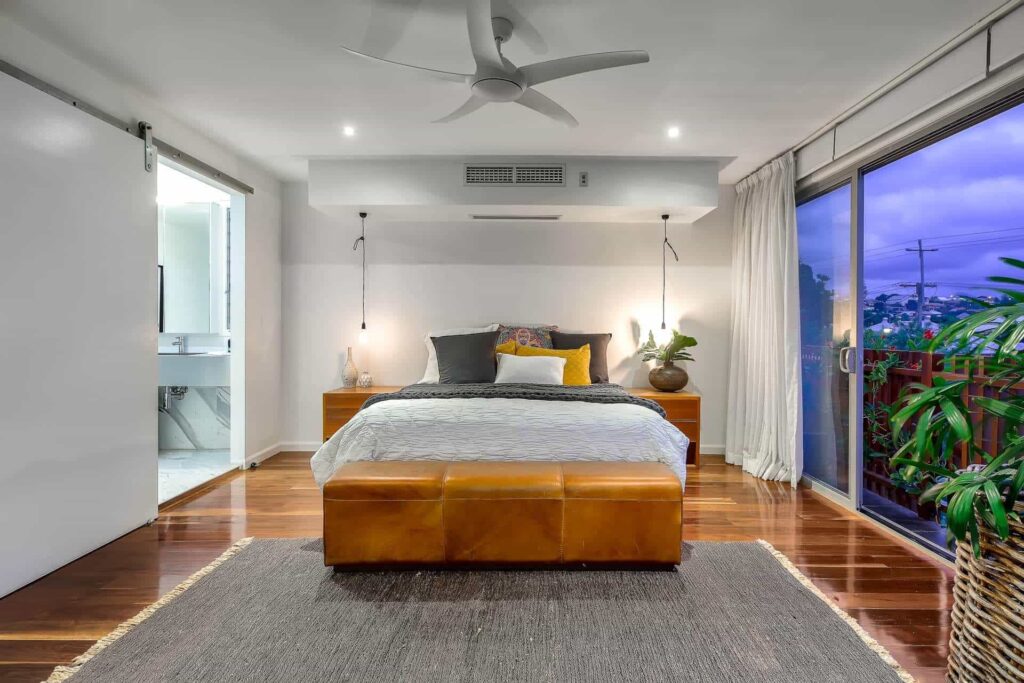 source: placeproperty.com.au
The best way to spruce up your bedroom is by putting your own personal stamp on it. Don't just settle for whatever design was in place when you move in. Find artwork that genuinely speaks to you, or hang your favorite movie posters. 
12 – Mix in Candles
Candles are a fabulous way to make a room pop. Nothing kills the mood more than the big light – this is true for us anyway. Draw the curtains, turn off the lights and light a few candles; this will give your room a comforting, homely feel and maintain a sense of sensuality. 
Are you inspired?
We hope we've given you some inspiration to transform your bedroom and potentially take your relationship to the next level. Have you got any bedroom tips? We'd love to hear about them!