What is it about a hotel room that is so different from your AirBnB?
From Egyptian cotton sheets, comfy pillows to lush carpet, and interior design, a hotel makes a perfect place for a peaceful night's sleep. Staying in a hotel room gives a feeling of being cozy due to the fluffy cloud-like bed, sheets as soft as spun silk, the perfect hotel air conditioning, and clutter-free décor.
Hotel rooms are designed to distress the hectic life for a restful sleep while you're away from your sweet home. The minimalist design, comfort, and peaceful environment relax the mind and melts away the tension.
With 55% of family travelers taking trips to relax, a hotel room is the best place to encourage relaxation and bring the family together.  
But hopping on the next plane or waiting for your next vacation to experience the magical stay at a hotel room is no longer necessary. It's possible to create the same luxurious vibe in your AirBnB bedroom.
The Best Guide to Give Your AirBnB That Hotel Feel
source: airbnb.com
With your AirBnB bedroom being a decompression point turning your room into a hotel feel reflects your design and style. Replicate the cozy vibes of a high-end hotel and give a luxurious makeover to your bedroom with a few additions and tweaks.
Create a floor plan
Visualizing your AirBnB room as close as possible to reality is crucial for giving the space that hotel-like feeling.
That's where a floor plan comes to the rescue.
The floor plan is an architectural depiction of your room's layout. It gives a scaled overview of your room design, allowing you to see how everything is positioned in the space. A good floor plan design maximizes space, airflow, and light, while a lousy floor plan makes the room look dark, cluttered, uninviting, and stuffy.
Create a floor plan giving the layout of aspects like walls, furniture, and fixture, using a home design software.
At a bare minimum, your floor plan software should entail details like, 
Room dimension

 Location of power points and light switches

 Location of doors and windows
Advantage of a floor plan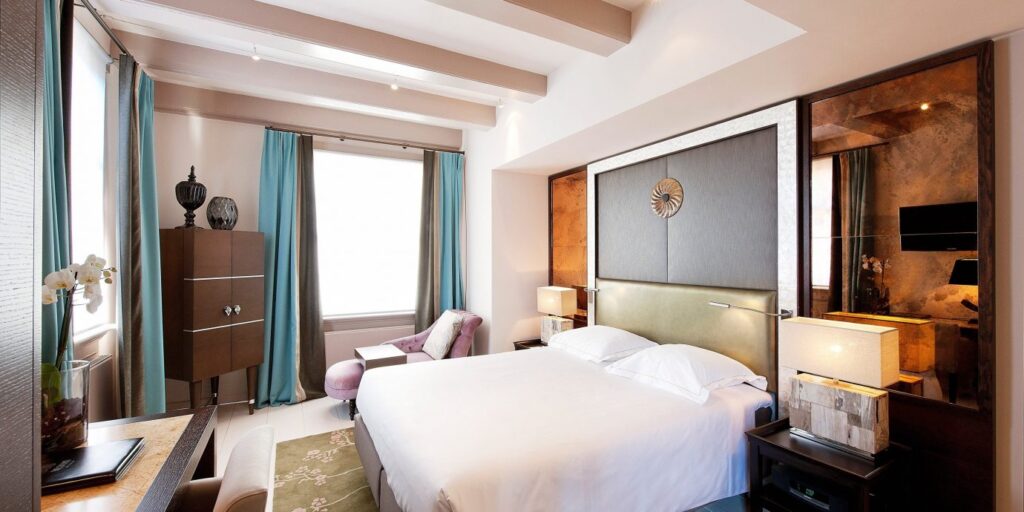 source: jetsetter.com
Turn ideas into visuals: You may have thoughts of converting your room into a hotel room, but you need to translate those ideas into drawings. A floor plan tells you how your room will look in the end. Based on the drawing, tweak changes, and build a dream house.
Helps choose the right furniture: One of the challenges of choosing furniture for a room is the size. As the floor plan is designed to scale, you have an exact measurement of each area, allowing you to choose furniture that perfectly fits the room.
Helps in understanding the circulation space: It enables you to understand the circulation and connectivity between different areas. This ensures proper utilization of the available space.
Reduces scope of error:  With a floor plan, you can easily make design changes before acting on the design. As the famous saying goes, "measure twice, cut once", investment in a floor plan design saves expensive mistakes.
Invest in a fluffy white bed linen
Nothing says 'just relax' more inviting than a bed topped with soft linen and a comfortable cushion. It's the bed that takes center stage and is highlighted. One of the easiest ways to snazz up your bed is with a gorgeous set of luxe sheets. Though the hotel uses percale or sateen, choose a linen that feels most comfortable and breathable.
Look for bed linen with a thread count of at least 400, and for those looking to splurge; launder the sheets once a month to get nicely pressed crisp whites sheets.
Advantage of white bed linen: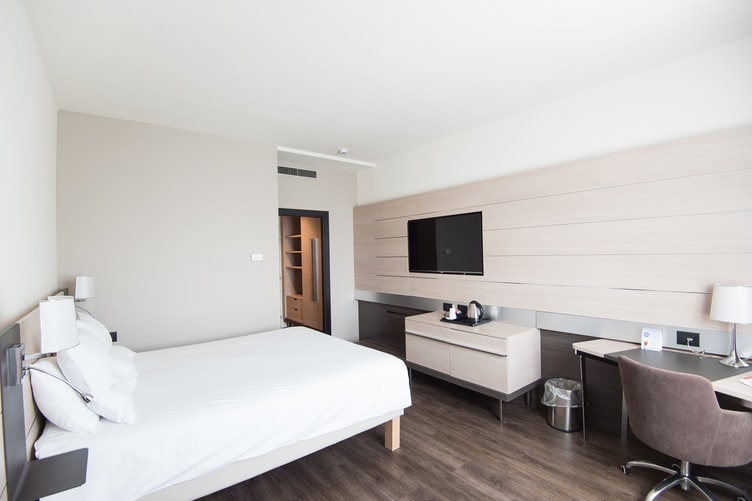 source: unsplash.com
Improves sleep with calming white: Ever wondered why you sleep peacefully in the night in a hotel's room? Apart from the fluffy mattress, white bed linen leaves a calming effect on your mood, which triggers the sleep hormones and ensures a peaceful night. 
Timeless elegance: Trends, patterns, and designs come and go, but one thing which remains a bestseller is white linen on the bed. White bed linen is trendy, fashionable, and looks elegant in any bedroom. 
Makes the room feel less cluttered: As the bed is the highlight and occupies a significant room space, using a highly patterned bed linen makes your room look cluttered. On the other hand, white linen makes the room calmer and less messy.
An impression of luxury: A white linen gives an impression of luxury and gives your AirBnB room a vibe of a hotel room.
Use lavish lighting
Of all the rooms in your AirBnB, a bedroom is where you spend time in daylight, night, dusk, and dawn. Getting the lighting right is imperative to make the room a comfortable place to rest at night and shine each morning.
Most of the hotel rooms have lamps on each side of the bed. This lighting helps in visually pulling the room together. You can turn off these overhead lights to create a warm and cozy atmosphere in the space. Such lighting is called warm lighting and promotes relaxation in the evening. Due to our biology, a warm light unwinds a hectic day and makes you ready for sleep. 
The bedroom should have a mixture of warm and ambient light. Proper ambient light includes natural lighting through windows or artificial lighting, which allows you to perform day-to-day activities like cleaning, mopping, reading books, making a bed, or folding clothes. Some studies show that natural light, which contains a spectrum of blue light, helps humans wake up in the morning, making daylight bulbs important for a bedroom.
Things to keep in mind for lavish lighting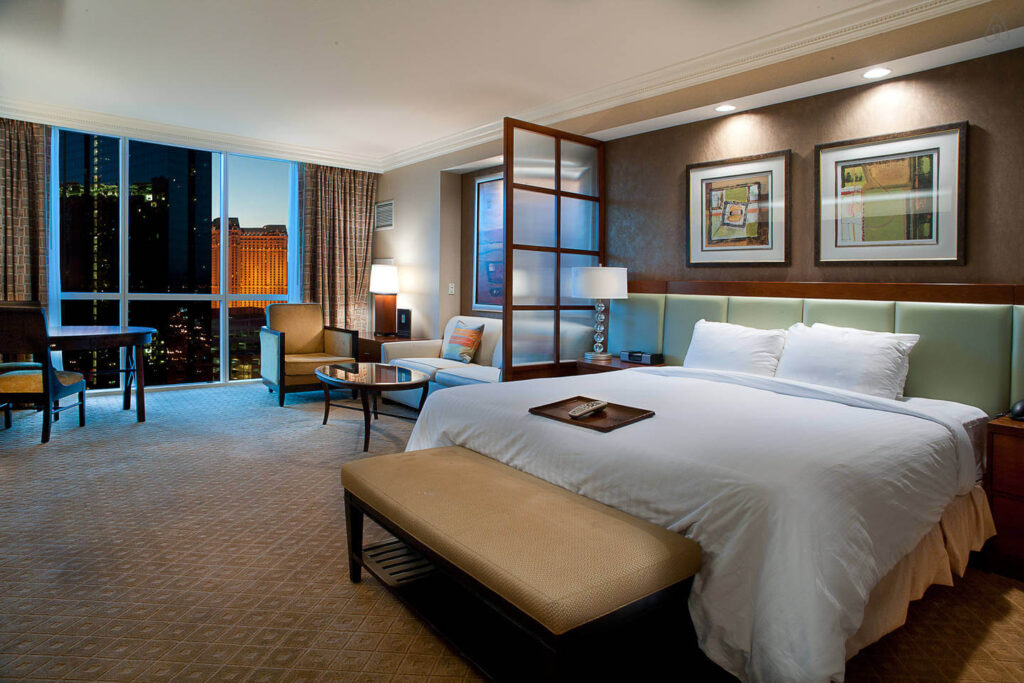 source: fortune.com
Ensure adequate natural lighting.

Use lovely and elegant looking chandeliers and pendant lights.

Use some wall scones or table lamps near the bed.

Don't forget to install dimmers as they add drama to your bedroom.
Advantages of lavish lighting
Shapes the mood: Too little light makes us depressed while sufficient lighting, whether natural or artificial, keeps depression and a bad mood at the bay.
Creates atmosphere:  Different lighting creates a different atmosphere in the space. Warm lights are welcoming, colorful lights indicate the festive season, while bright light creates a clinical atmosphere. You can effortlessly convey any specific feeling using lights.
Affects emotion: Bright light intensifies both positive and negative emotions, whereas dim light keeps the feeling steady. You take the right decision in dim or lower light.
Divide the area into varying functions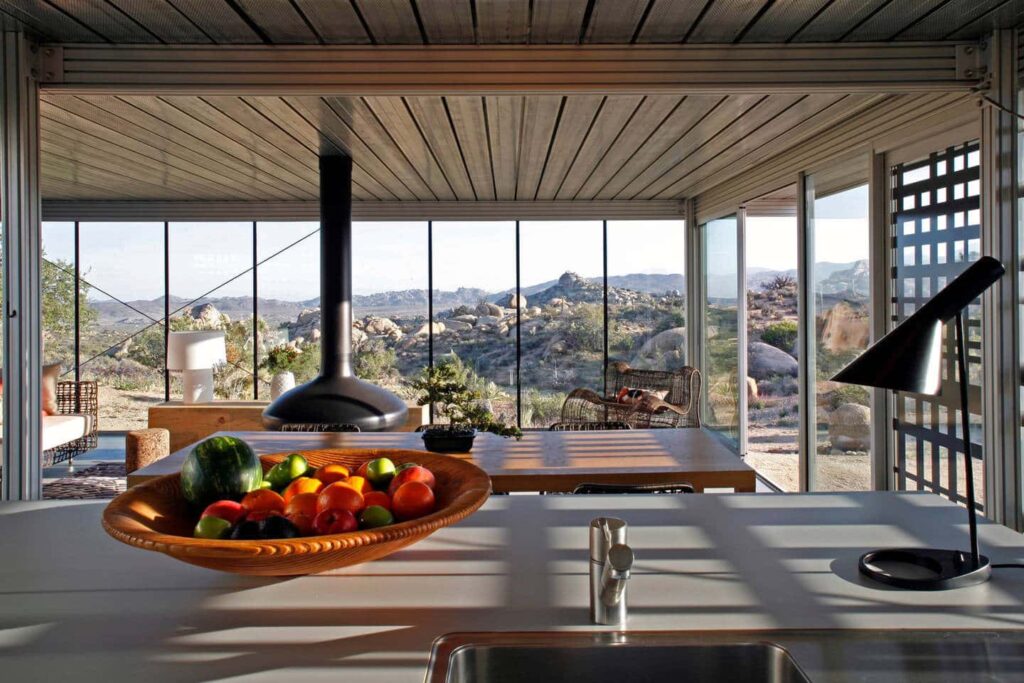 source: thespaces.com
Another critical thing about hotels that you can replicate in your AirBnB room is that they are not just intended to sleep.
Think multiuse.
You'll find a reading desk, a snack station, a bath, a closet, a vanity mirror, and a seating area in a hotel room. So, irrespective of your room size, divide the space into functions depending on activities you love to perform.
You can:
Incorporate a working desk to watch television while working on your project.

Place two chairs or a small two-seater sofa with ottomans.

Use the ottomans as a surface for playing games, resting feet, or as a dining surface.

Have a vanity mirror above the working desk for getting ready when the bathroom is not free.
Don't forget to add a flat-screen television on the wall with a complete satellite station for giving the hotel feel to your bedroom. You can even add a stereo system, DVD player, or iPod docking station as an extra fun element in the room.
Space for late-night hunger craving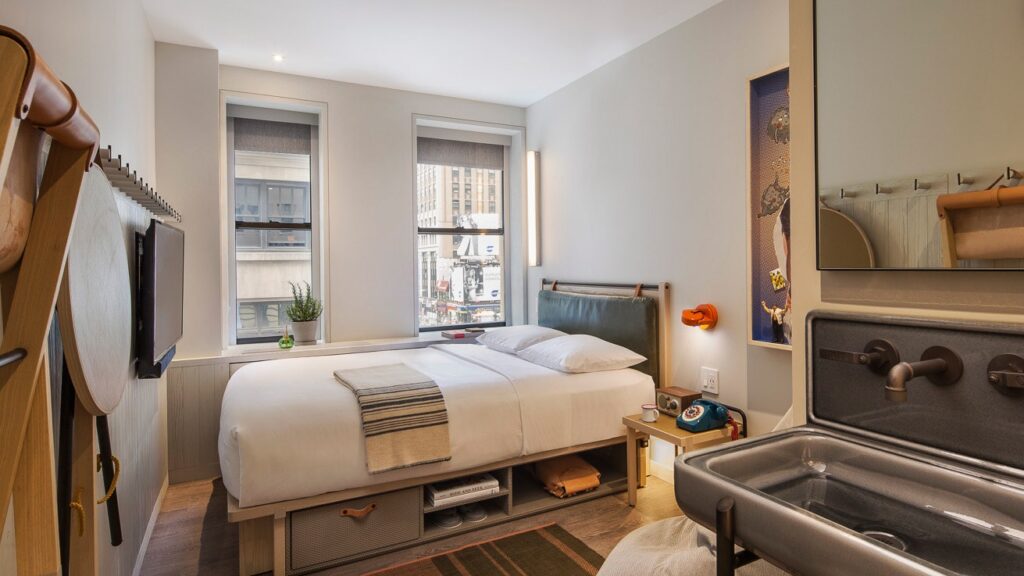 source: cntraveler.com
When you're at a hotel, you've room service to fulfill your midnight hunger cravings. But, in your AirBnB, you don't have such a luxury. You can do the same to your room by allocating a tiny space for a snack station. It could be a mini-refrigerator or a place for brewing your favorite coffee. 
Consider adding a cabinet filled with goodies and eatables you love. For those who love alcohol, you can have a mini-bar inside the bedroom. A snack station ensures your favorite tipple is close to hand while reading a book or watching television.
Conclusion
Bedrooms are havens. When trying to replicate the hotel environment, give the room a touch of your personality by adding a dash of fun. When you do this, you wake each morning with a smile on your face. Anything that brings happiness and lifts your mood should find a space in the room. It could be a painting, a décor item, or even a potted plant.
A great hotel is a gateway for a relaxing retreat, and by following this guide, you can create a similar space in your AirBnB. You can create a gateway for escaping every day and not just once in a blue moon.
Apart from investment, transforming the room requires motivation as you have to spend time and effort to place everything as you like.
Now with all the hotel secrets in your kitty, it's time to give your AirBnB a luxurious makeover.