Shifting to a new home or looking forward to a renovation? A well-organized home is a key to perfect aesthetics and functionality. From cutting the clutter to playing with colors, a home can be more than just a shelter by making some minor changes in your decor. 
However, most of us struggle with organizing different elements of a room efficiently. This way, you might make silly mistakes that can make your house cramped, messy, or even dingy. Thankfully, incorporating some professional organizing tips can turn into a whole new world! 
Even if you aren't lucky to have a huge living space, some simple home organization and DIY tips can make it look more spacious than ever! That's right, and magic is all here because we have come up with the trendiest home decor and organization ideas to make your living space bigger and better than ever. 
10 Essential Home Organizing Tips and DIY Ideas
Mix 'n' Match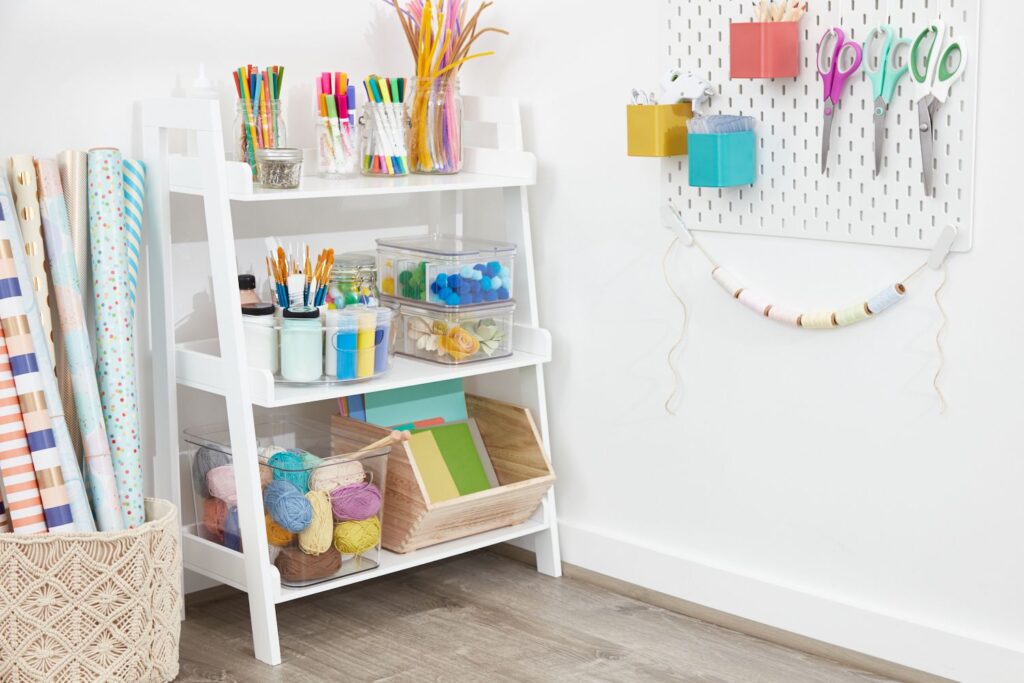 source: thespruce.com
The first thing your guests would be looking at is the walls and the color scheme of your living room. To elevate the overall aesthetics of your home, try matching the colors and different shades of walls with the furniture. For example- if you want to make the room look bigger, try having light-colored walls with contrasting furniture. 
It is because dark colors tend to absorb light making things appear smaller than they are. Light-colored walls will make sure that light reaches every corner of your room and it looks more spacious than ever. Pastels, beige, and off-white are some of the ideal shades for a light and spacious look.
Cut the clutter 
While your books, a table lamp, couch throws, etc., might seem like your daily essentials, these can look like a total mess when placed improperly. Minimizing the objects and organizing them more smartly is one of the best home organizing ideas for small spaces.
 For example- one large painting looks much more sophisticated and smart than too many small paintings hanging around. Or, avoid stacking up objects on the table like books, clothing pieces, or other accessories to keep it clean and mess-free.
Try modern bookshelves and racks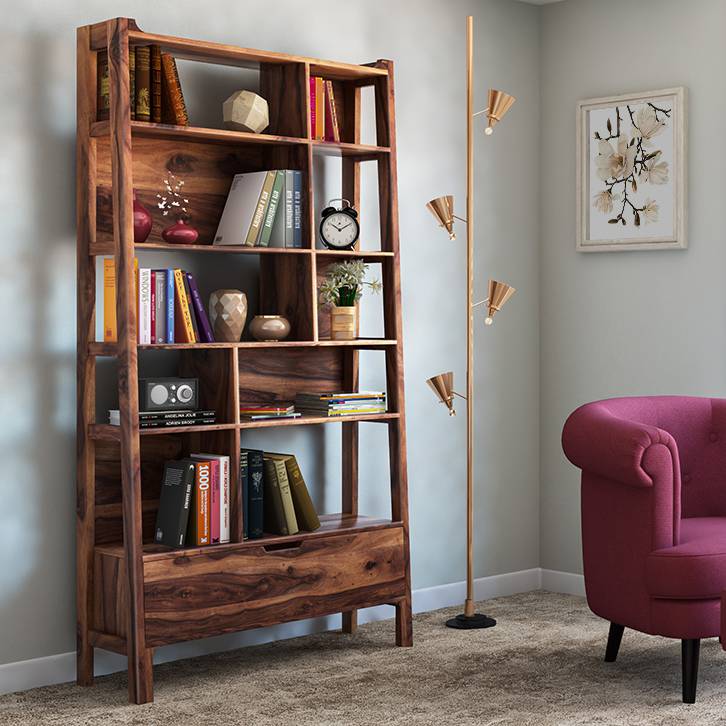 source: pinterest.com
If you are a bibliophile and don't want to get rid of your huge collection, make a stunning decor piece out of it. There's no need to have a dedicated library room to store your lovely collection of books.
Modern bookshelves are the trendiest storage organization ideas these days, which require minimal investment. These bookshelves not only store your books but can also be used to place decorations while being stylish. You can choose from a wide range of styles like floating shelves, corner wall shelves, etc. That looks aesthetically gratifying while being operative..
Invest in multi-purpose furniture.
This room organization idea is ideal for those dealing with cramped living spaces such as apartments and studios. If you think your sofa set, coffee tables, or beds are eating up that extra space in your room, replace them with Multi-purpose furniture.
As the name suggests, multi-purpose furniture is a furniture item that can be converted into other types of furniture by simple steps. For example- a sofa cum bed is the best example of Multi-purpose furniture that saves you a lot of space in your lounge.
Shack up the kitchen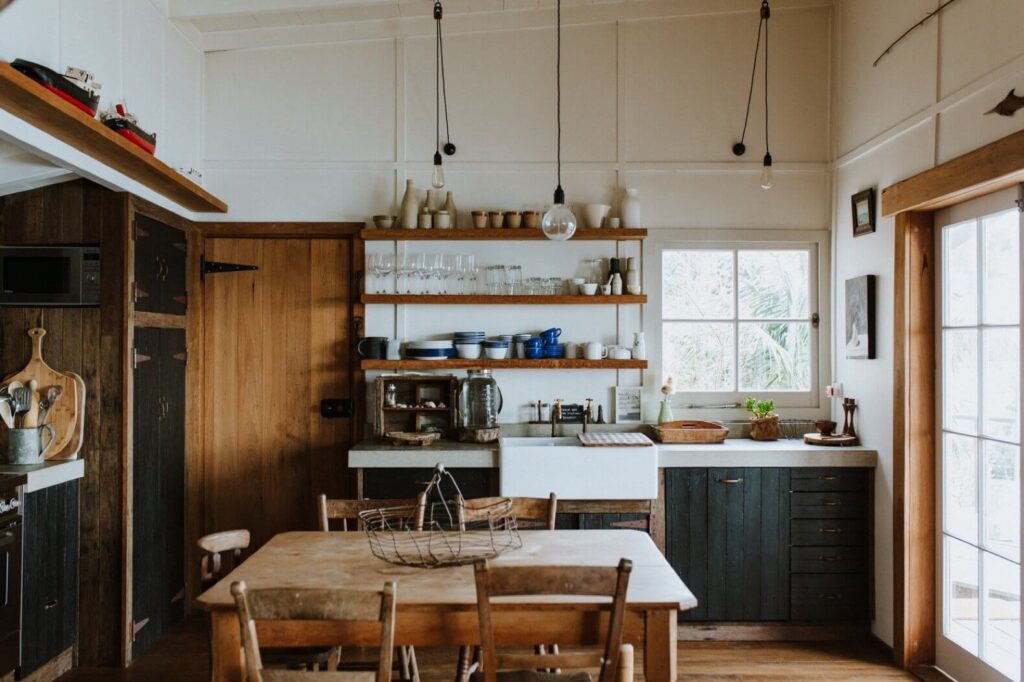 source: dwell.com
We all love spending time cooking our favorite dishes for our loved ones. However, a crampy or messy kitchen can feel suffocating and dangerous at times. Fortunately, some simple storage organization ideas can help your kitchen feel spacious and pleasant to work around. For example:
Replace that ugly kitchen towel with a wall hook and a pretty and clean hand towel.

Tuck in that trash can under a sink or an empty kitchen cabinet.

Organize your valuable cutlery into categories to improve the overall storage aesthetics.
Let there be light 
Lighting fixtures can break or make deals. A poorly lit room can look gloomy and can be hazardous too. Slipping on a water spill or spending hours finding an object lying around you can be your worst nightmare! That's why getting ambient light fixtures is one of the most effective home decor and organization ideas. 
Enjoy well-lit spaces with style by choosing modern light fixtures like LED panels, contemporary chandeliers, pendant lights, etc.
Focus! focus! focus!
Have you found yourself lost in that one pretty dress, and everything around it becomes invisible? Time to create a similar illusion for your guests by creating a focal point of your room. 
For example- try a stylish TV unit with floating shelves, LED lights, potted plants, or textured wallpaper to draw everyone's attention. You can particularly highlight this part of the room. It will give you a sense of more space in the room. However, make sure not to stuff things!
Touch of nature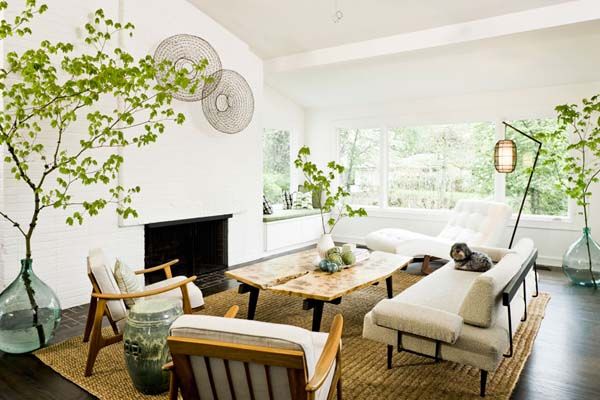 source: pinterest.com
Nature always gives us a sense of freedom and spaciousness. Therefore, getting nature's touch at home is the best way to embrace peace and well-organized home decor. 
For example- try placing potted plants in the corner of your room or miniature pots like bonsai trees on your coffee table or side table. You can accentuate the look by adding wooden shelves and furniture. If you have wooden flooring, it's a win-win situation. 
One for all
If you often find small objects lying around the room, such as hair clips, power banks, pens, etc., you need a one-stop solution- a catch-all dish. 
It's a small to medium-sized tray or dish that you can place on your lounge table or a counter in which you can put all those little yet important objects. The best part is that catch-all dishes are available in various beautiful designs and shapes to match your room's decor. 
Rotate your decor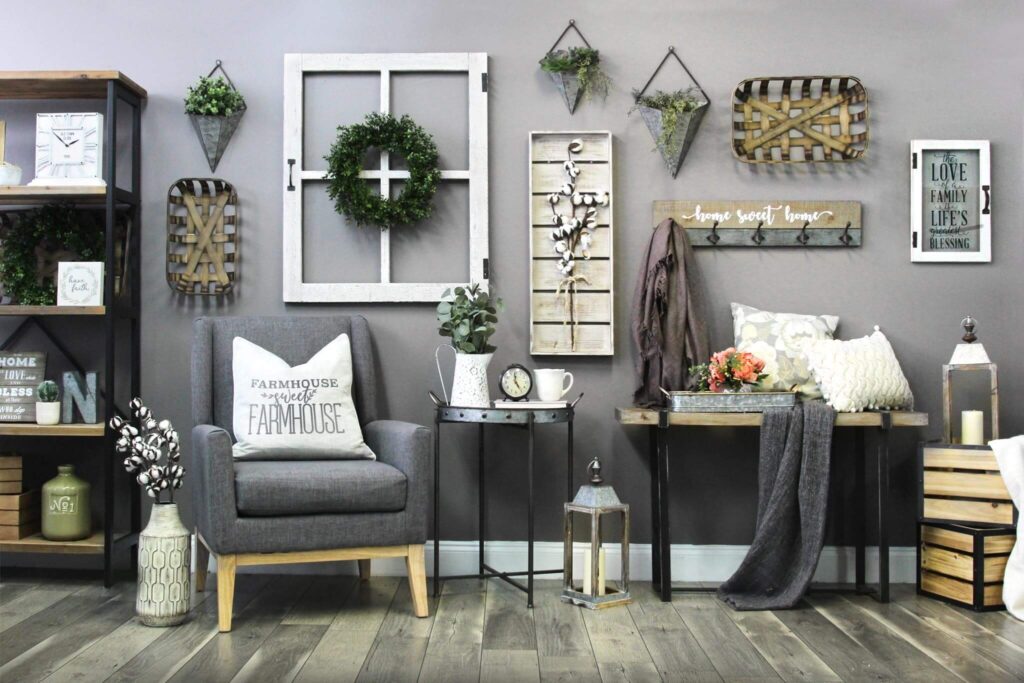 source: pinterest.com
Tuck away the boredom of impressing your guests with the same decor all year long! Try rotating your home decor by changing the orientation and other elements of your room in regular intervals. Ideally, rotating your room every 6 months is the best way to keep it fresh and inviting all the time. 
Your home is one of the most valuable assets in your life, which you can turn into your little world. Following these easy and inexpensive home organization ideas is the best way to make your living space beautiful and practical. 
Visit The Architecture Designs for more home and decor tips on the way!