As people say, the heart of your home is just inside your kitchen. After all, it's where you whip up your hearty meals, begin conversations with the family, and let the magic happen. And as your kitchen helps bring life to your household, it'll only be logical to make it as homely as possible and turn it into something more personal and bespoke.
Suppose you're looking into sprucing up your kitchen. Here are some tips you can take into consideration for incorporating bespoke detail into your kitchen.
Invest In Quality Storage
source: pinterest.com
Your storage solutions do not just contribute to the overall functionality of your kitchen as they can also be a design element that elevates your bespoke kitchen. Whether you opt to have open shelves or closed cabinets, investing in quality ones can do wonders for your kitchen.
With cabinets and drawers, you can store items such as pots, pans, cooking utensils, kitchen appliances, and ingredients like condiments and spices efficiently. You can conceal such things to ensure your kitchen remains tidy and organized. On the other hand, you can go for shelves to give your kitchen a more open and lighter feel. You can use kitchen shelves for commonly used items. 
To ensure the quality of your kitchen storage solutions, enlist the help of professionals. You can ask for recommendations from friends and colleagues and check various suppliers and contractors online to find out more information about your options.
Use The Right Kitchen Color Scheme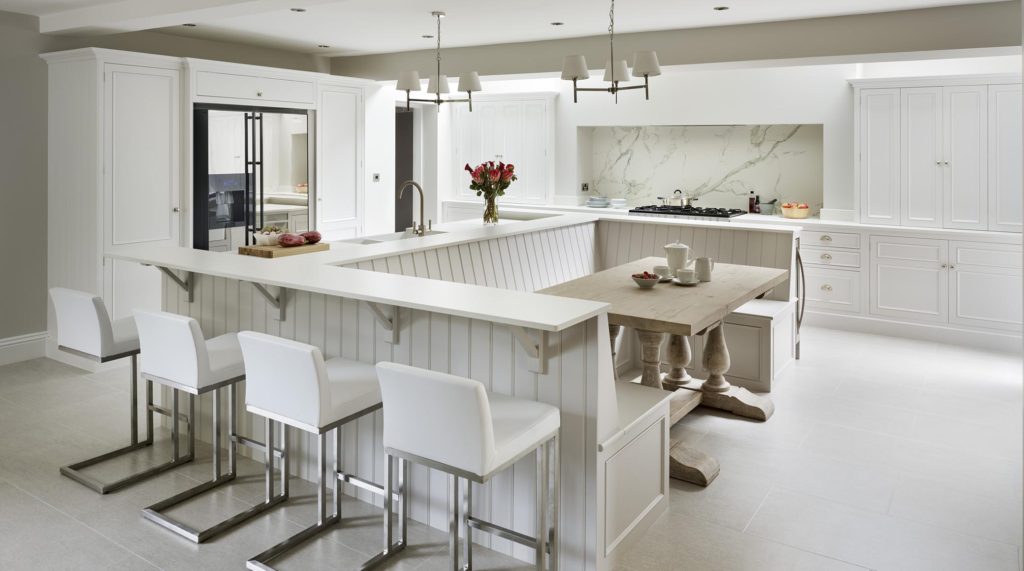 source: pinterest.com
One of the first things you'll likely notice when stepping inside a room, such as a kitchen, is the color scheme. After all, the color combination can influence the overall feel of the room. And in most cases, it can either make or break your kitchen's design.
Basing your kitchen's color scheme on your home's general interiors can be a good start. This can help create a cohesive look and feel throughout your home. For instance, if your living room and common hallways feature an earth-toned color palette, you can also choose one that complements that scheme.
On the other hand, you can always explore different color combinations to add more character to your kitchen. You can also have an accent wall or element wherein you'd introduce a pop of color and texture. For instance, you can pair chic navy-blue kitchen cabinets with gold hardware and light gray or white walls.
Pick The Perfect Backsplash And Countertop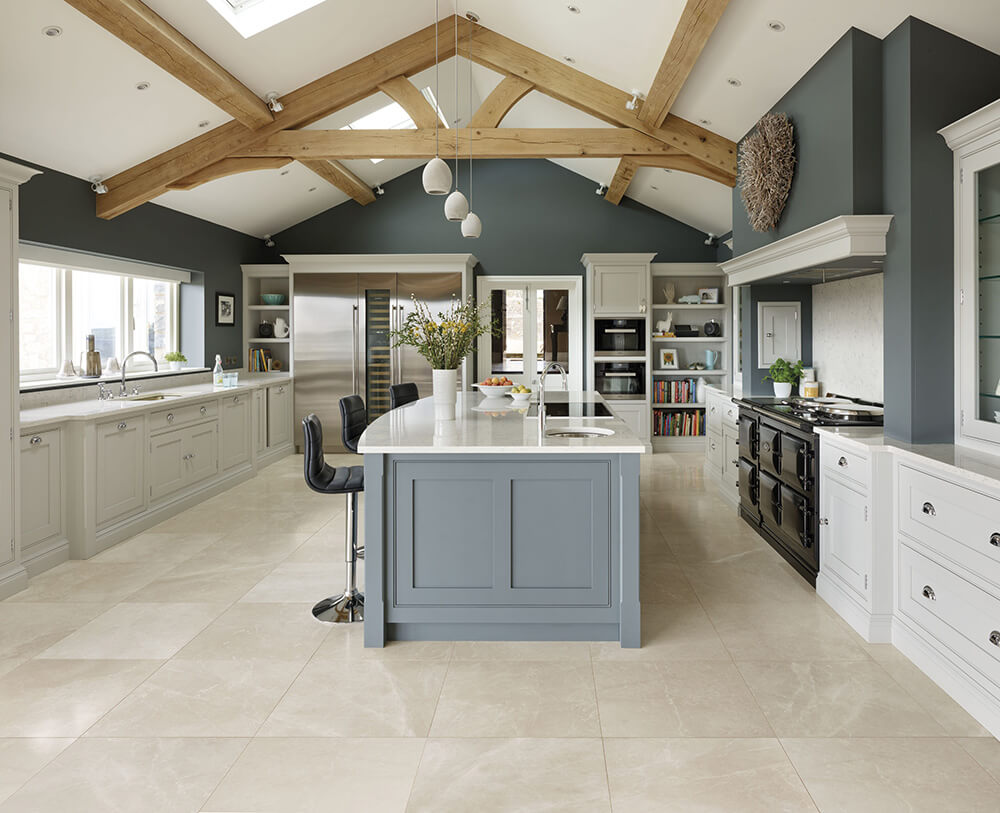 source: pinterest.com
Another great way you can add personality and fun design to your kitchen is by installing the perfect backsplash and kitchen countertop. These small details can add character to your kitchen by introducing color, patterns, and texture to your overall kitchen aesthetics.
If you're going for an elegant and classic look, a quartz or marble countertop can be a good option. Their simplicity makes it easy to match them with any color palette you wish your kitchen to have. Alternatively, if you want to add an accent to your kitchen, you can opt for a butcher block countertop. While it may require more maintenance, it's a great conversation-starter piece that can also add warmth and character to your kitchen.
On the other hand, your kitchen's backsplash could also help boost your kitchen's appeal. Besides making it easier to clean grease and prevent water from damaging your walls, installing a backsplash can help tie up all the elements in your kitchen. For example, if you have a dark-toned cabinet, a light-colored backsplash with muted patterns could help balance the colors, achieving a more cohesive look.
A key to note is to ensure you incorporate the perfect balance to avoid overstimulating the room with busy designs and patterns.
Decide What To Place On The Island
source: pinterest.com
Your kitchen island can be a lot of things, from your kitchen centerpiece to an extension of your work area. And as you add one inside your kitchen, decide what kind of things you'd like to have that'll help and benefit everyone inside your home. 
For instance, you can place your stove to have a better view of everyone while you're cooking, or you can put your sink if you usually share conversations with everyone after your family dinner. Alternatively, you can keep your kitchen island bare as you use it as your extended work area when preparing meals or substitute it as your breakfast nook. With the number of things you can do with your kitchen island, you can customize your kitchen to meet your family's lifestyle.  
Determine Decorations
source: pinterest.com
Even if your kitchen is a busy place, it doesn't mean you have to keep it bare and empty to keep it neat and organized. Apart from adding the usual decorations, such as plants and flowers, you can also put condiments and other cooking utensils into presentable containers and allow them to spruce up your countertops.
With the right combination and balance of what you add to your kitchen, you can achieve a stylish and homier space.
Takeaway
As you design your kitchen, it'd be great if you could incorporate some bespoke details to give the space more personality and make it one of a kind. As you choose the right colors and patterns, along with how you place each part of your kitchen inside the room, you can allow the entire space to be unique and truly made for you. And more importantly, with proper planning, you can let your dream kitchen come to life.