The place where everyone can work with their own space is known as WeWork Space.
Over the past 11 years, WeWork Interior designs space is organizing this management, not a single organization that can experiment with office designs & space. Each WeWork office is a mixture of innovation, community, comfort & productivity, So let's see the motivation secrets behind the latest co-working interior designs.
Creating Healthier Workspace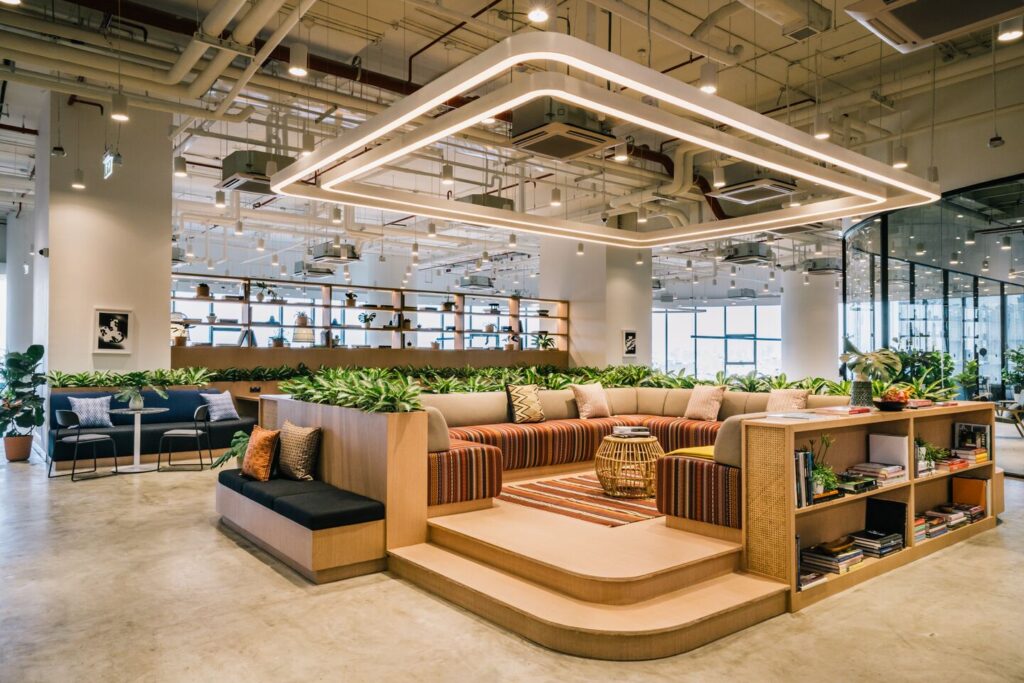 source: toogl.com
In the pandemic of COVID-19, we are enhancing the health & safety guides for our customer's peace of mind. 
Increased Sanitization
Increased sanitation is a term used for sanitation of controlling health motive. We care a lot about our hard working members & their health.
Improved HVAC 
In the US 45% of total energy consumed by buildings and HVAC consume substantial percent of energy. The improved HVAC system is key which is against sickness infected with the air. HVAC filters carry out dirt & debris which safe us from build-up pollution. 
Behavior Gesture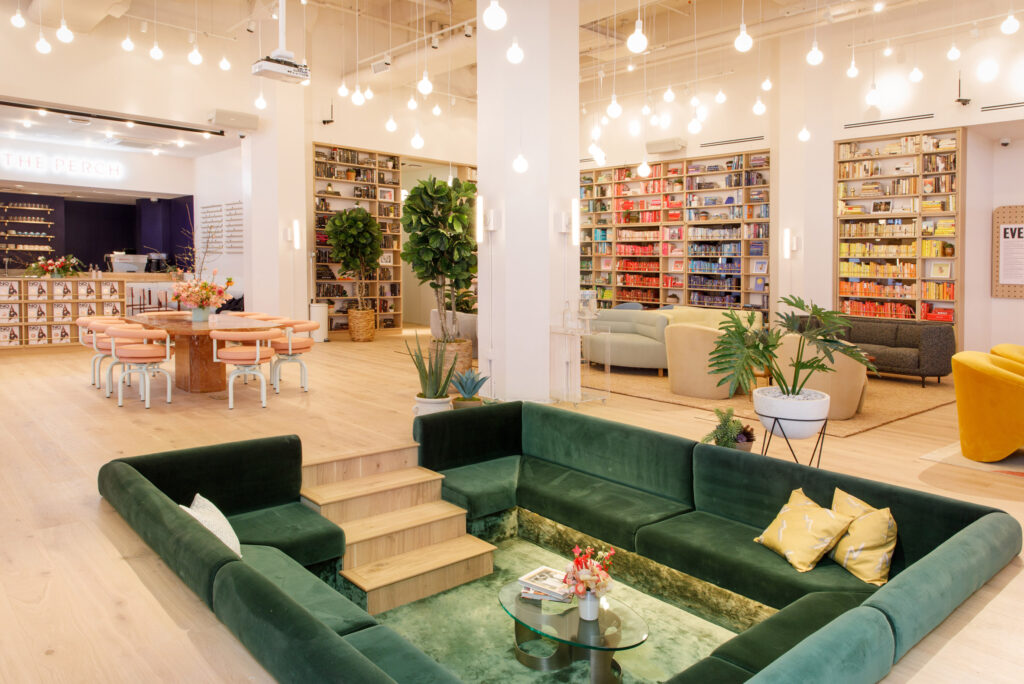 source: fohlio.com
Install a strategic place sign as a friendly reminder on how & when to maintain distance and adopt cleaning habits. 
Prioritize Personal Space 
Adjust social distancing space in work station & areas, so you can continue day to day missions while maintaining a healthy office lifestyle 
Future Design of Wework's Space
Flexible workspace re-invents the office and the world of work. We think more about our clients' comfort by prioritizing their health,  unique needs, giving them maximum facilities at a low cost, and providing them with a harmonious experience around the world. 
Beauty with Comfort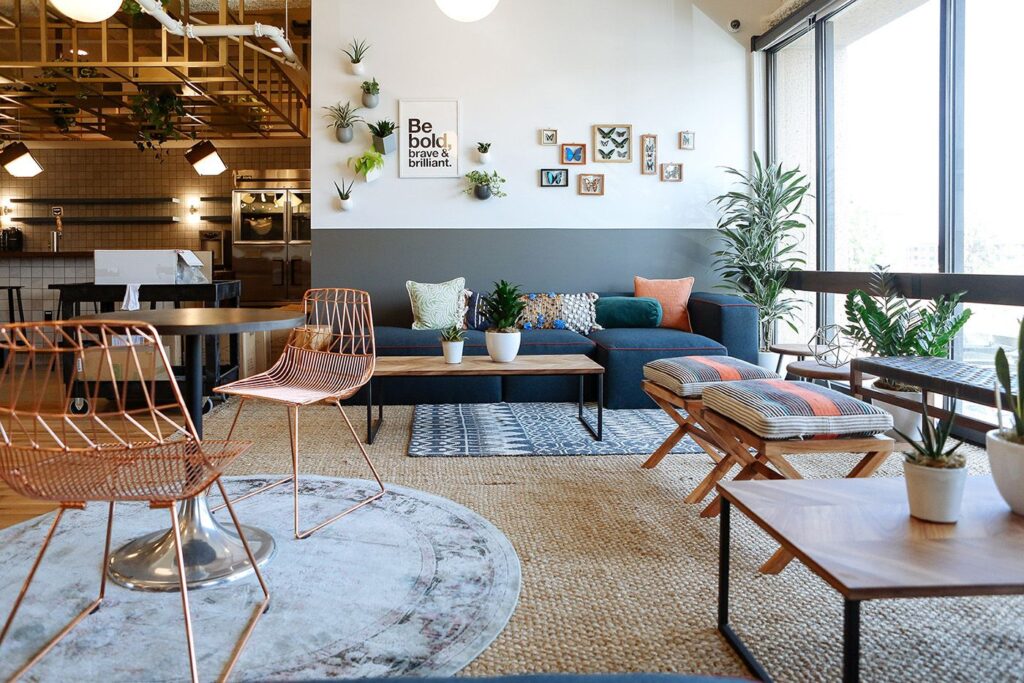 source: pinterest.com
Members are allured by co-working interior designs space because they are looking for something unique with more standard office. Some members still like to work on a traditional working desk or some need a more interesting & stimulating environment and We should provide them this requirement of a flexible workforce. 
There are compartments of aesthetic, that make members motivated & more comfortable. We should create a better atmosphere for them, they are gonna spend approximately 34 hrs per week. It means creating spaces for gathering and relaxation like gaming rooms, lounge rooms, it also includes supporting no-working activities, well-equipped kitchens & etc. 
The perfect wallpaper, color coordination of desk and chair is only worth it, if your employee feel comfortable to work.     
Biophilic- Motivational & Wellbeing  
In the charge of mental & physical wellness of users, while many headquarter & eco-friendly offices deliver the long-term value of the brand.  Biophilic is the new way of designing, the key of biophile working space is visual, audible, tangible, and aromatic.
Feel the Nature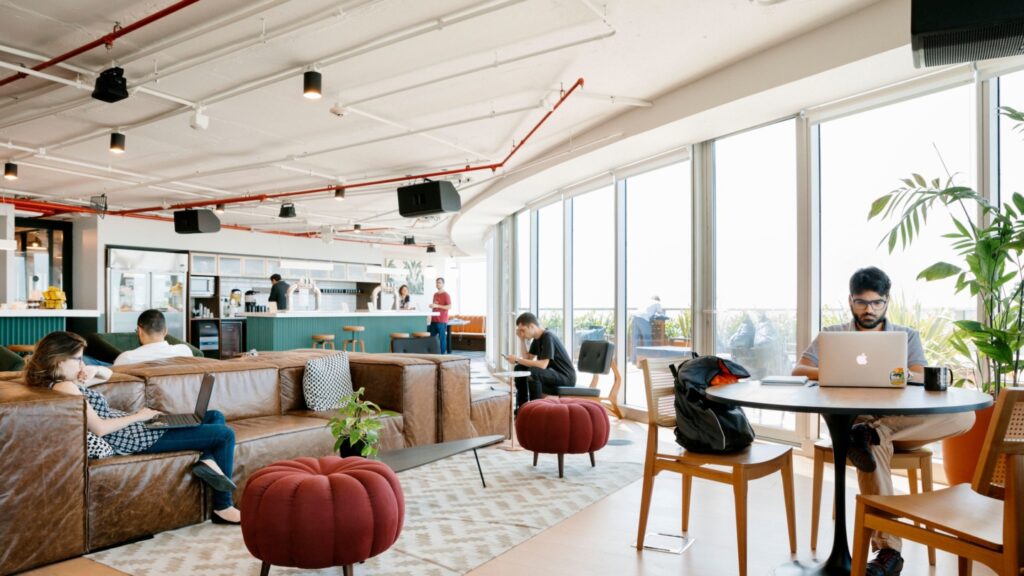 source: wework.com
The material you will choose for biophilic co-working space design will not only influence the final ambiance but it will also give a positive influence on the user's health & wellness by reducing negative influence.
Select materials that are natural and sustainable in tones of natural elements like wood, plants, bamboo, decoration of plants, earthy color pallets and etc will ensure a healthy environment.
The presence of water adds the ability of sound, touch, sight, light patterns. Which enhances the space and sends soothing effects to people which enhance their mood & boost self-esteem. Water statues, aquariums, fountains, etc can create a sense of natural calm. 
Lightning, Awareness, Concentration  
Lightning is the main factor for today's lives. The right light is used to creating a suitable & environmental office are fluorescent, compact fluorescent, incandescent bulbs  and LED bulbs, that produce natural light when it is needed. When sun rays are not showing, emplane light system that offers white & blue tones in the middle of day or end of the day- accompanied by warm light &  show more ivory tones of sunrise & sunset. 
Mobile Workforce Setup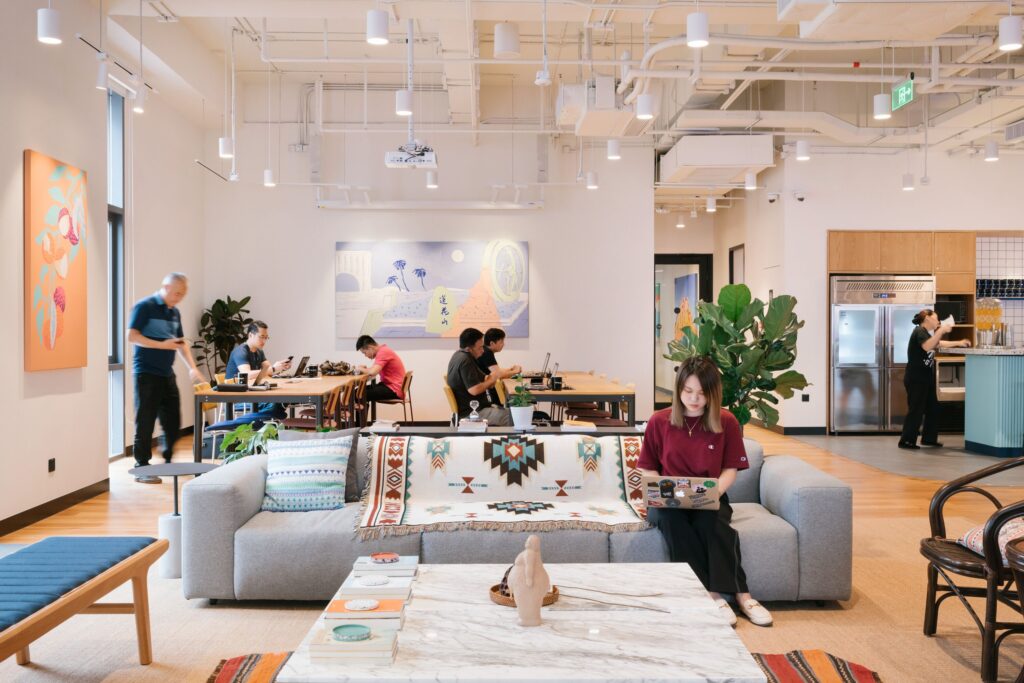 source: wework.com
The collaborative working space idea is great, this kind of space welcoming a large number of corporates to allow them to work in a collaborative environment. Such designs are similar for the auditorium, meeting room &, etc. 
Individual Design Setup 
Members who are looking for an inspirational design to show their innovation by creating a motivational & energetic working environment. The breathless office setting is out, replaced by various layouts for different types of members.  Some go for modern & sleek with the contrast between light & dark, a lot of glass design and some may prefer deep wooden tones, old fashion library, looking for a serious & scholar environment. 
WeWork Gatherin :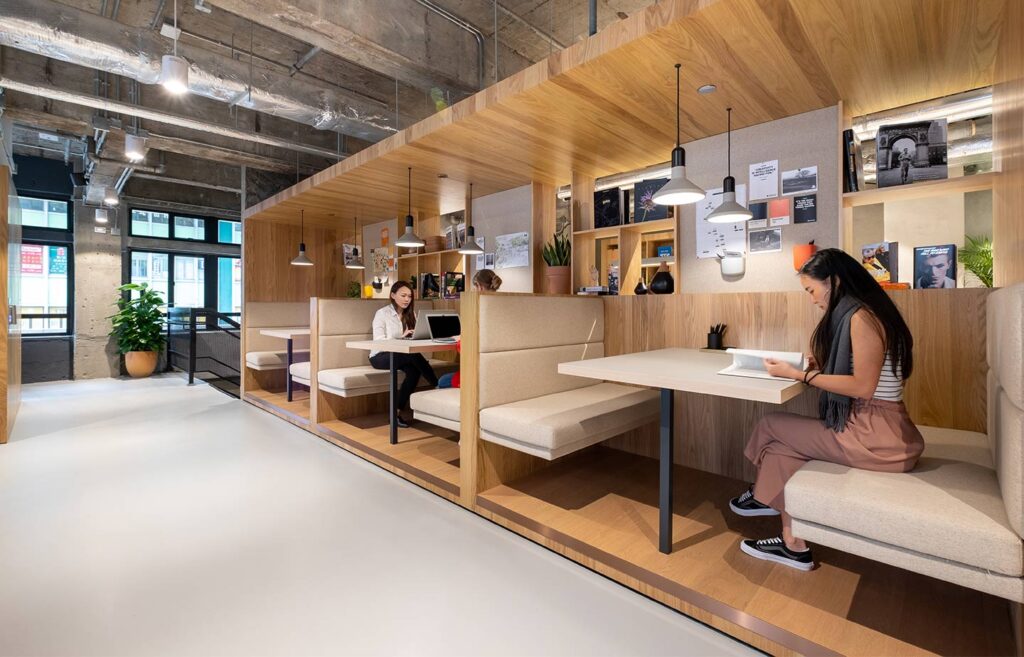 source: spacesworks.com
Gathering places can be placed in a separate room, as part of our work environment to foster a collaborative spirit. Creating a dedicated space where coworking members gather and share their present thoughts, knowledge and get inspired by creative ideas. 
Small Working Space : 
Coworking places are mostly crowded, which might disturb other working members and reduce their productivity, thus for them a small room can give them personal space where they can concentrate and work peacefully. The small room is mainly designed for them to provide a calm environment, these rooms not needed to be close, but can partially space by glass walls. 
Loner Space :
If small room design doesn't work for you, this will surely help you,  A place where the members book personal desk where they want to work, which undoubtedly enhances productivity. There's no such guarantee, that seats will not fill whole day, better to make a private individual workstation.