Pergolas are a great way to add some classic beauty to your outdoor space. With the right design, a louvered pergola can be an attractive, functional, and affordable addition to your property. They provide plenty of shade and can be used for a variety of purposes, from creating a sheltered outdoor sitting area to providing a visual focal point.
The structure of a pergola can shape the look and feel of your outdoor area. Each decision is important, from the size of the pergola to the materials used. Read on to learn more about the five considerations you should make from an architectural standpoint when building or renovating a pergola.
Pergola vs. Patio: What's the Difference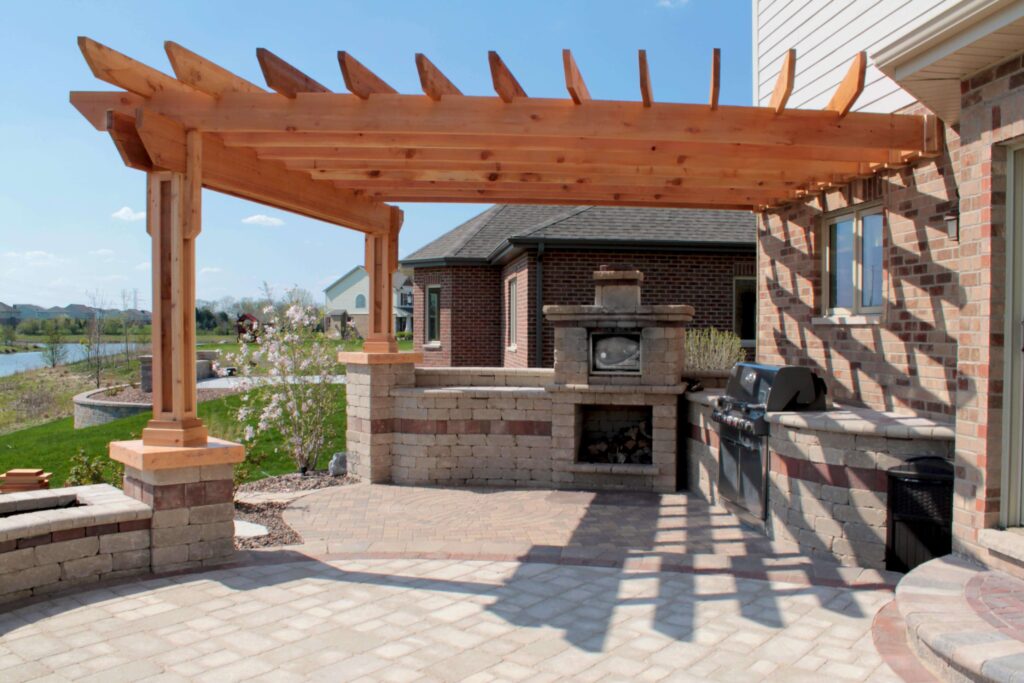 source: pinterest.com
Before we jump into the five architectural considerations, it's important to understand the difference between a pergola and a patio. A patio is an enclosed structure with a concrete or paved surface, while a pergola is an open structure with a lattice or pergola roof. This roof is generally made of wood or metal beams and can be covered with fabric for shade. Patios are usually used for entertaining and dining purposes, while pergolas are typically used to create a relaxing outdoor space.
5 Architectural Considerations When Planning a Pergola
Now, let's look at five considerations when planning a pergola.
Size and Shape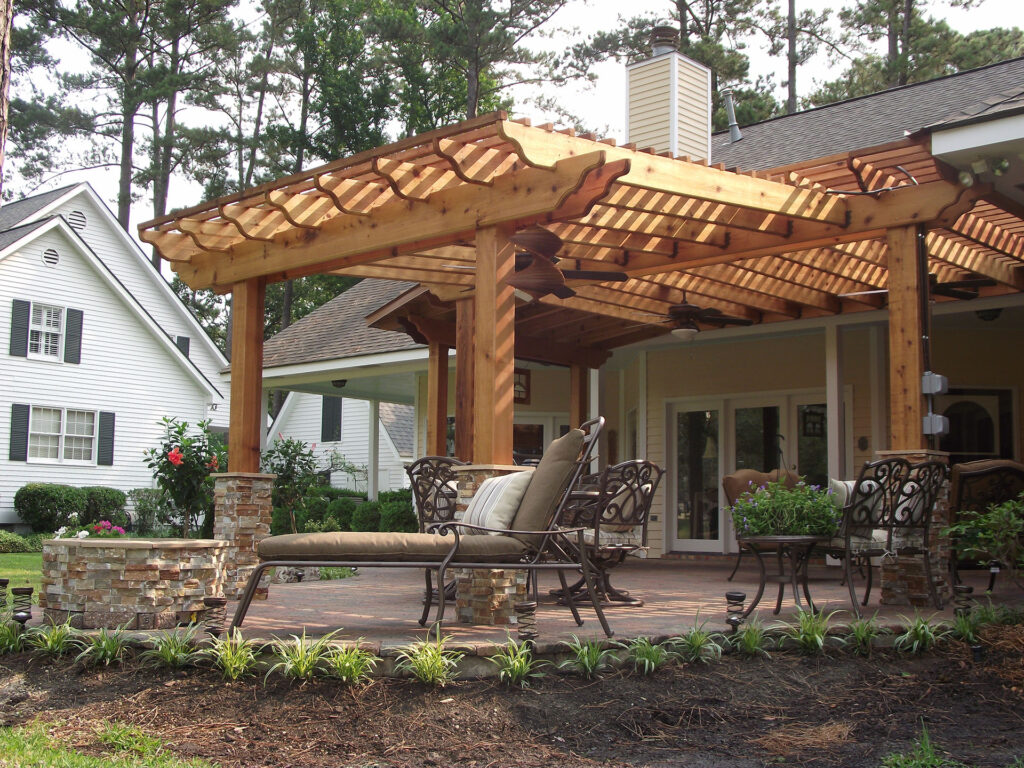 source: pinterest.com
Size and shape are among the most important factors when installing a pergola. Whether you are trying to create a formal or relaxed look, there is a pergola size and shape to fit your needs. A rectangular or square-shaped pergola will give you a more formal look. Furthermore, the straight lines will create a more structured feel.
On the other hand, if you're looking for a more relaxed feel, go with a round or oval-shaped pergola. The curved lines of the pergola will create a softer look, and the smaller size can help make the most of the limited outdoor space.
Materials
Wood is a popular material for pergolas due to its durability and versatility. It can be easily painted or stained to match the existing outdoor decor, and it is a relatively inexpensive option. Metal is another popular option for pergolas, as it is strong and can be custom-shaped to fit the space. However, it is more expensive than wood and can be prone to rust.
Stone is an excellent choice for those looking for a more formal look. Stone is strong and can be custom-shaped to fit the space. However, it can be more challenging to install.
Aesthetic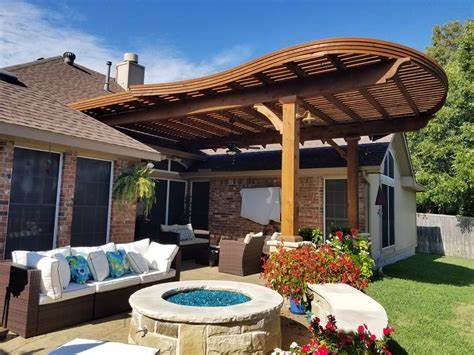 source: pinterest.com
The overall aesthetic of your outdoor space will depend on the pergola design. Different materials can create different looks, so choosing a material that will complement the existing outdoor decor is essential.
For example, consider a metal pergola if you're looking for a modern feel. Metal pergolas can create a sleek and contemporary look that can be hard to achieve with other materials. Consider a wood pergola if you're looking for a more rustic feel. Wood pergolas can bring a warm and inviting feeling to your outdoor space.
Structural Integrity
Building a pergola in your backyard can be one of the most rewarding DIY projects you can do. But to ensure that your pergola is structurally sound and will stand up to the elements, it's important to use the right materials and techniques.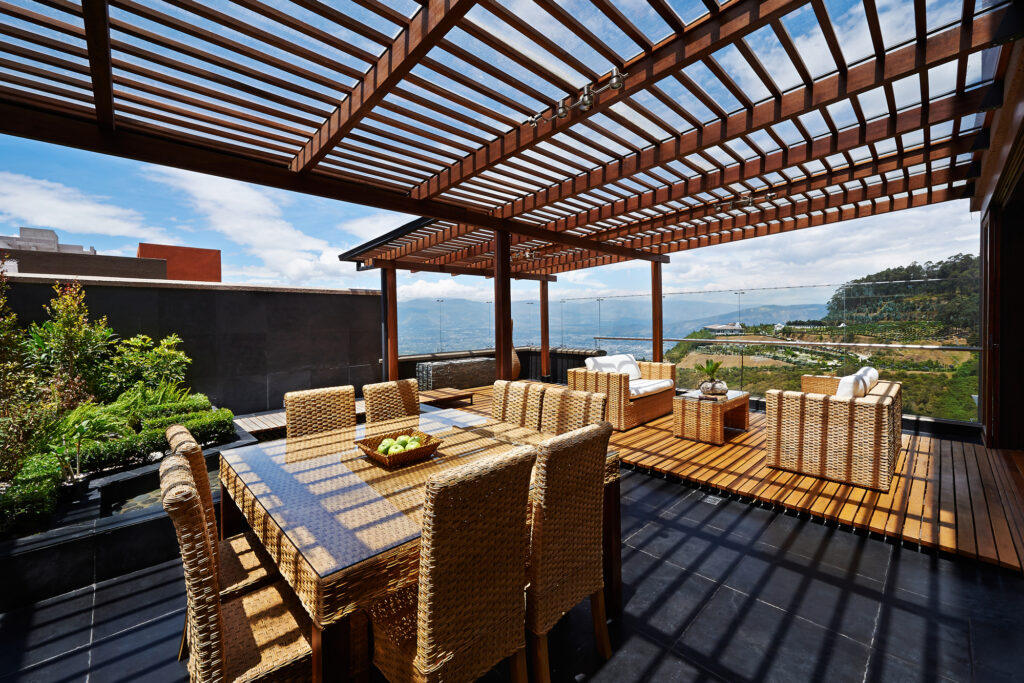 source: pinterest.com
You also want to anchor your pergola to the ground securely. This will help prevent it from moving or shifting in extreme weather conditions. It's also a good idea to use galvanized steel connectors to add extra strength and stability. A pergola with a sturdy sun shade from Hanso Home would be great here, or even some form of awning that can be connected to the exterior of your home.
Cost
Understanding the cost of building a pergola is crucial to create a budget and determining the best option. The size of your pergola will have a significant impact on the cost. A small pergola can cost as little as $3,000, while a large, custom-built pergola can cost much more.
The labor costs associated with building a pergola will depend on factors such as the design's complexity and the construction's location. If you plan to hire a contractor, get quotes from several contractors to compare the prices.
When done right, a pergola can add value to your property and create an inviting outdoor space.