Introduction 
A wall-mount electric fireplace is a year-round source of aesthetic entertainment for the modern house, in addition to providing heat on cold winter days.
Electric fireplaces are the most efficient, environmental and user-friendly, easy to build, and low-maintenance of the classic fireplaces. Its zero-ash, smoke-free, gas-free technology has ushered in an era of fireplace enjoyment.
Furthermore, we no longer have enough space to install a traditional fireplace adequately. You may be unconcerned about the vent or chimney problem if you can handle the area.
Then it's only a matter of deciding on the ideal wall mount fireplace for your room. In this blog, you will find about what to consider before buying a wall-mounted fireplace and some fantastic fireplace ideas. 
Five things to consider before getting a wall-mounted fireplace.  
Material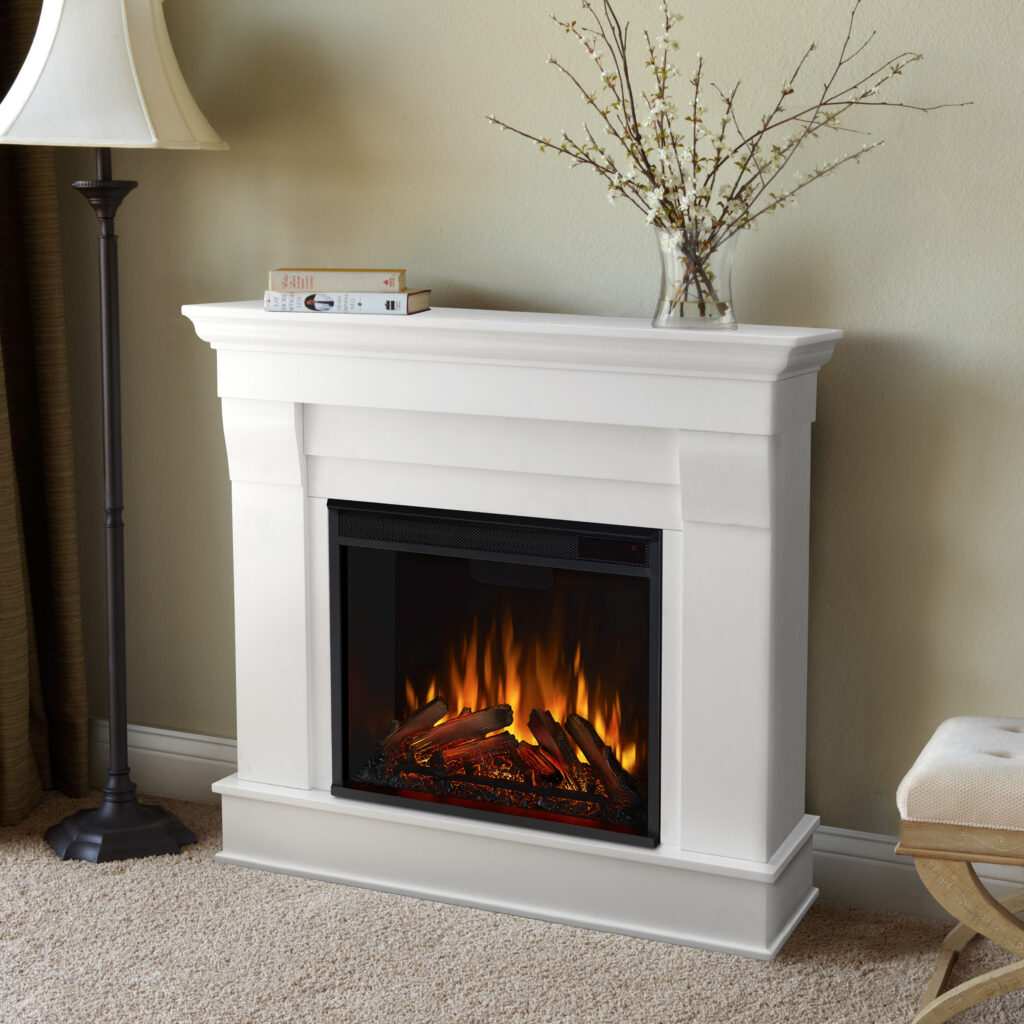 source: portablefireplace.com
You must be aware of the existing components in the room, such as if the flooring or carpet are laid down or a hardwood plywood, and whether the furniture pieces are composed of various materials. Also, is the decorated room in a classic theme, or is it implemented in a stylish way?
These considerations will help you choose the best materials for the area around your fireplace. Ceramics, wooden veneer, acrylic, stainless steel, and chromium are the most widely used materials accessible on the marketplace.
Size 
Size is a concern because a wall mounts electric fireplace must be installed into the wall. Therefore, you must get a fireplace that is proportional in size to the wall on which it will be installed. On average, a 35-inch to 50-inch or more enormous electric fireplace looks a lot better in big to tiny rooms.
Another thing to keep in mind is that an electric fireplace will not fit in every wall or nook of your home. The majority of the time, a flat wall with reasonable size sums up the situation better.
It is critical that you compute in the correct manner. Otherwise, you risk purchasing a shabby one that will make your area appear cluttered.
Power connection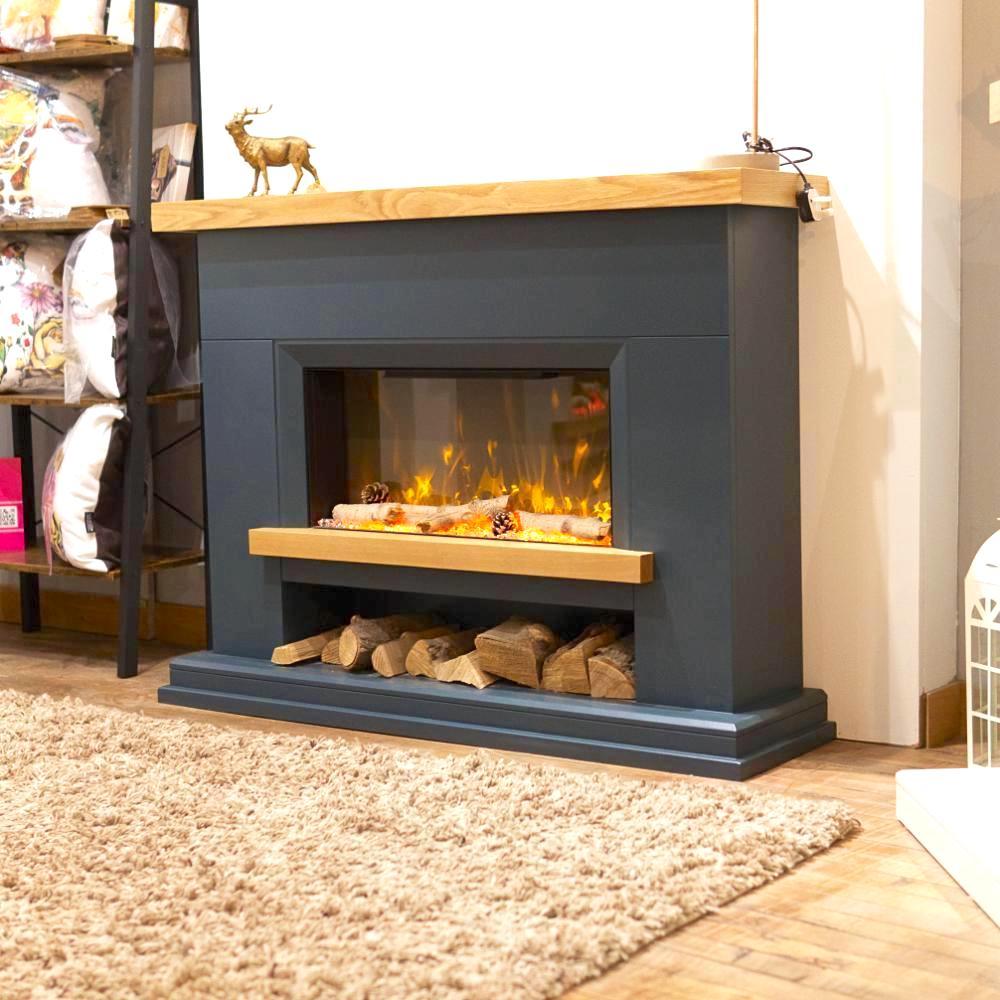 source: shopify.com
Because electricity provides the flame fuel for a wall-mounted electric fireplace, you'll need to make sure there's a functional power outlet nearby. In addition, your PowerPoint should be able to function with at least 120-volt electric equipment for a seamless performance.
Many fireplaces come with straight wire systems, while others come with plugs. With the assistance of a plug kit, you can also transform a direct wire into a connected one.
Control panel 
Depending on your cost, these features might range from sophisticated high tech to super primary. If you prefer to use an electric fireplace with a touchscreen, keep in mind that if it breaks, you won't be able to adjust the different parameters, such as temperature. 
You must fix the unit in order for it to function correctly. Some machines will include a remote control option that allows you to change or alter the settings from afar.
Availability of different flame features 
An electric fireplace's flame is not the same as a real one. Instead, a specifically designed LED screen displays a genuine flame, giving the user the sense of being in front of a traditional fireplace. On the other hand, an electric fireplace has a distinguishing quality that no additional fireplace can match.
When buying a wall mount fireplace, make sure it has many flame settings so you can alternate between the bright blue flame with an orange tint and another option to avoid being bored.
6 best wall mounted electric fireplace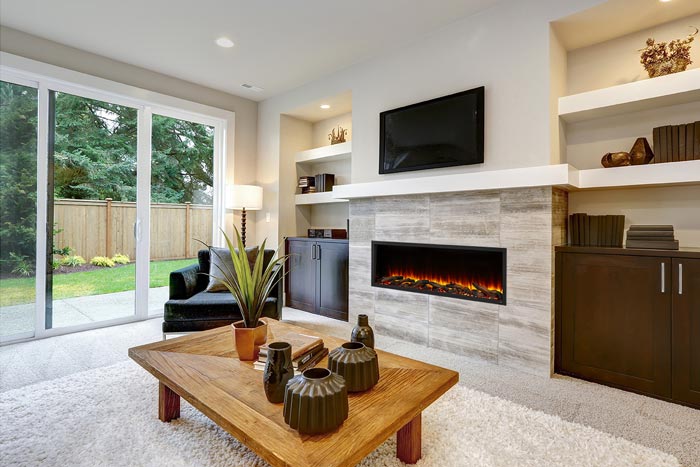 source: perfectionsupply.com
Small round wall-mounted fireplace. 
This little round fireplace is perfect if you want to make a statement. This wall-mounted fireplace is excellent for futuristic and modern-industrial houses, with a striking spherical design in a vibrant ruby red color.
The flame can be utilized with or without heat, making it excellent for simply creating a warm ambiance in your home. With the supplied remote control, you can regulate the flame and warmth and the LED backlights that can be adjusted to fit your mood.
Wall hanging fireplace 
Now you can make your unique style statement by combining comfort, grace, and elegance with this Wall Hanging Electric Fireplace.
Its incredible heating velocity, temperature options, and appearance will undoubtedly impress you with the warmth and comfort it delivers into your room. However, when it comes to performance, this Best Wall Mount Fireplace will not disappoint you at any point.
If you want a stylish and functional fireplace at a fair price, it is the fireplace for you!
The most essential qualities that made it the greatest wall fireplace heater!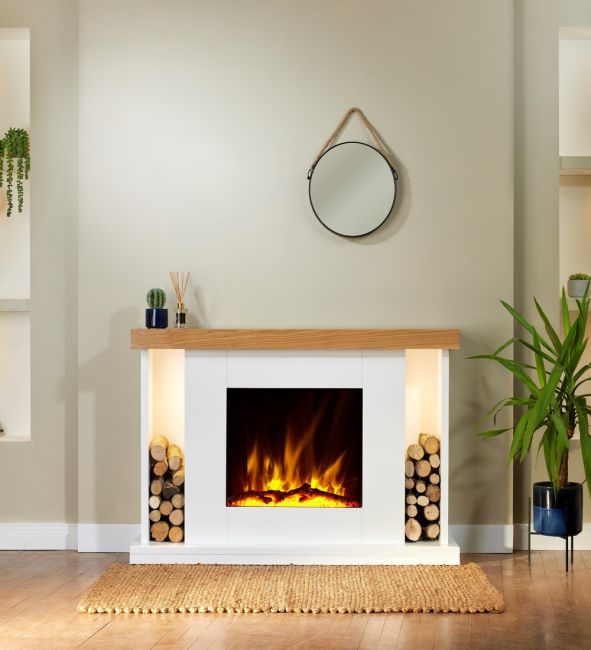 source: pinterest.com
Looks fantastic

Heating in a flash

Installation is simple.

Flames that look real.

Modern and long-lasting.

Completely outfitted with safety features.
 Curvy small wall-mounted fireplace. 
You may use this little wall mount fireplace with or without heat, so it's a great option if you want a warm glow all year. This compact wall-mounted fireplace has a trendy curved black glass face that will look great in most modern houses.
You can control the brightness of the flames remotely, allowing you to create an environment that suits your mood.
Key benefits of this electric fireplace – 
Log fire that appears to be realistic

Curved black glass in a modern design

Installation is simple

Includes remote control
Plug-in wall-mounted electric fireplace. 
This Electric Fireplace could be the perfect solution if you're seeking the greatest wall-mounted electric fireplace that is very simple to install and configure.
This electric fireplace for the wall comes with a bracket that enables installation even easier. It won't extend too far from the wall, and it comes in six different widths to fit a range of wall dimensions.
A succession of ultra-bright LED lights creates incredibly realistic flames and an ember bed that spans the whole length of the display. There are three different flame color options to pick from, and you can even mix and match them for a more realistic effect.
Changing lighting settings and heat levels are simple with the remote control provided.
50-inch electric fireplace black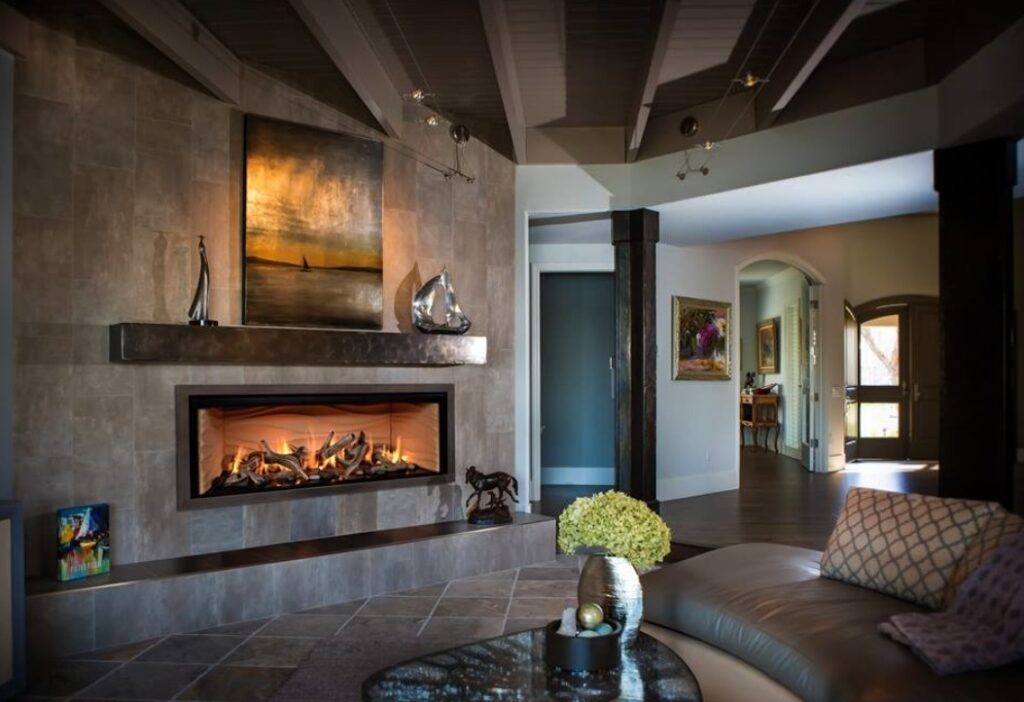 source: homedit.com
It is the greatest Electric Fireplace on Wall if you want magnificent evocative sparks and an ultra-modern style. It will give your current residence décor a dramatic, elegant harmony.
The Wall Fireplace Heater is a modern and safe alternative to traditional fireplaces, unpleasant fumes, real fire, among other things.
The essential qualities that made it the greatest wall fireplace heater!
Looks:

You'll adore the stylish appearance of this Electric Fireplace on the wall.
Fully remote:

You can operate this Electric Wall Mounted electric Fireplace with remote control.
Energy Efficient:

This product is 99.9% efficient in terms of energy usage.
Modern electric wall-mounted fireplace. 
Colored flames offer this wall-mounted fireplace a distinctively modern aesthetic that will surely spark conversation when you have visitors! This trendy alternative to a typical fireplace features a stylish black curving design with stones at the base.
The three-dimensional flames provide a realistic appearance, and you can utilize them with or without heat. From the luxury of your sofa, you can change the warmth and color of the flames using the supplied remote control.
Easy installation

Availability of 7 flame colors

Remote control included

Modern design 
Wrapping up!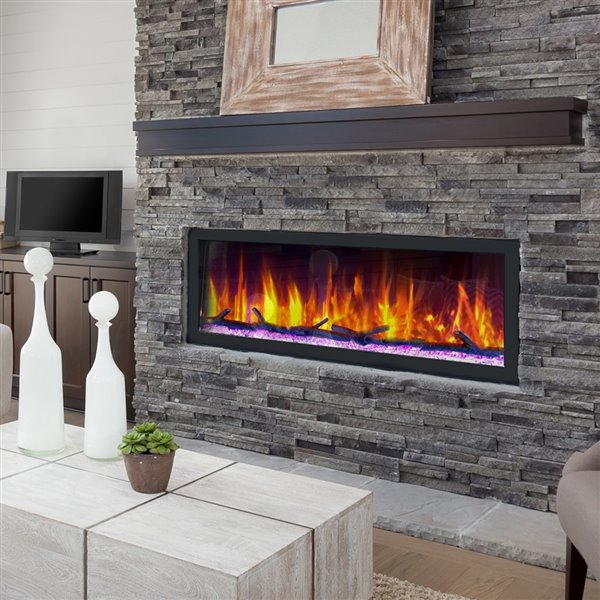 source: pinterest.com
So, which wall mount fireplace do you believe is ideal for you? The truth is that the Electric Fireplace Wall Unit that best meets your needs is the right one for you.
Wall mount fireplaces will become the new favorite for their efficient performance, renewable energy consumption, smart operative function, and absolute simple interface.
We tried to outline the essentials of the 6 best wall-mount electric fireplaces in this article, as well as points to consider before purchasing one. We trust this information will assist you in choosing the finest option for your maximum comfort and convenience. Best wishes on your purchase! Continue your exploration!