When working with critical data or sensitive equipment, power outages can not only be frustrating, they can also be costly if there is damage to your equipment. While some people use generators to power their houses during outages, they are generally not the best option because many generators take a few moments to get online. The best option is to use a UPS.
What is a UPS?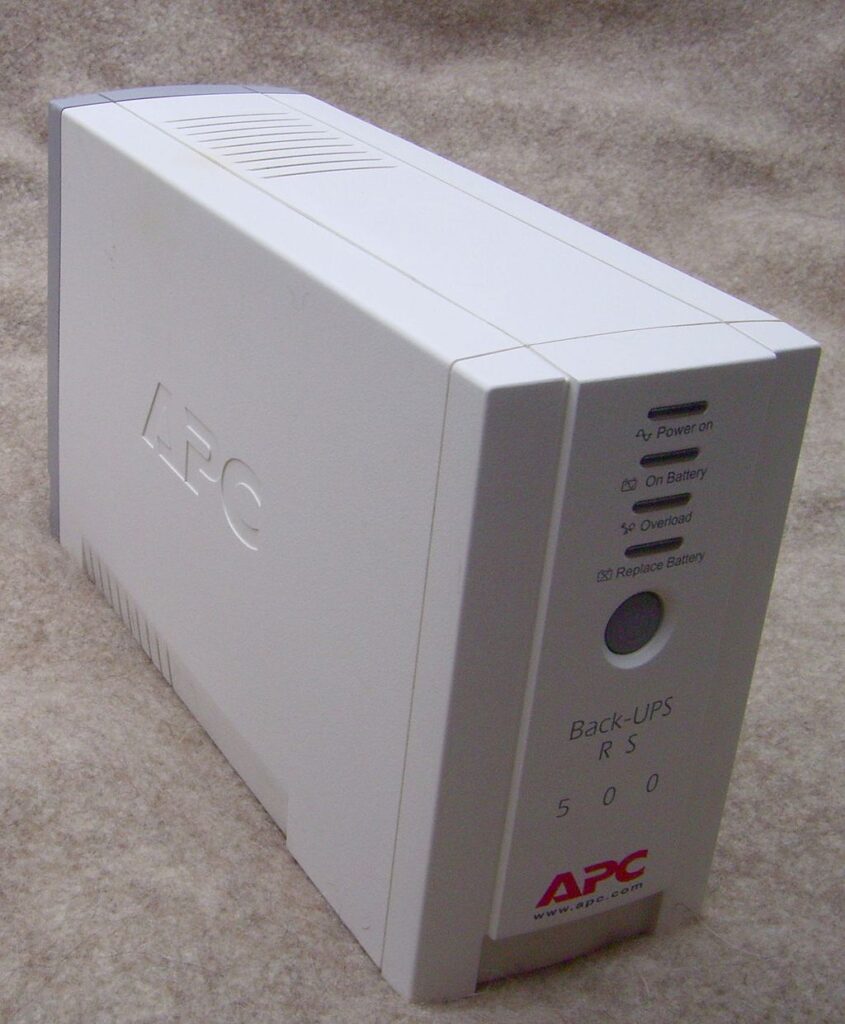 A UPS (uninterruptible power supply) is a machine that provides power to everything plugged into it. This is usually for a few minutes in a residential setting but it can be for up to a few hours as we will see below. UPS systems usually use batteries to power everything connected to them, giving you time to either power off this equipment or for your generator to kick in. They are also designed to protect from surges and outages. 
So, which is the best UPS system for a residential setting? Below, we will look at the best options available right now.
APC Back-UPS Pro 1500VA
APS is known to produce some of the best UPS systems in the market. One of the best systems is the APC Back-UPS Pro 1500VA, which is specifically designed for homes with up to 10 devices for a total of 1500VA of power. Among the connected equipment, 5 of them can stay powered by battery backup and protected using surge protection. The APC Back-UPS Pro 1500VA can handle equipment that has high power needs including routers, game consoles and computers.
The APC Back-UPS Pro 1500VA also comes with a clear LCD for all critical information. It has a small footprint due to its vertical orientation, optional supplementary backup batteries and hot-swappable batteries.
CyberPower EC650LCD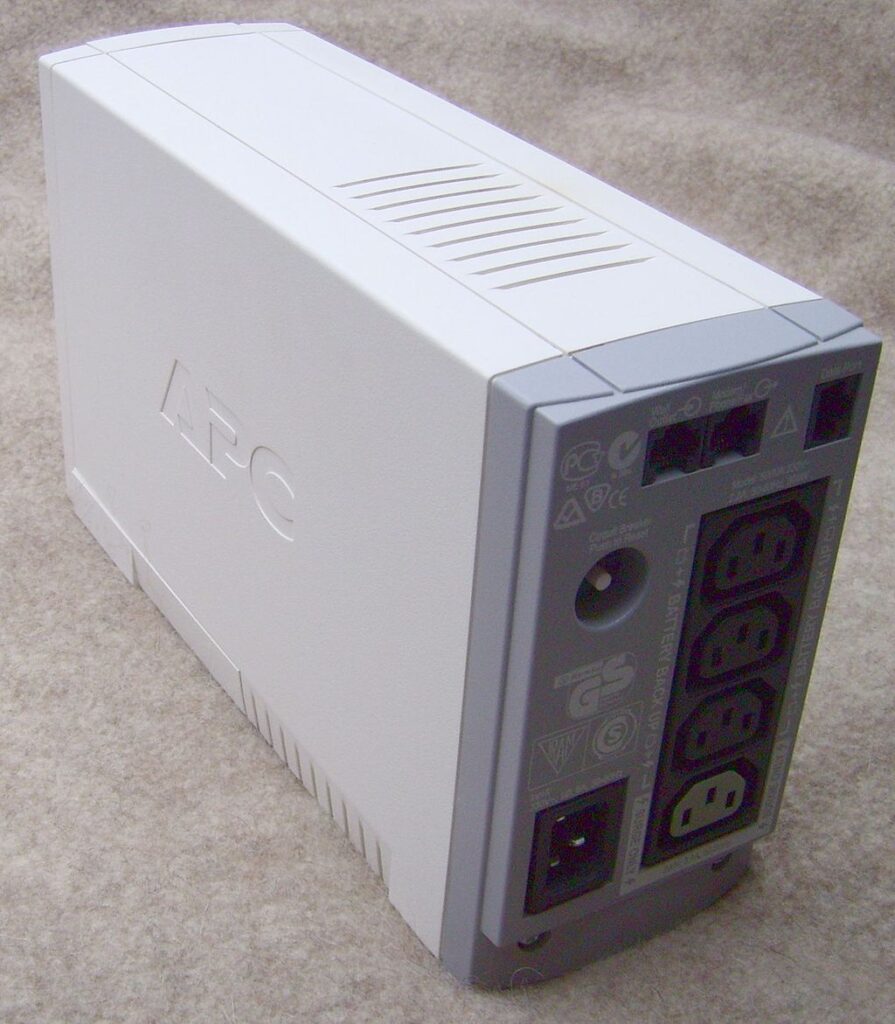 The CyberPower EC650LCD is a great option for those on a budget. In addition to surge protection, you also get four batteries for power backup and output of 650VA. One of the reasons a lot of people love this uninterrupted power supply is that it is small, compact and lightweight with an LCD screen that is easy to read even in bright sunlight.
The CyberPower EC650LCD is also a great option because it can recognize when one or more of the devices connected to it are turned off or go to sleep. This helps its batteries last longer and can help keep your power bills down.
Because of the small amount of backup power it provides, the CyberPower EC650LCD should not be considered a backup solution but instead, a measure to give you time to switch off your equipment, give you enough time for generators to come on, or allow you to switch to another source of power such as a solar battery backup system.
APC Ups 2200VA Smart-Ups with SmartConnect
If you have a home office, this is the UPS for you. For a single device, you get up to 600 minutes of run time, although this decreases as you add more devices. This UPS is also impressive because it comes with 8 surge protection and backup outlets with pure Sine Wave power output. Users also get 220VA of power and 1920 watts of output. 
The UPC can be recharged in 3 hours and can be managed remotely through a secure portal. This portal can be used to optimize its performance as well as check how much power is left.
This UPs weighs 112 pounds so you do not want to install it yourself or even move it. Additionally, this UPS should be installed somewhere cool and dry. Because of this, you need to call professionals who have experience installing this APC uninterrupted power supply model.
CyberPower CP800AVR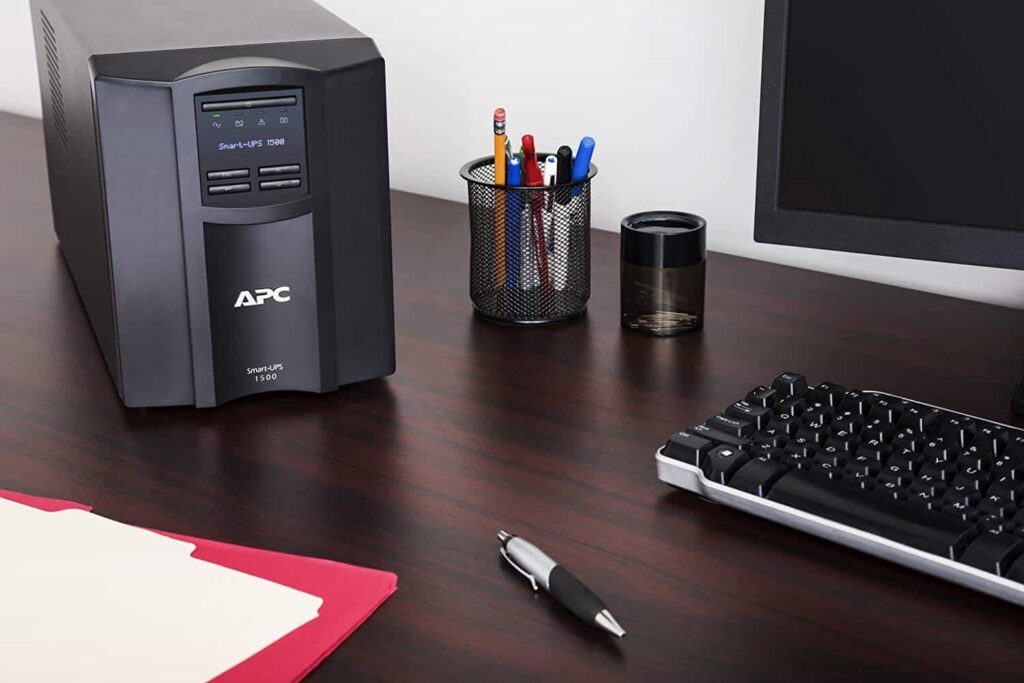 While most people think of computers and game consoles when they think of the equipment that is connected to a UPS, UPS systems can be used for many other types of equipment. These include network devices, printers and routers. The CyberPower CP800AVR is particularly suited for these use cases. 
It comes with 8 outputs, with all of them having surge protection and four of them offering backup power. This UPS system is particularly suited for equipment with bulky plugs as Cyberpower has ensured adequate space between each outlet.
The CyberPower CP800AVR UPS is designed to have lower noise, produce less heat and save energy. The reduced noise levels are particularly helpful for those who would like to place this UPS close to their computer or workspace
Tripp Lite SMART1500LCDT
The Tripp Lite SMART1500LCDT comes with a 1500VA battery to ensure you can power your equipment for up to 90 minutes. You also get 10 outlets and an LCD display for all important information. The one advantage of this UPS is its ability to absorb massive surges due to power interruptions or shorts in the wiring. Some people even claim it can survive surges that fry whole-house surge protectors, which is testament to its robust construction and capabilities.
The best UPS for home use is a subjective assessment because everyone's needs are different. However, if you need a UPS for a home office, try the APC UPS 2200VA UPS or the APC Back-UPS Pro 1500VA. If your power needs are limited, then the CyberPower EC650LCD should be adequate for you.