As summer hits full swing, it almost becomes irresistible to want to spend more time outdoors. With sunny days and longer nights, your backyard can suddenly become the most popular spot for your friends and family. To spend even more time outside this summer, consider building an outdoor kitchen in your backyard. With a backyard kitchen, you can bring your culinary skills out under the stars and enjoy your favorite dishes out on your deck or patio. 
But how exactly do you get started building your own ultimate backyard kitchen? At first, it could seem like a monumental task. For those with smaller yards, you may even worry that you couldn't fit a backyard kitchen on your property. However, this isn't quite true, since (with a little creativity and planning) you can design a backyard kitchen to fit any size and space. 
Here, we're offering a quick guide to help you build your ultimate backyard kitchen. No matter the size of your yard or the size of your budget, there are innovative and creative ways to bring the joys of cooking outdoors. Read on to find out how to get started. 
STEPS TO BUILDING YOUR OWN BACKYARD KITCHEN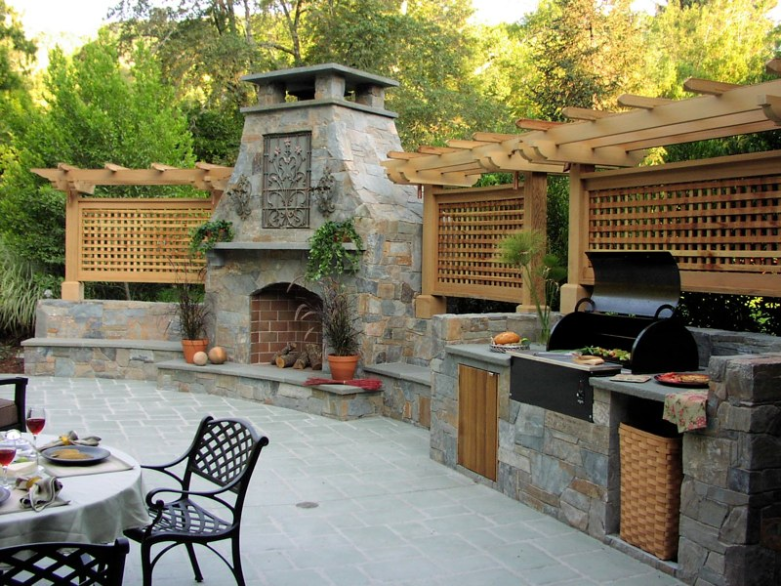 source: hearstapps.com
There's no one correct way to begin building your own backyard kitchen. If you're working with a professional outdoor kitchen design firm, they'll guide you along the way and help you with planning, design, and layout before breaking ground. However, with some construction experience, many people can even implement their own backyard kitchen.
 Here's one step-by-step approach to building the ultimate backyard kitchen:
1. Planning your outdoor kitchen design and layout.
Measure twice, cut once, right? This old adage can help you save on time and money throughout the construction process by having a detailed plan and layout before you begin building anything. Sketch up a rough layout of how you want your outdoor kitchen to look and take careful measurements for larger features such as a kitchen island, a grill, and cabinetry.      
Some of the more popular layouts for an outdoor kitchen include:
L-shaped (ideal for separating meal prep from cooking space).

U-shaped (for those with more available room).

Linear (simple and effective layout).

Triangle (ideal for fitting in a lot of appliances in a smaller area).

Kitchen island (could serve as a feature in a larger outdoor kitchen or function as the primary focus itself).
2. Outdoor kitchen location.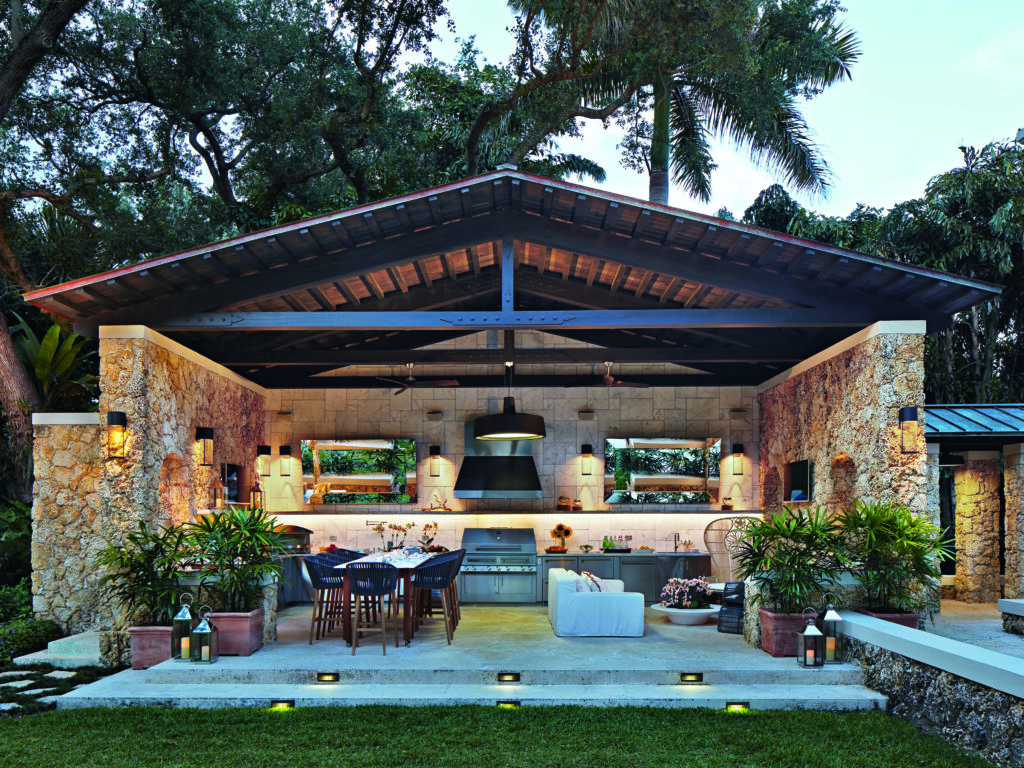 source: pinterest.com
 Location, location, location. Determining where exactly in your backyard your kitchen will be is a crucial decision. Many families choose to construct their outdoor kitchen close to their home for convenience. This is especially useful if you're building off of an existing patio or deck. However, for those with a larger yard, you may want to extend further to open up your outdoor space and take advantage of the room.
Keep in mind some essentials when picking your location, such as having a strong foundation and access to electricity and water lines that may be more difficult the further out you build your backyard kitchen.     
3. Outdoor kitchen appliances.
Now that you have a rough idea of the size and space of your outdoor kitchen, it's time to fill in the gaps with backyard kitchen appliances. From grills, pizza ovens, slow cookers, to sinks and cabinetry, you have a lot of choices when it comes to your outdoor kitchen appliances.
4. Construction.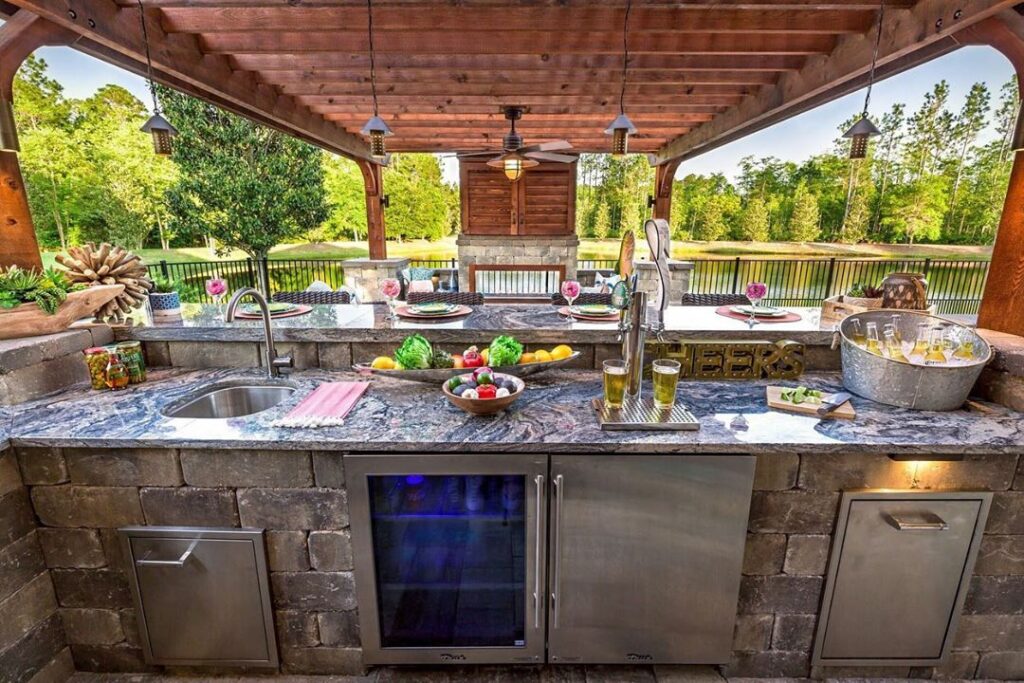 source: extraspace.com
It's time to get your hands dirty. For those with construction experience, you need to make sure you're using the right materials that can withstand temperatures and the adverse weather. Working with a trusted outdoor kitchen design company can help guide you on how to construct the perfect outdoor cooking and dining space. 
BACKYARD KITCHEN APPLIANCES
Selecting your backyard kitchen appliances can be one of the most fun—and important—parts of building the ultimate outdoor kitchen. Your outdoor kitchen appliances will determine what you're capable of pulling off when cooking outdoors and can help you from running back inside so many times during meal prep.
Here are some of the most popular backyard kitchen appliances:
Grill: nothing quite says summer and outdoor cooking like the classic type of BBQ grill. Bring a little heat to your backyard kitchen with a grill to cook up all your favorite meats and veggies. Portable grills are especially ideal for smaller spaces.
Outdoor pizza oven: to take your outdoor cooking to the next level, many families even install a complete outdoor pizza oven. What better way to enjoy this classic dish that the whole family will love then with your very own pizza oven? No more worrying about delivery pizza for your household.
 Slow cooker: if grilling isn't your specialty, consider adding a slow cooker to your backyard kitchen. Simply throw in your favorite meats and let the slow cooker take care of the rest. For that "fall off the bone" taste and texture, nothing beats a slow cooker.
Outdoor refrigerator: an essential when it gets hot outside, an outdoor refrigerator will help you keep your ingredients cool and works as a perfect place to store any leftovers.
Ice Maker: the best way to keep cool on those hot summer days is with an icemaker included in your backyard kitchen. Keep your drinks (and yourself) cool while you're over the grill and save yourself on trips to run back inside when you need to freshen up your drink. 
CONCLUSION – HOW TO BUILD THE ULTIMATE BACKYARD KITCHEN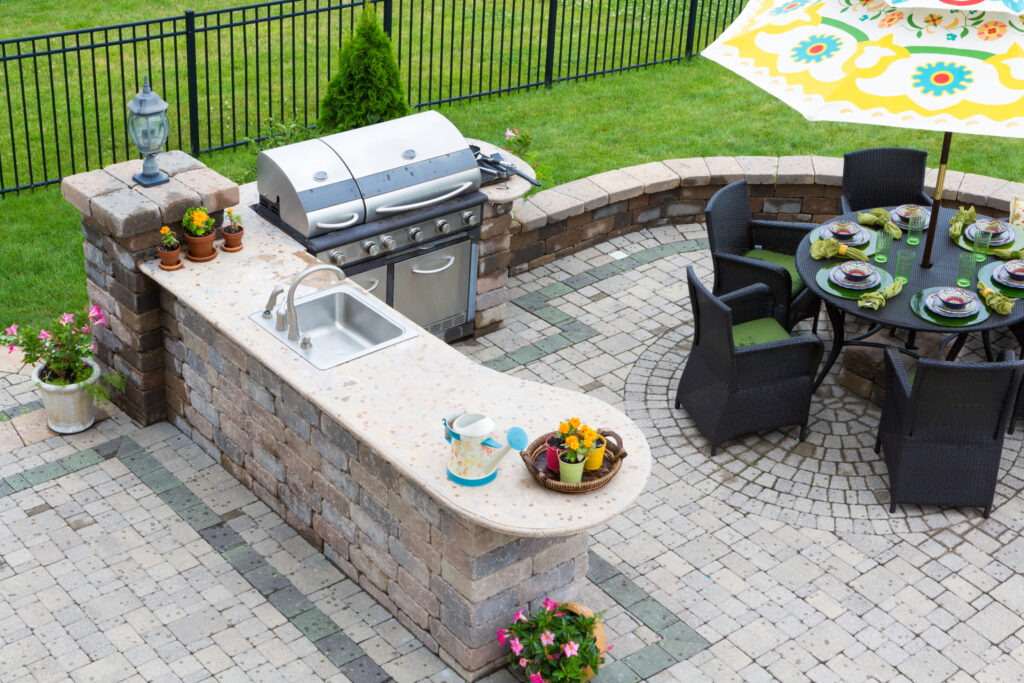 source: mercurynews.com
It's time to transform your cooking and dining experience by bringing your kitchen outdoors. More and more families are constructing their own backyard kitchens to take advantage of their outdoor space and allow them to enjoy more time outside. With summer in full swing, there's no better way to relax and spend time with friends and neighbors than by having your very own backyard kitchen. Beginning with a detailed plan and layout, determine the best location for your outdoor kitchen and then you can start selecting the right outdoor kitchen appliances for your cooking needs. No matter the size of your yard, you can reimagine how your family dines by building the ultimate backyard kitchen.