The sofa is where we use to enjoy a movie show or to gossip with friends or family members. Habiting with delicious food items is a significant issue of having dirty or making it nasty. Though we place our sofa in the living room or basement or open yards, it can be dirty by daily uses. Building up stations can be the result of an accident.
Having a stain-free sofa is a crucial task. And cleaning your basement sofa or living room fabric sofa is a nightmare to all. Here we would like to describe to you some unique methods to clean your fabric sofa.
How to Clean a Fabric Sofa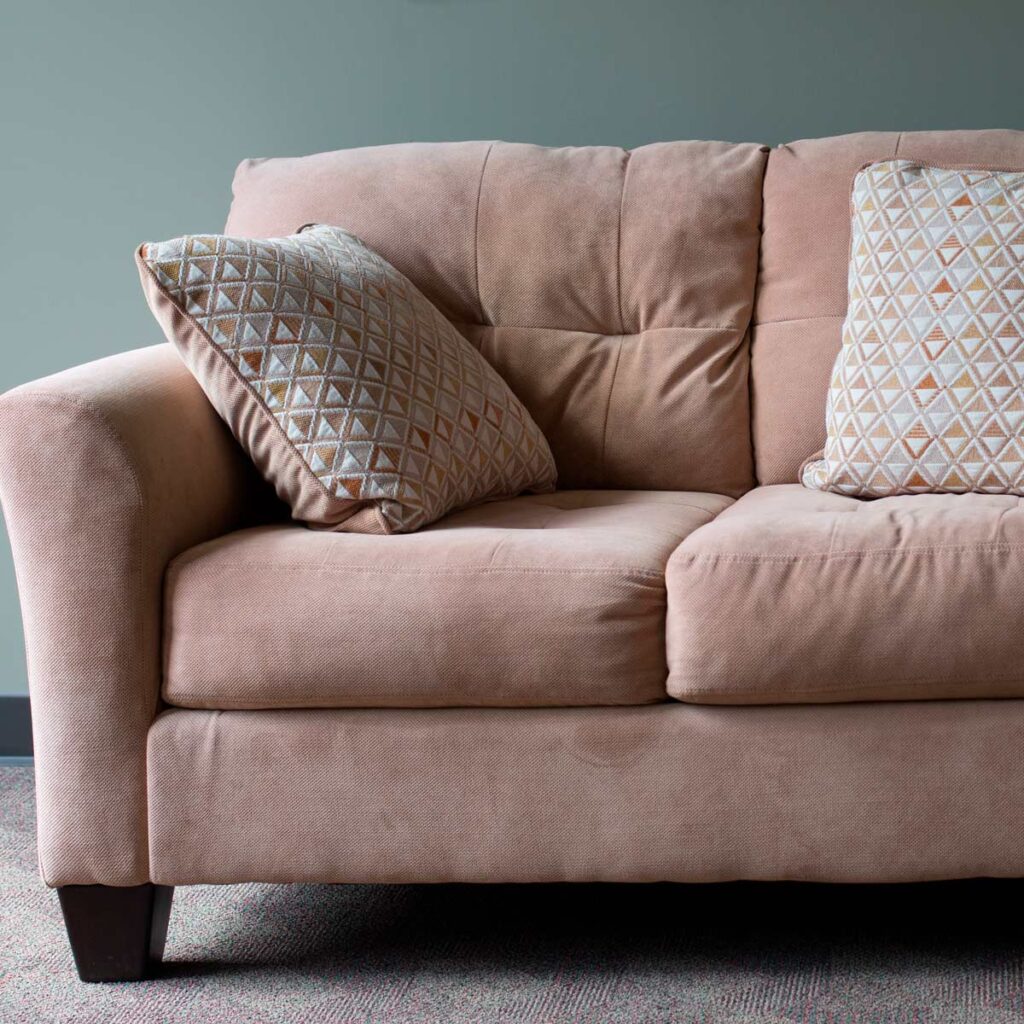 source: tasteofhome.com
You can follow multiple methods to clean your fabric sofa. Natural way or chemical way or dry cleaning method. Apply the one which is suitable for your sofa.
Find out the stains quickly
This is the first step you should take. If you cannot find all stains at a time, you will miss the steps of cleaning your sofa perfectly. After the time, it will be stronger than in the past. So this step is as important as any other cleaning method. This time you need to apply full concern. Find out all stains & point them with markers to not skip them at the time of cleaning. Don't use any permanent color marker. Or it will also expand your cleaning process.
Natural cleaning methods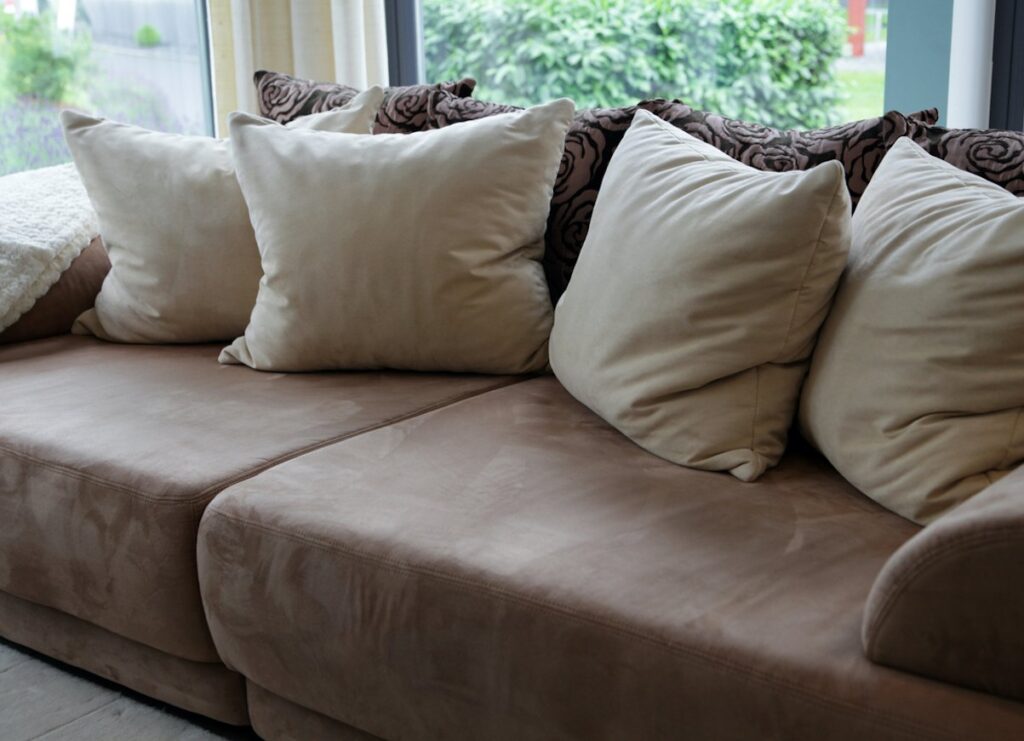 source: bobvila.com
Take a brush to remove all deep crumbs or dirt from the surface of the sofa. You can wear a glove to secure your hand if you feel it is necessary. Take a clean, dry cloth to reach the nooks & crannies. You can apply a stiff brush to remove stubborn spots.
If you have a pet in your house, then sofa fibers can also be spillages & odd smells can come out of it. To stay away from this type of smell, you can shake off the bad smells using a natural fabric cleaner with a good smell. It can be baking soda or dry carpet cleaner.
To have an ace cleaning process for tough stain, apply white vinegar with baking soda. It will be a strong cleaner. Make sure that you have this permission to apply on your sofa fabric. This acidic formula will help you to cut the grime & grease.
Follow manufacturer's instructions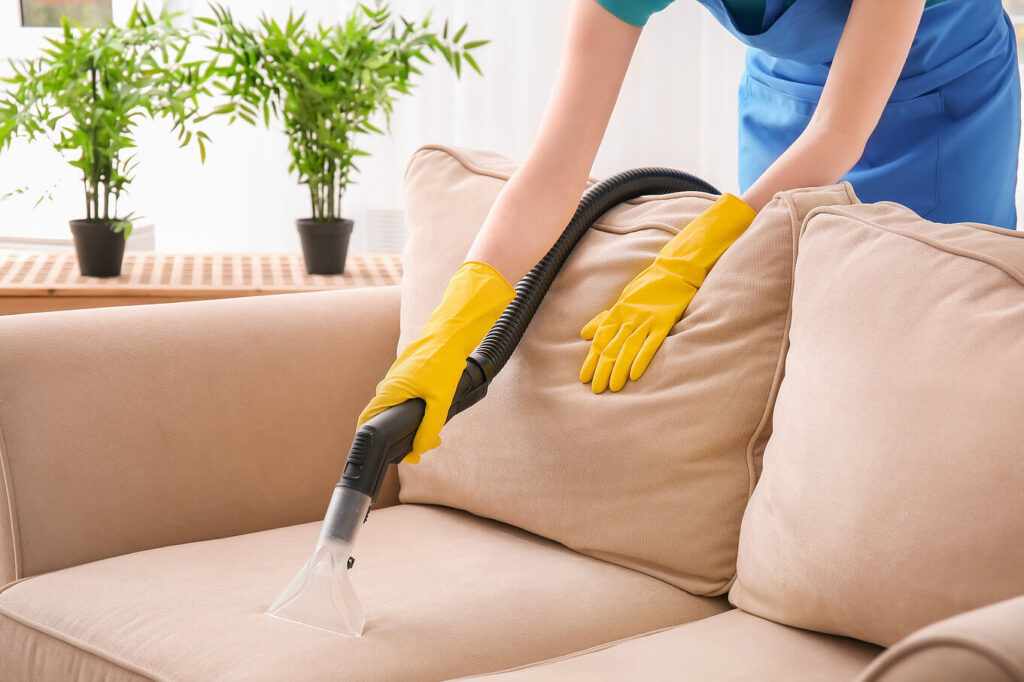 source: allpumpservices.co.za
Before starting cleaning any fabric sofa, we should follow the manufacturer's guide & cleaning method tag. Some instructions come with different cleaning tags. W – for cleaning with plain water, S – stands for water treatment is not allowed, purchase the special solvent cleaner. WS – indicating that you can apply water & solvent-based cleaner both. X- stands for only a vacuum cleaning method.
Clean with a Steamer
Before starting steam cleaning for your Fabric sofa, you should vacuum properly to collect all loose herbs. Fix a day to take this action. It needs to arrange proper ventilation. So it would help if you opened the windows & doors for better air circulation. To pick up the debris, some manufacturers use microfiber cloths. In this way, you can pick all the dirt from your fabric sofa's cover when you are steaming your sofa.
Read the manuals, then apply a vacuum cleaner with proper air circulation. Test the type of spot, its longevity & reason. Then clean your sofa with a bearable cleaner. Let it dry with running air. Finally, vacuum again.
Final Thought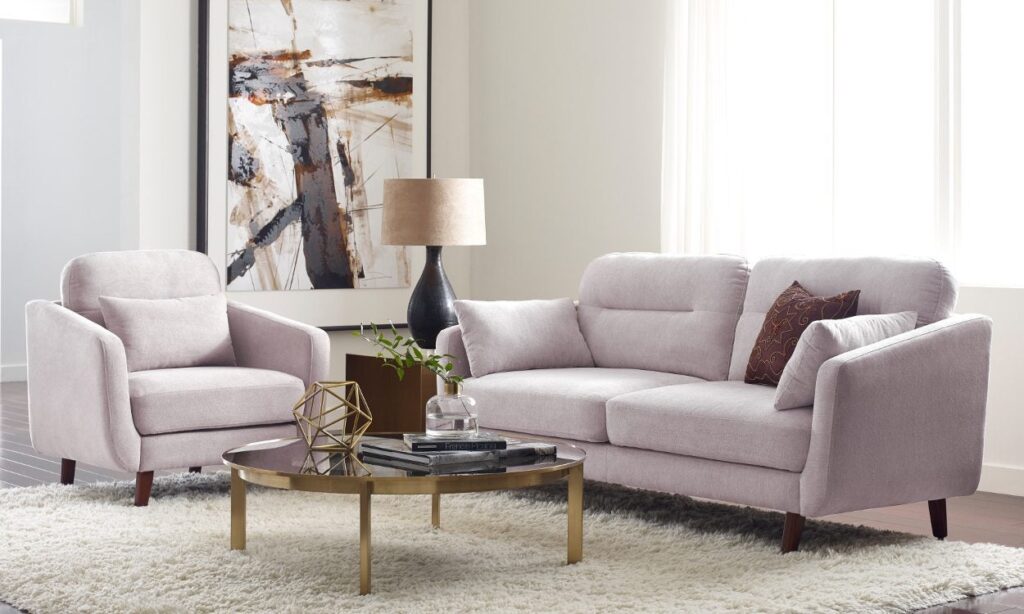 source: ostkcdn.com
Proper cleaning methods will allow you to enjoy a durable sofa with a comfortable and attractive look. Depending on your user's consistency, you can apply a daily cleaning or deep cleaning method. The standard cleaning method will give you a daily fresh look & smell. That will also give you a healthy environment feeling.
All types of fabric sofas need to apply a deep cleaning treatment. If it is in your basement, then you should be more careful about this. Just because of the moist nature, we need to take some extra steps for basement sofa cleaning methods. The basement is the coldest place than other places in our house. So if you set the fabric sofa in your basement, make sure that the furniture is well furnished to avoid moist problems.