Nowadays maintaining the aspect of roominess is going on disappearing; as we are having the enough space to habitat, but ask a question to yourself do you utilize every corner and edge present in there? Most probably the answer is "NO". You have to be concise about the usage of everything present in the interior of your home, because breaking out the monotony is necessary to explore various innovative ideas with various things, no matter whether they are useless or useful. Besides this if you go on having a look at the things present in your home and 
It doesn't mean that you start utilizing each and every space present in the interior of your home, but the thing is wherever you feel like that "YES" this is the place which I was looking for, though you might have seen that especially in rooms like kitchen room, hall / drawing room, etc. has many space left out which is not utilized. Furthermore those spaces are occupied by things in a way that do not let you to set any other thing over there, thus managing and planning of the every space you have in your hand will help you to get rid of unwanted things and it will make your home a perfect minimalist home. The only space to be utilized in the very proper manner to get the best outcome is the kitchen; especially we miss out the kitchen corners.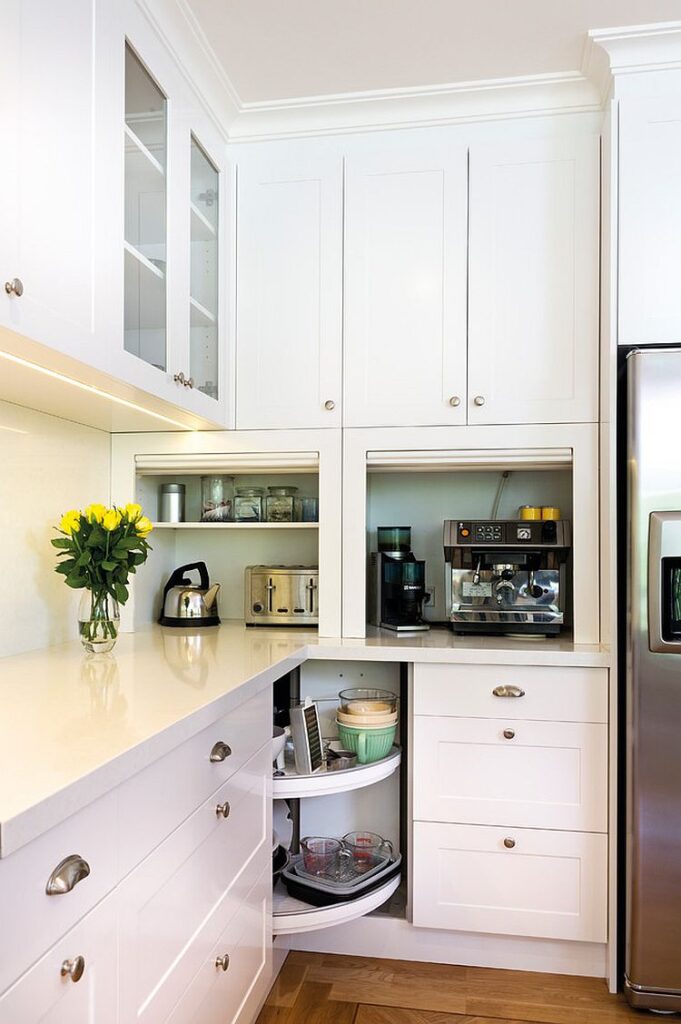 source: decoist.com
Each and everything should be utilized including the corners too, as you can get few outcomes whether it is used or not, I think everything deserves to be used with some respect. So what do you think about each and every corner of your kitchen? Is it worthy to be used? If someone says no or yes, we will clear your entire query. Every corner of your kitchen is worthy to use, it is better to exploit that which seems lonely and dull without any equipment. It is not hard to fasten any tedious space creatively, in this modern era that is bursting with artists. Each inch of square size in the kitchen is valued.
Now you must be wondering that how come one can use corners of kitchen to achieve a revolutionary look? It would seem funny to you but let me tell you that you are thinking wrong even a single square inch of kitchen is able to make a lot difference to your overall glance and look, it would even add up a lot to your kitchen by adding up new kitchen designs and new kitchen furniture. Here we have some of the featured and innovative ideas which can help you in exploring each and every corner of the kitchen.
How to use every corner of your kitchen? Get your answer solved by following the below mentioned steps.
A petite breakfast alcove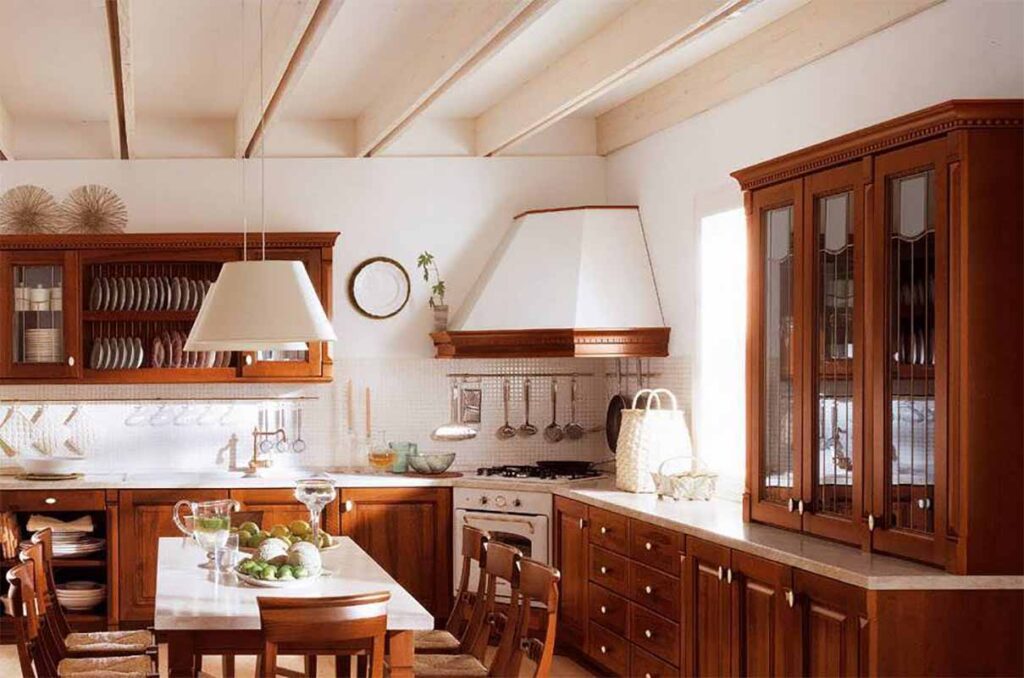 source: homeonline.com
There are many houses who aren't having enough space to get their dining table settled down and enjoy the environment and the taste of eating breakfast or lunch or dinner. For those all I would like to suggest they construct a petite breakfast alcove. But some will think that it is expensive and tough to build up. So let me clarify to you that it is not at all expensive and tough, moreover it is worthy for one to have such types of kitchen furniture in their kitchen. As we are going to build it in one of the corners of your kitchen, you would be admiring now, is it possible to have dining type furniture just by using corners made by the wall of the kitchen? Yes it is possible let us see, how? All you need to do is bring up the materials stated below.
A sofa chair which shapes similar to your corner if you don't have one then go on furniture shop and ask them to build you a minimal sofa corner of L shape or you can opt for two different sofa chairs and then you can arrange it.
 Once you are having this all things in your hand and in ready to use condition, and then opt a corner of your kitchen which is looking way dull and dreary and start placing all the things in a proper manner at that corner. After that just finalize it in a way that everyone can utilize it as per their needs. Finally there you go with your petite breakfast alcove where you can enjoy your breakfast peacefully.
 If you are having a small family then you can even construct it in a manner so that you can even utilize it while having your lunch or dinner. All the activities related over there depend upon the type of table and arrangement you have constructed.  
Corner drawer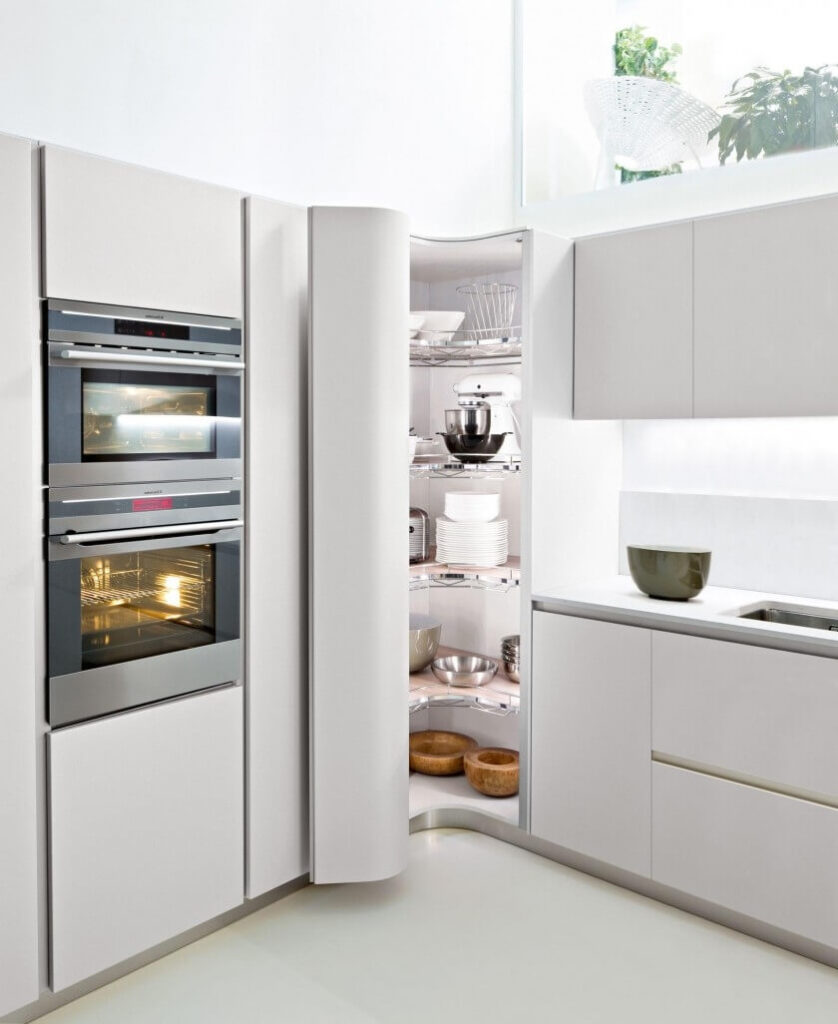 source: homebnc.com
You might have noticed in your kitchen furniture that the furniture including corners are not easy to get accessed as you have to stretch yourself a lot to reach over there or sometimes they are so deep that you cannot even put something over there otherwise it will become a burden to you to access that thing again. Though there are many inaccessibility and problems at that time of using that corner of our kitchen. Thus after thinking and innovating a lot about the same many of the designers and constructors have come up with an idea of L shaped furniture. Now the question arises what is L shaped furniture? As we are talking about the corners, they most often appear in L shape, similar to the furniture which is made by using the concept to get fixed in the corner anyhow you have to construct L shape and that furniture is called L shaped furniture.     
What Does the construction look like? You will notice that the drawer or the cabinet are shaped L and the basket is connected in an inclined manner so that it gets fixed well with L shape of the drawer head or cabinet, in the same way the end part of the basket is also shaped L so that it matches up the corner of the wall of the kitchen. In short one can say that the shape of the basket is L from the top and L from the bottom too, while the remaining space is used for keeping the various kitchen equipment.
Thus one can easily create a L shaped corner furniture so that it fits over there and you can even have easy accessibility to the equipment you need while you are about to utilize them. Though constructing cost depends upon the type of material and designer you are relying on, it is one of the inexpensive ways to use your kitchen corner.
Corner shelves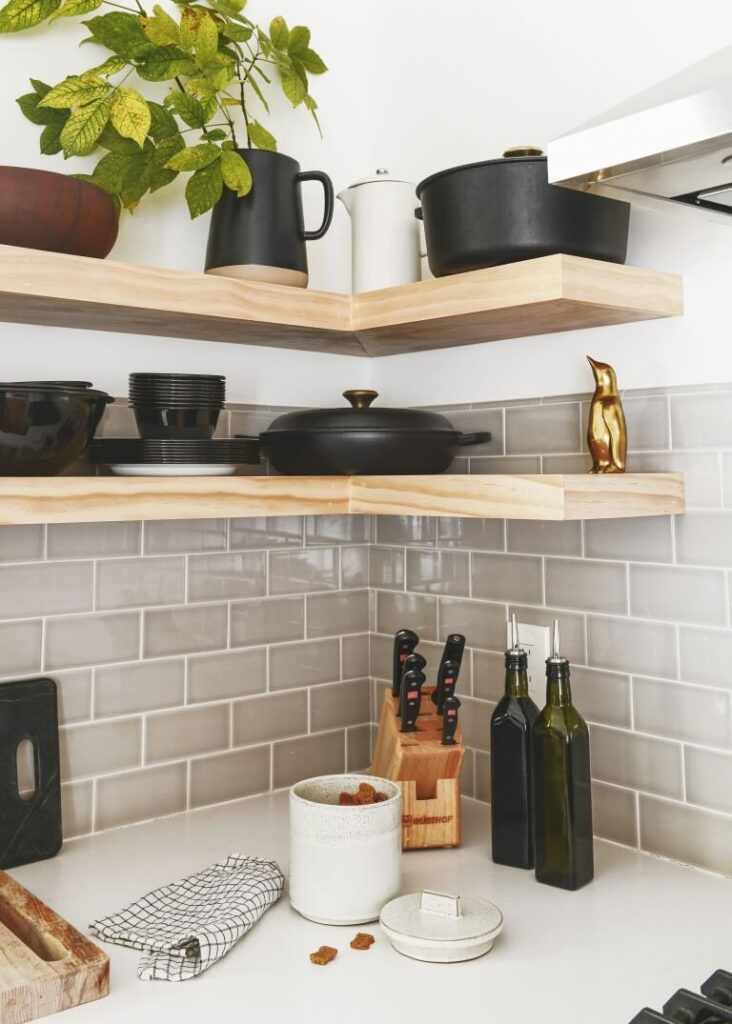 source: yellowbrickhome.com
At some certain stages you are going to lack out from the storage spaces of your kitchen, as everyone cannot afford a storage room connected with the kitchen. Thus to manage the new coming things and also to manage the things which you have in your hand you need a large storing space but as we are already running out from the lack of space and from the aspect of roominess you have to think something out of the box to store everything in a proper manner. At such instances the only place which can help you out to get rid from the problem of lack of space is the corner of the kitchen.  Yes you have heard it right it is nothing but corners can help you to get rid of various problems related to space. All you need to do is construct shelves at the corners as per your needs and requirements. For sure they will come with the utmost outcome to help you a lot in further future problems.
You can build up those shelves using various types of materials and tools, also good news for you; you can do it as a DIY project of yours. You can go on building it with the use of wood, metals, glass, etc. As of now most probably the combination of metals and woods are working a  lot, what the designers actually do is they build up a support using metal and the shelves are then created with wood. In those shelves one can easily store their excessive materials or one can store their daily kitchen equipment as those shelves are always going to be in front of you. There is even one more advantage of having corner shelves that you can install and uninstall them as per your current needs. Also they do not look cramped with the surroundings.
A hobby corner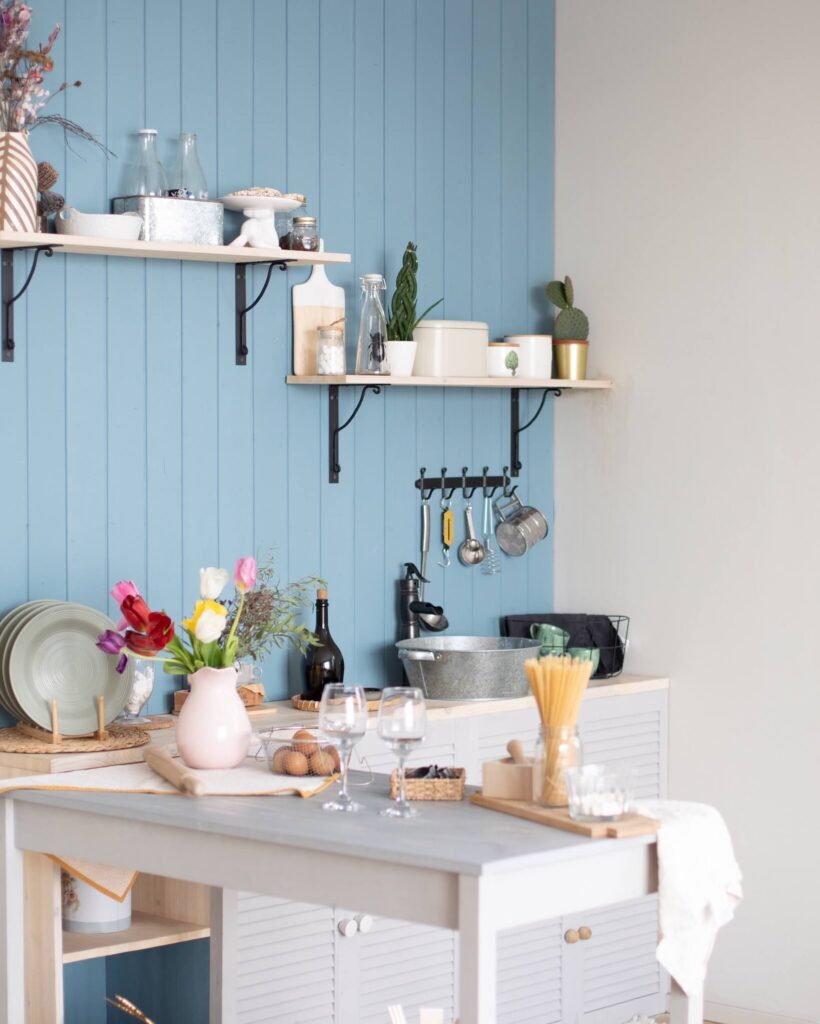 source: studiobipolar.in
Hobbies of the person vary from one to one, if you are really habituated to your hobbies or you believe in doing extra personal activities like baking cakes, making exotic foods, or making different types of cocktails and mocktails. Then there is good news for you that you can utilize one corner of your kitchen as a hobby corner. Try using a corner which is connected with your kitchen platform furniture as it will not make your hobby corner look apart from the rest, in this way you get what you want even by adding a bit to your furniture and that bit addition will make your kitchen look awesome and elegant.   
 This type of construction needs some expenses to be done as you have to flatten out your corner into two parts, that means you have to create a fillet like structure at your corner and to achieve a fillet like structure you have to call up an experienced engineer who can help you out in achieving whatever you want. After constructing a fillet a new section is being created where you can arrange your equipment accordingly. There you go for your hobby corner, now you are free to utilize that part in the way you want. Do not forget to connect it with your current platform otherwise your hobby corner will look apart from your furniture as it will not mix match in a proper way.
Add a sink / Keep some equipment over there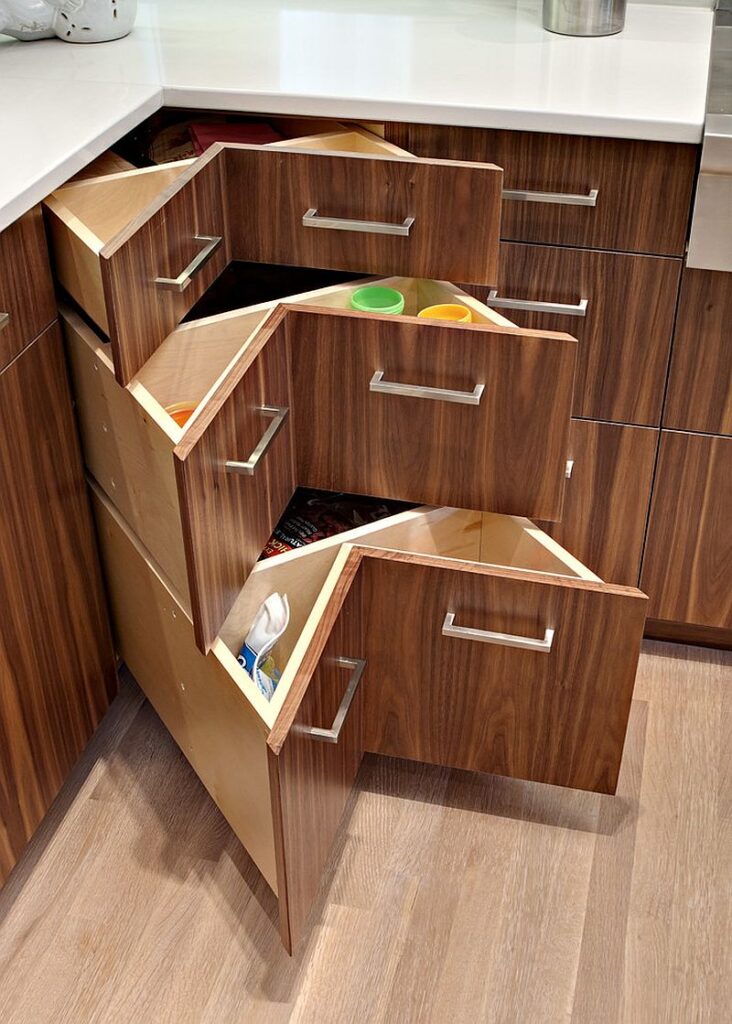 source: decoist.com
Sometimes having sink at the between of your platform or at the middle of your furniture makes it messy, also one is not able to utilize it in a proper way as it will make your platform messy with water. At such instances what you can do is you can switch your sink at one of the corners, as having a sink in a corner will not mess with any other things present on the platform furthermore its utilization and plumbing becomes easy. Though having a sink at one of the corners is a best idea by my side.
 As we are utilizing each and every space of the kitchen just with the aspect of managing the aspect roominess in the kitchen, thus sometimes the larger equipment which you have in your kitchen makes the environment messy and cramped, and no one would like to sustain in such difficult situation as everyone loves to enjoy a properly mannered kitchen which is in ready to use condition. Mainly the equipment like refrigerator and R.O. drags us a lot. So what we can do is simply add up those equipment at the corner of your kitchen, it will utilize the space though along with the providence of the utmost accessibility to those equipment.   
Keeping an R.O. system does not creates any kind of problem, but while you are about to place your refrigerator over there you have to be concise about its system as there are some parts where the supply of air is required thus while placing the refrigerator at the corner make sure that you leave behind space of some inches.