Introduction 
The modern farmhouse design first gained popularity in 2015, and it has been praised ever since for its fashionable and dynamic impact on homeowners.
This diverse style was recovered from a classic farmhouse design but with a stronger sense of elegance and durability.
Independent industrial, classic, and traditional styles heavily influenced modern farmhouse design and trends to integrate some of the era's most striking minimalist and contemporary characteristics.
The modern farmhouse design offers a refreshing, inviting, and positive realm with clean and crisp lines, warm woods, and neutral accessories.
What exactly is modern farmhouse design?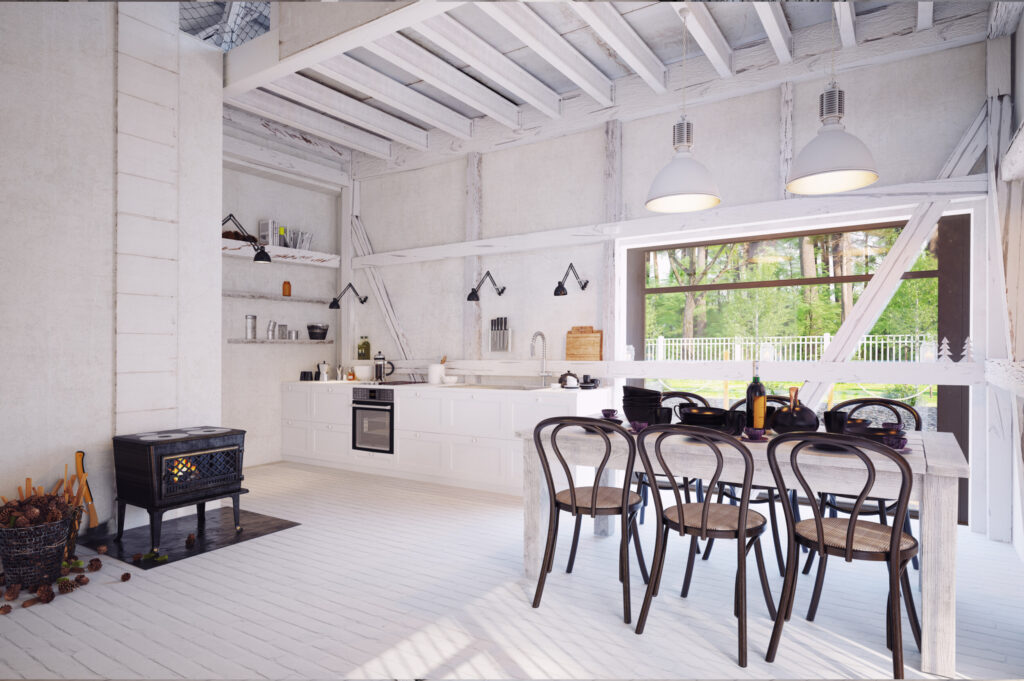 source: decoraid.com
Modern farmhouse design usually depicts rustic country appeal with warm minimalism and industrial accents. Modern farmhouse décor stresses comfort and relaxed living with modern ideas, striking the perfect balance of rustic and sophisticated.
Though it's not uncommon to hear the labels "modern" and "farmhouse" used together, this popular pairing of design styles is more than noteworthy. 
When it comes to creating your own modern farmhouse décor, it's always a good idea to put a new spin on rustic aspects so that your home feels distinctive to you while still keeping modern in spirit.
Upgrade and incorporate the modern farmhouse design style into your home while maintaining a heady blend of traditional ease and modern elegance.
Check out on fixtures
You may employ many extra fixtures to highlight attractive modern farmhouse decor, from worn faucets to enormous pendant lighting. The interior designers frequently recommend rustic sconces and dramatic light fixtures for modern farmhouse living room decor since they'll also function to pack a stylish statement for your most-used spaces.
Suppose that's beyond your budget, or you're content with the fixtures you already have. In that case, you may quickly replace the facades of drawers and cabinets with inexpensive and fresh farmhouse decor-inspired handles and hardware.
Enclosed porches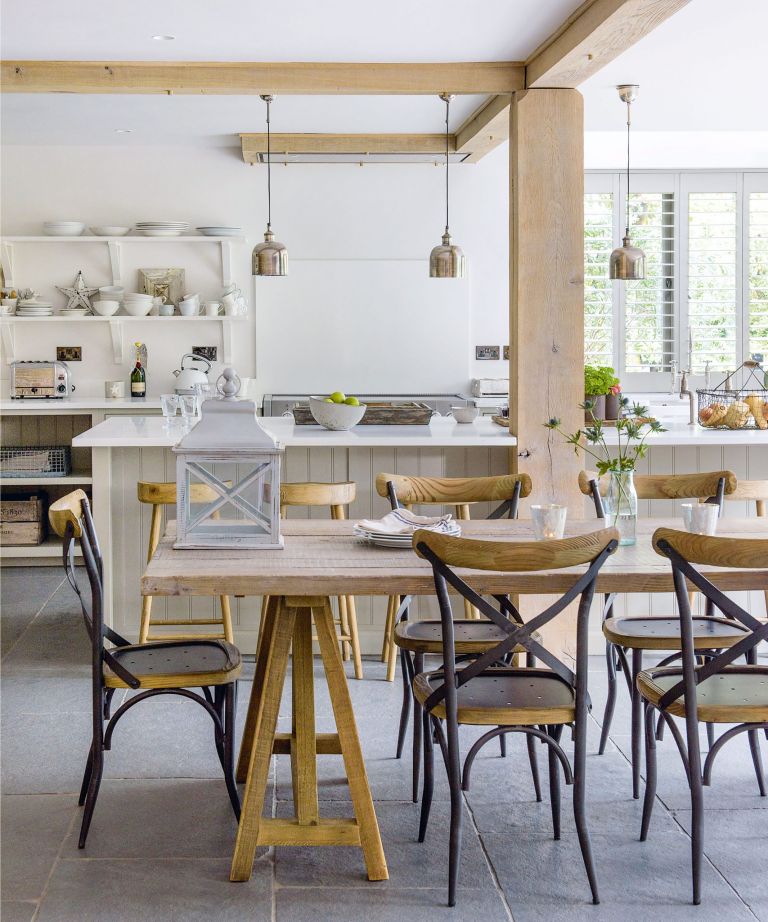 source: pinterest.com
Outdoor living was once popular in traditional farmhouses, which is why it has been recreated in modern styles. The farmhouses have emphasized the ethos of having an inside yet outdoors experience and enjoying the land and its environment. 
The homeowners may enjoy the rainy weather while enjoying their evening coffee or tea on these covered porches. Backyards frequently feature covered patios.
Sophisticated furniture with traditional touch 
The furniture in the modern farmhouse design is simply that: modern. Your furniture will incorporate traditional farmhouse characteristics with a modern twist. It could transform a traditional farmhouse dining bench into a luxurious sitting arrangement using the sought-after reclaimed wood. 
Many homeowners enjoy the characteristics of a farmhouse, and modernized furniture will maintain those elements while keeping up with current trends.
Mix & match patterns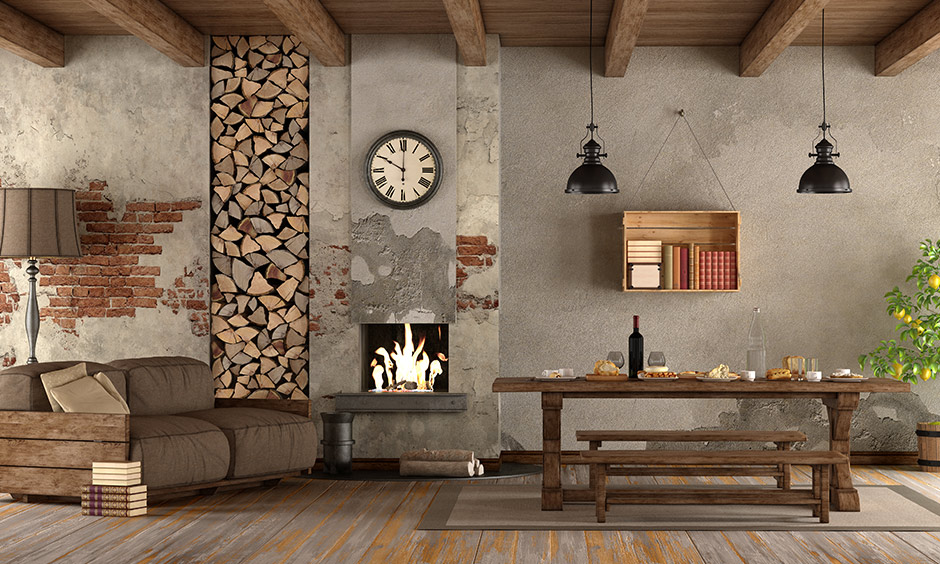 source: designcafe.com
While farmhouse style is frequently basic and neutral, it also exudes a sense of ease, which means you won't have to stress about a perfectly coordinated color scheme. 
Throws and cushions with opposing patterns or prints that play off each other can still look great in a farmhouse home if the rest of the decor is kept simple.
Contrasting will help
Mix high and low, old and new, for a magnificent modern farmhouse design that conjures pared-down, calm sophistication and low-key grandeur. Stick to the ancient principle of "less is more" and edit wisely because today's modern farmhouse design removes typical rural characteristics like gingham.
Don't be afraid to bring in unexpected finds and unique pieces; all it takes is a little creativity and inspiration to connect everything together without being awkward. If you do it this way, you'll be able to maintain your neighborhood as unique as you are.
Kitchens with broad space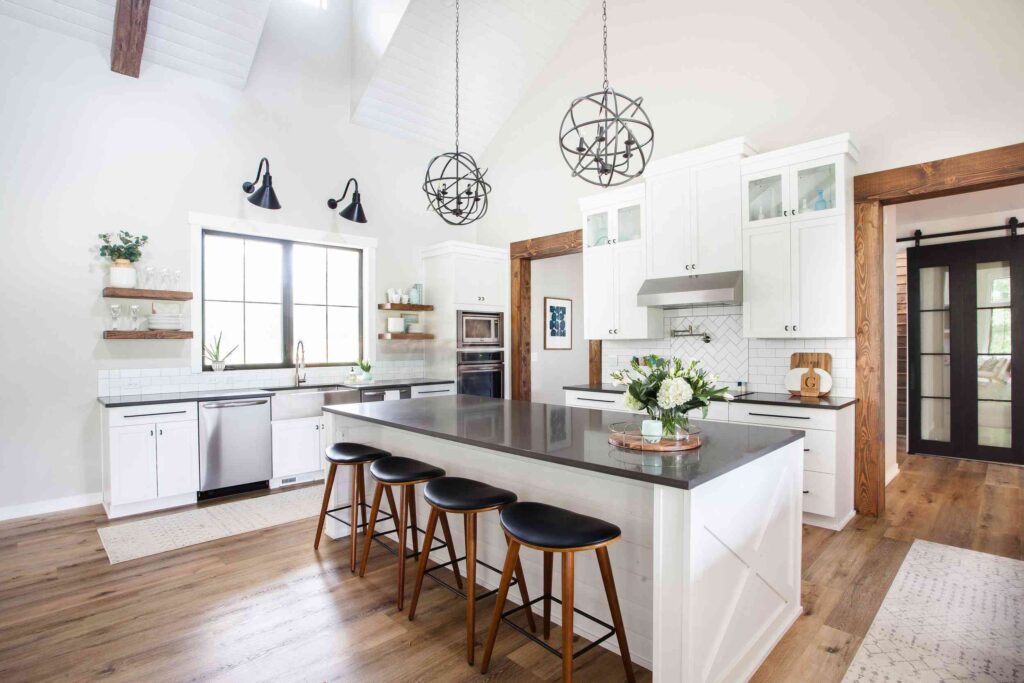 source: thespruce.com
The kitchen is the beating heart of our homes. On the other hand, the sizes should be broader and more flexible. Due to the need to feed large numbers of farmers and armies, traditional farmhouse kitchens were larger. 
These have been recreated in an unconventional form to add a current classic touch. With a mix of glass cabinets and wooden shelves, the important features to be integrated are wooden countertops and island pieces.
Pay head to colors 
It might be difficult to choose the right colors for your room. Should your countertops be a bold hue to make your kitchen stand out, or should you go with a more traditional design? 
In general, neutral tones are used in modern farmhouse interior design. Whites and light greys can help your farmhouse feel more modern while yet allowing the vintage characteristics to flourish.
Stick to neutral modern farmhouse design colors for relaxing contrasts to a crazy mix of decorative elements, as in clean Scandinavian style.
Incorporate antique pieces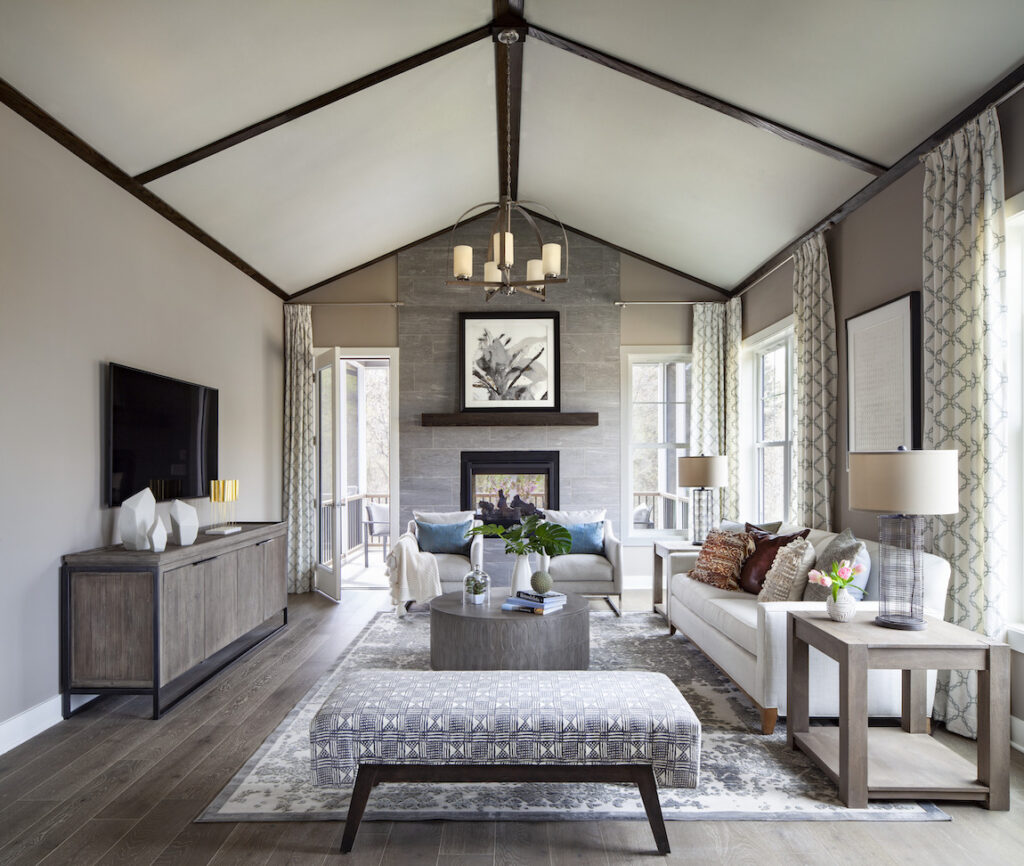 source: tollbrothers.com
While you may certainly add modern elements into your farmhouse design, this is also an opportunity to incorporate antiques. "Farmhouse" denotes that components from previous generations have been infused or passed down. 
Blend them with more modern furniture or materials to avoid a classic farmhouse from seeming too confining. As a result, including antique pieces into your modern farmhouse décor will undoubtedly do the trick and give you the impression of having something extraordinary and one-of-a-kind.
Make your space look open!
The openness of the modern farmhouse interior design is key. A magnificent open floor plan is included. 
An open-concept layout blends the kitchen and living areas together in a continuous flow, eliminating the need for a separate kitchen and living area. 
It is a great option for homeowners who want to entertain frequently because there is plenty of room for everyone to mingle. So choose open spacing to give your home a sense of openness and make it appear larger.
Go for the right material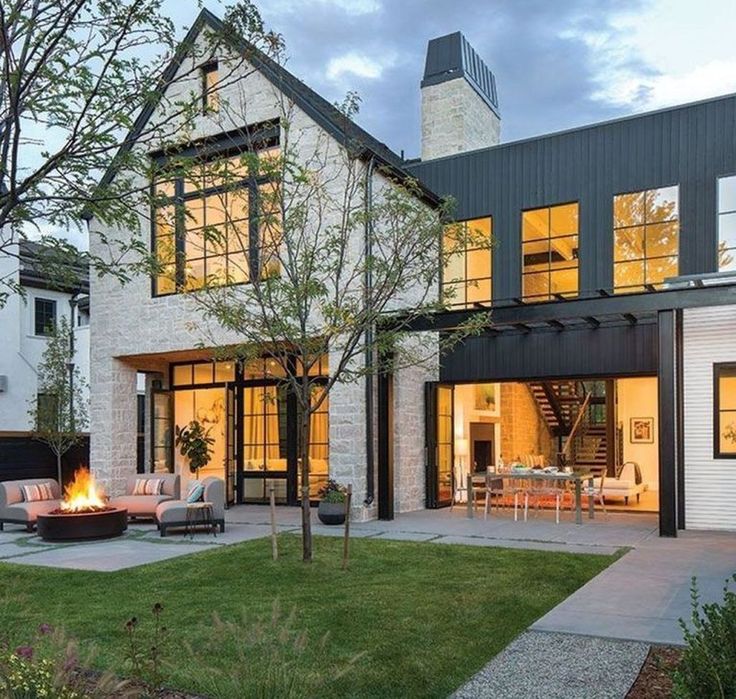 source: pinterest.com
The key to modern farmhouse decor is elegance. Using a high matte finish and avoiding glossy materials can give your area a natural farmhouse vibe while also creating a relaxed and comfortable atmosphere. 
Sleek, linear lines and minimum clutter introduce exposed material walls and industrial goods into the area.
Your entryway is crucial
The entryway is crucial in a farmhouse-inspired room and plays a significant role in making an impression. A well-designed entryway is crucial to creating a welcoming atmosphere in your home. 
Take the effort to arrange a basic but intentional environment if you have a dedicated mudroom or entryway. A bench and a console might help create the sense of a distinct doorway if you don't have one.
Give natural lighting a chance!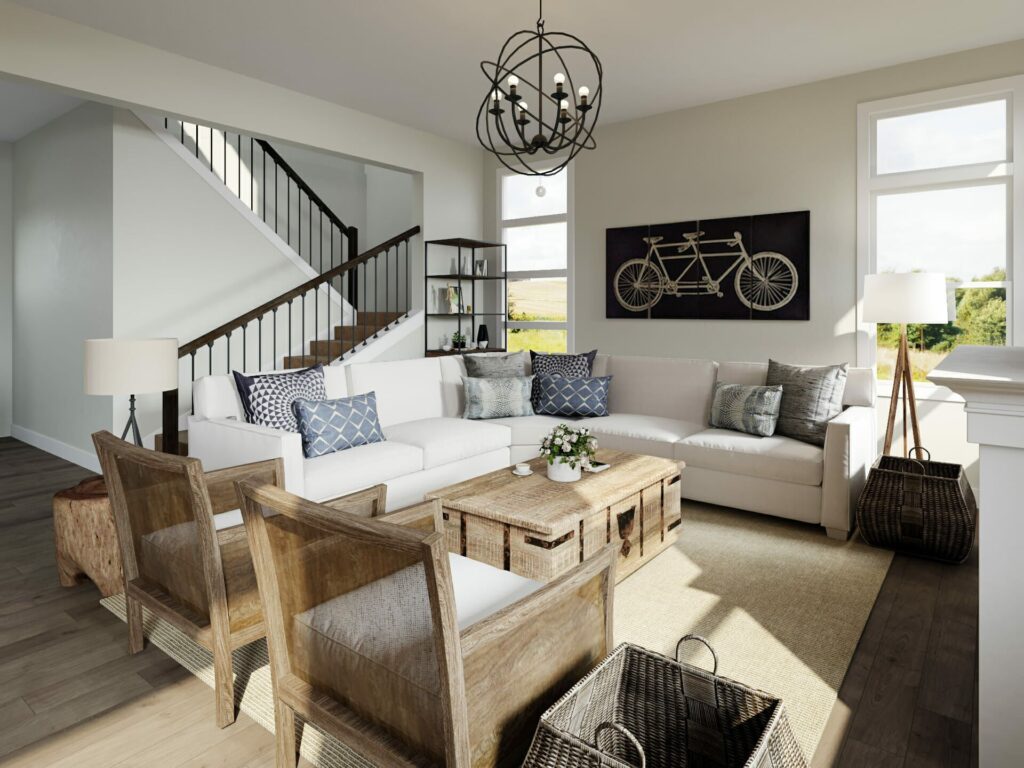 source: pinterest.com
Natural illumination adds to the appeal of the modern farmhouse. The open floor design and high ceilings provide plenty of opportunities for natural light to enter your room. Add floor-to-ceiling windows to your living room or a magnificent circle-top window over your office desk to let the light in.
Embrace the power of little things 
Modern farmhouse interior design necessitates a fusion of eras and a contrast of contemporary minimalism and a touch of modern farmhouse décor. Introduce and appreciate irregular and somewhat imperfect one-of-a-kinds, as they'll serve to give personality and character to even the most basic of spaces.
If you're short on space, take some pointers from small farmhouse interior design and keep your decorative things small in scale, as they'll overwhelm a room and divert the eye.
Wooden interiors are a must-try!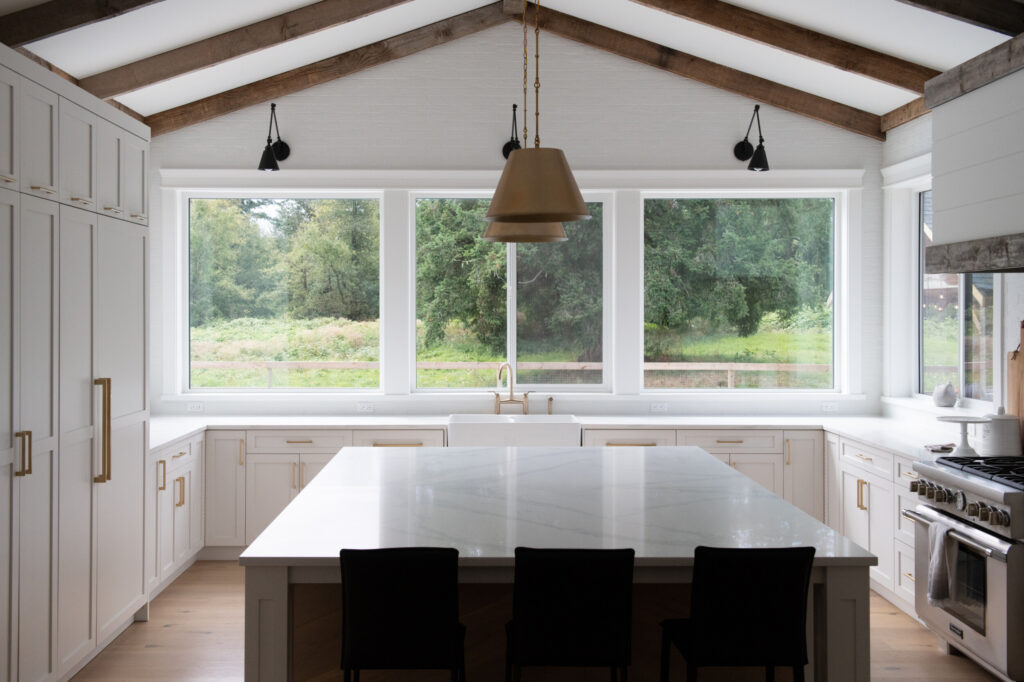 source: decoraid.com
When contrasted with the light, open walls, the rustic timber gives the space a natural and industrial feel. You might treat the wood with special varnishes or dyes to keep it looking authentic from time to time. 
In modern farmhouse homes, groove wood flooring, open wood beams, and shiplap ceilings are all common characteristics. So, if you want to give your home a modern farmhouse atmosphere, go with these wooden interiors.
Set your lighting properly
With almost any interior design style, getting the lighting just right is vital, and a modern farmhouse is no different.
It's all about keeping things organic and uncomplicated to achieve the modern farmhouse look. You want it to be unfinished and a little rough, yet with the crisp lines of today's modern style.
Industrial-style lights are frequently utilized as outdoor accents, but there's no reason they can't be used inside your home as well. If you put them in your kitchen or living area, they will make a huge impact.
If you're looking for appropriate lighting and feel a little bewildered or intimidated, start by limiting your options to black and see what you have come up with.
To conclude – 
Here are the 15 best farmhouse-style designs at The Architecture Designs that you should know about if you want to decorate it that way. We hope it will be helpful to you in decorating your home or giving it a sense of a modern farmhouse feel.