Introduction. 
To create wonderful paintings, a new terrace is like a blank slate. There is not much flexibility for users to change a customized terrace room in the modern environment of multi-storied residences. But for those fortunate ones, one spot that can get nature next to you is the terrace. Here are some ideas that will help you plan a beautiful and rewarding garden, whether it be a tiny terrace or a wide terrace.
Check out the space availability. 
The garden has now become a synonym for plants. So clearly, if you were dreaming regarding your top floor garden, you would then wonder about all of the plants you would want to have. Ok, I am going to leave a little surprise for you! Perfect garden layouts are all about preparing the space available first and then the plants, particularly for small terrace gardening.
To invest time in them, we build gardens but not just to contain plants. Therefore, when planning your garden, it is incredibly important to prepare enough space, and then you'll have a wonderful time in your lovely terrace garden with your family members or with a few mates.
For each of the garden styles, the plan requires ample free space. It makes these projects both practical and exquisite. You might turn it into a lawn after preparing the Available Space and having some beautiful garden furniture, a nice gazebo or tents, or even a hammock in which you can sit back and rest. So, as a general rule, designate at least 60% of your Free Space terrace area accessible!!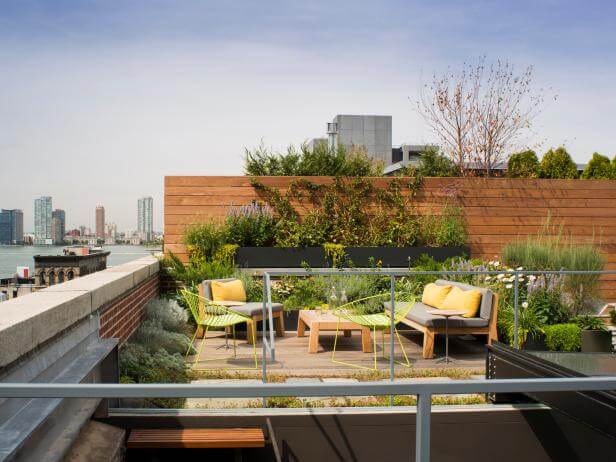 source: hgtv.com
Sunlight. 
How much clear sunshine will your terrace get, and at what time of day? Direct sunshine facilitates the occurrence of photosynthesis which leaves the plants looking new and lush. A wide variety of plants, namely vegetables, flowering, and fruiting species, can be positioned if the terrace enjoys direct sunshine for around 6 to 8 hours per day.
Preferably, crops would love to get direct sunshine early in the morning. If you feel the warmth and get tired by the summer sun, your plants can, too. If just the afternoon sunshine gets to your terrace, prepare to add 50 percent green shading nets. Not only can this make your plants happy, but it would also allow you a chance to enjoy those afternoons.
Water. 
As you might already know, to live, plants require water. The majority of plants need irrigation at least once a day. So, when designing a terrace garden, make sure that you have a terrace watering system.
Many terraces still have a few taps built. If it is not usable, then you should make plans to match them. Watering will play a significant role in maintaining the terrace garden appearing new while growing the plants in your garden.
Drainage facility. 
The next step is to evaluate the drainage route for extra water that will spill out of the pots or grow bags until you have taken care of the irrigation. It is also often advised to position the pots on a slight elevation or develop bags.
It will mean that no monitoring of water underneath the pots or rising bags takes place. It is better to use drain cells to put your plants on them and expand bags. Whatever route you prefer, it will go a long way towards shielding your roof from seepage problems later in life to maintain a clear drainage path before positioning your plants.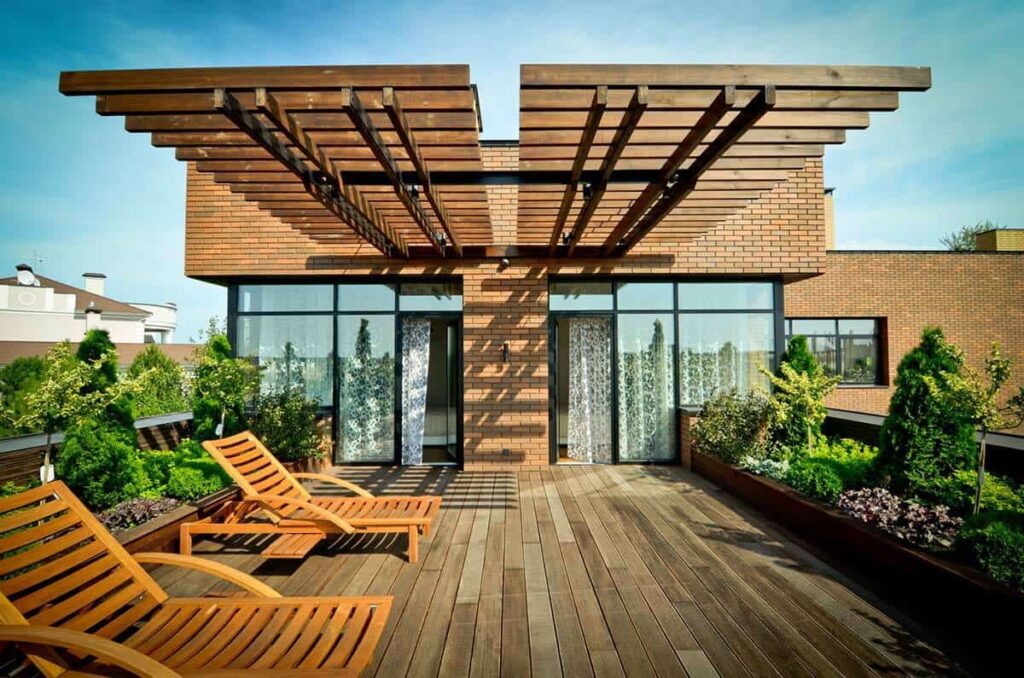 source: apartmentsavailable.info
Spice up your garden with colors. 
Although flowering plants offer balconies and patio splatters of color, many of them are periodic, so there'll be occasions when, with only green, the garden appears one-dimensional. Another option for contributing to the color scheme of the balcony gardens is to incorporate vibrant plants.
While a walk to the garden center is all it takes to achieve plants on a balcony or terrace to adorn the garden, it is vital to select the correct varieties of plants to make it a one-time purchase that needs minimal upkeep. If the plants do not grow in the current balcony settings, they will need regular replacement to maintain the balcony landscape looking stunning.
Plan for appropriate furniture and lighting. 
Make a recommendation on the kind of furniture you want to buy ahead of time. Would you like to spend some time sitting on the rooftop patio or have lunch there? In the early phase, you should make a decision. It would be wise to use furniture that suits the design and theme of your garden.
Your roof deck must be well-lit in the morning. It is nice to build more high points, incredibly close to the stairwell or entrance. Furthermore, illuminating a roof at dusk will render it seem bigger.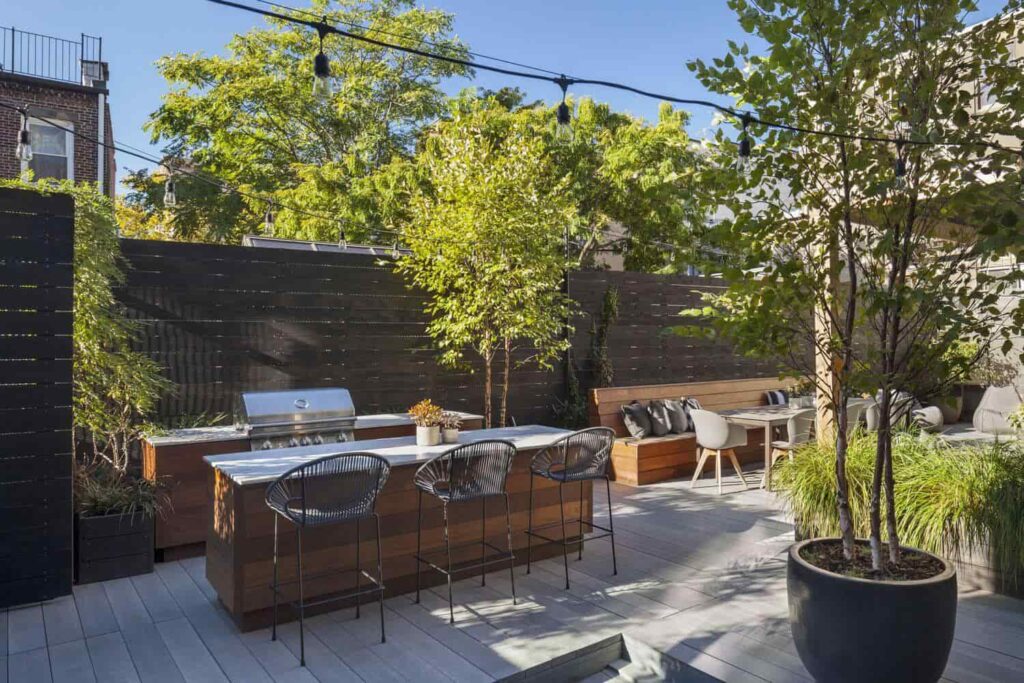 source: pinterest.com
Garden storage space. 
Either to go for containers such as growing bags, pots, and planters to position the crops or build a full soil bed where gardening can be performed is one of the tough decisions that frightens most citizens as they design their terrace landscapes.
Always go for container gardens. It provides versatility and versatility. It is possible to switch tanks around and transfer plants from one tank to another. More specifically, the option of establishing the terrace garden in a specific order is supported by containers such as pots and planters or rising bags.
Choosing the correct plants. 
The selection of plants for your terrace area depends on the amount of sunshine your terrace requires and the extent of maintenance work you are prepared to put in. Also, different plants require different amounts of water, sunlight, etc. So, calculate the number of requirements you can have for your plants and then for your terrace's type of plants. 
Low-balcony plants:
Because the sunshine in the lower-floor balcony garden is reduced, shade plants are more appropriate for them. In addition to ferns, orchids, and African violets, Peperomia can fit well.
Windy balcony plants:
When a balcony is placed in heavy winds, it should be possible for the type of plant to survive such circumstances. Consequently, plants with a small stem that can quickly split are wise to remove. And succulents, crotons, and cacti are the perfect options for such balconies.
Balcony landscapes with sufficient sunshine:
Plants withstand the harsh sunshine are perfect for this kind of balcony. For sunny balcony areas, the best plants are bougainvillea and geranium.
Plants that need sunshine in the morning:
The morning hours' sunlight is much milder than the sun in the afternoon. Therefore, flowering plants needing partial shade would suit these rooms well. The best plants for these areas are Peace Lilies, Anthurium, and Begonia.
Sealed balconies:
In the case of closed balconies, plant growth may be influenced by air circulation. One may, however, use indoor plants which not only grow in such situations but also detoxify the balcony air. Amongst these plants that can be found in protected balcony gardens are spider plants, English ivy, aloe vera, and azaleas.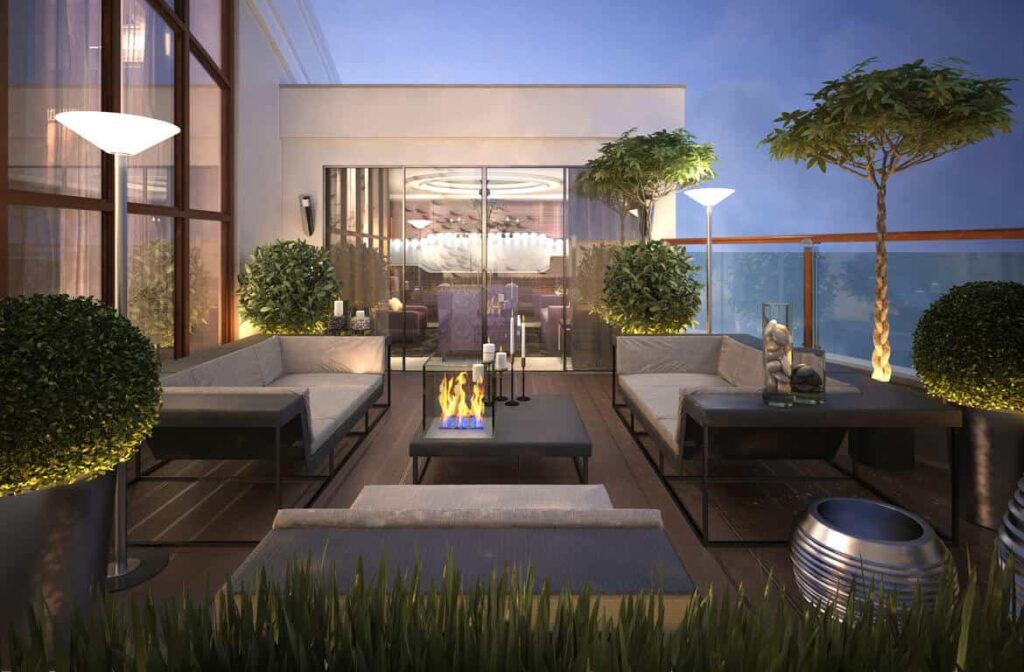 source: mycloudforest.com
The decision of the central focus point. 
As with any other garden, a terrace garden, such as a lawn or water garden or a rock garden or maybe even a small tree, will also have a central point of focus. The visitor's view appears to fly to the horizon beyond. Consequently, the designer's effort would be to preserve their viewpoint at the outer edge of the terrace through a shield of volumes of bold color and tall, rising plants.
Adorn your terrace properly. 
The place open for gardening on a terrace is small, so promoting vertical gardening is smart. It is the justification why a terrace garden enthusiast can use more climbers and trailers in the garden.
Any of them can crawl over a protective pillar or a decorative arch, while others can pour rampantly over the edge of the boundary wall and camouflage the brick and mortar on the side of the house.
In the terraced yard, dangling baskets play an important role. Different kinds of baskets holding either flowering plants or leafy plants may exhibit inappropriate positions with a major benefit.