When you live in a studio apartment, you're stuck with a simple but difficult task. One single room can be transformed into a bedroom, living room, kitchen, office, and probably more. And you'll be overwhelmed and claustrophobic if you don't do it without adding too much clutter.
But don't let a limited area or a difficult composition keep you from creating a cozy, attractive house that you'll want to spend time in. These studio apartment decor ideas and tips will make living in one space not only easier but also more beautiful. Take a cue from these examples and prepare to transform your itty-bitty house into a palace.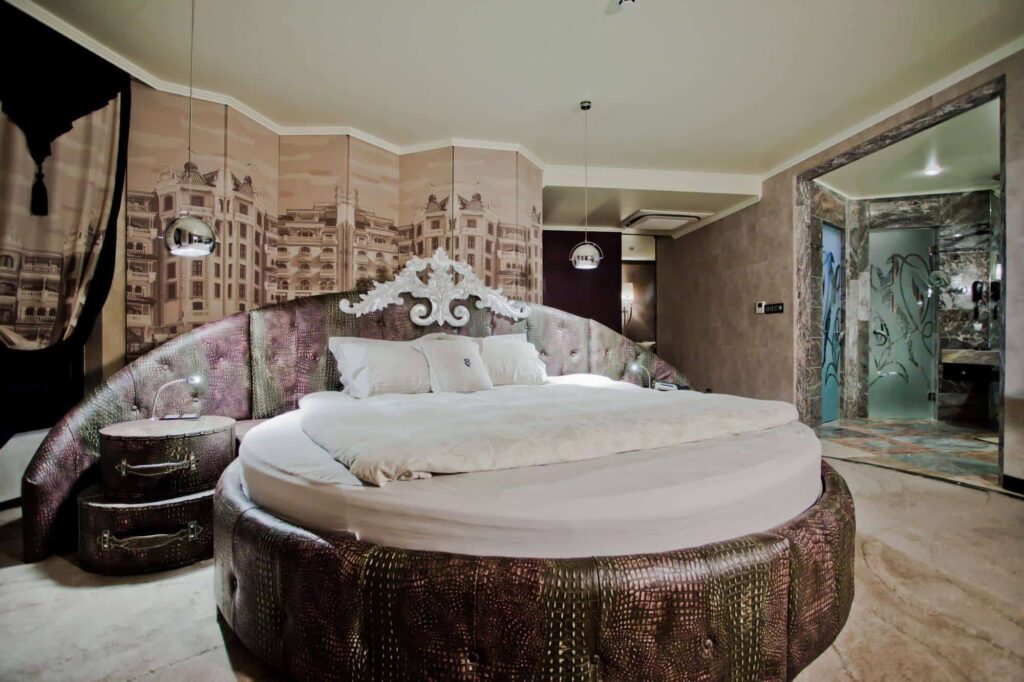 source: victoriagroup.bg
Hang Dozens of Mirrors 
It's not all bad if you have a little house. It's cozier than most large spaces, and there are numerous methods to make it appear larger, such as by adding mirrors. Mirrors are another minimal decor choice that can be used in practically any room of the house due to its efficiency.
They also come in all sorts of lengths, styles, and forms and can be used to produce artistic effects as well as visually extending a room. A magnificent frame will turn a basic mirror into a gorgeous display piece.
Mirrors are your best friend in small areas. They reflect light off of windows, fooling the eye into believing the area is much richer and larger. 
Add Glass Partition
source: victoriagroup.bg
When you have a tiny area in your home, it is not always possible to create a separate space for a home office, living room, closed kitchen, or dining room. However, there will be occasions when you require that privacy. So, what do you do now?
Install some glass walls. Studio apartments are typically occupied by couples, closest friends, or people; although, small families may be accommodated at times. In such cases, a glass wall provides much-needed space while maintaining a sense of togetherness and caring due to the spatial help.
Discover Creative Solutions
Making doors tends to obstruct a portion of the living space. Consider utilizing curtains rather than doors to define a small bedroom or home office if you have restricted square footage. You can also attach sliding doors, which take up less space than swinging doors that swing inward or outward. This creates greater living space while also incorporating minimalist apartment decor ideas into your lovely home.
You can use these small curtains and sliding doors to divide open living rooms for privacy or even a little me time to yourself when you need to concentrate. They are also excellent for concealing debris or furniture, as well as providing extra storage space away from the prying eyes of your guests.
Swinging hinges are typically used in modern studio apartment decorating ideas to boost utility while lowering the amount of floor space used. These solutions are also easily applicable to walk-in wardrobes and galley cabinets.
Include Floating Furniture & Artwork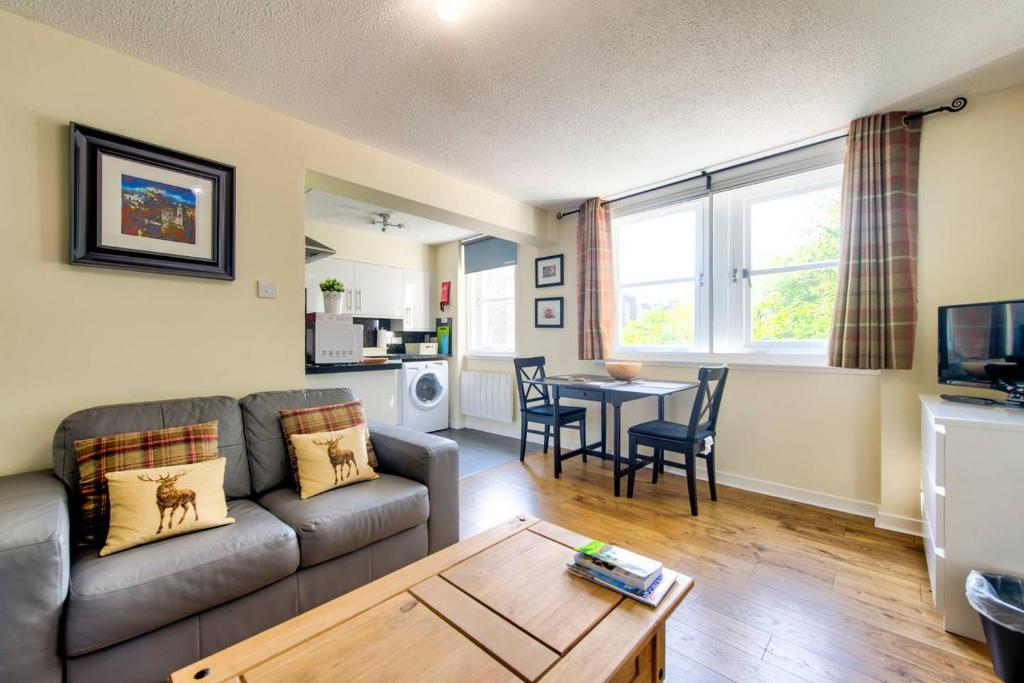 source: bstatic.com
Who says your artwork has to be affixed to the wall? Embrace this unique method of displaying your hand-picked stuff in style. As a focal point of the area, place your artwork in a corner or on curtain rods.
Furthermore, you can add some floating furniture to the room. Studio apartments are made to integrate non-obtrusive furniture pieces. There are specific spots and hooks for a swinging dining table, a bookshelf, a portable desk for your home office, or even a trendy hanging closet. Floating furniture and artworks are very interesting in home interior design and bring a lot of aesthetic appearance to the living area.
Monochromatic Palette
It can be difficult to achieve harmony in a room when you're attempting to cram in so much, especially when separate regions serve very diverse duties, as they do here. A simple technique to zone space is to set a color palette and just vary the tones for each zone such that they are unique but cohesive. The various hues of grey used here have relaxing and expansive effects.
Go, Try Loft,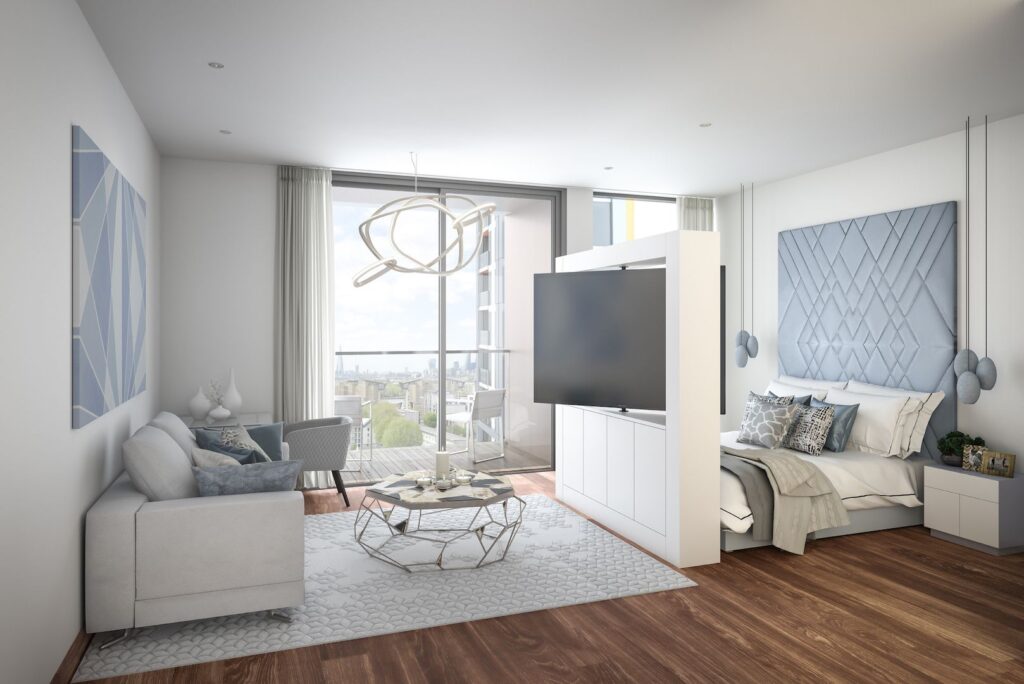 source: pinterest.com
If you have high ceilings in your studio, adding a loft is a great option to add some more square footage. In one case, the owner built a sleeping room in the loft by using the space beneath it as a tiny rehearsal studio.
If you don't have enough room, you can convert your bed into a daybed. These will authorize you to repurpose your bed as a couch throughout the day to provide more sitting in your studio. Simply place your twin or double bed towards the wall and use huge throw cushions to create a living room sofa look to make your own daybed.
Use Every Corner 
This beautiful corner bench in space highlights the importance of creating effective use of every single inch of space in a studio. Banquettes are a wonderful alternative if you need to create an extra seating area or if you only have a little square footage to set up your dining table.
Design Closet Space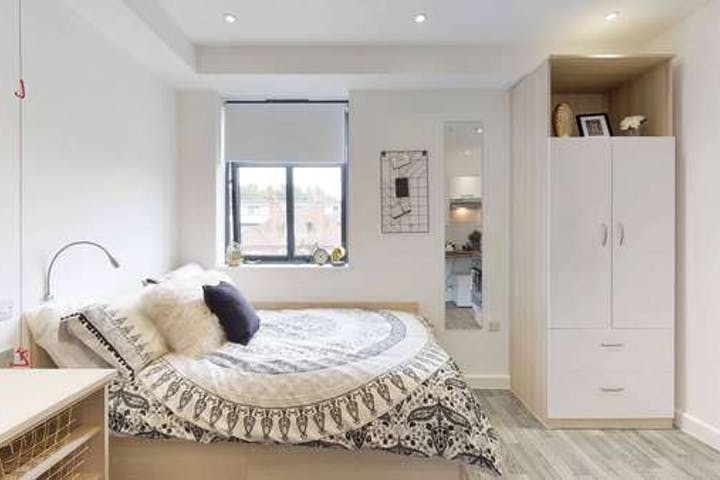 source: pinterest.com
Closet space is often limited in studio apartments. However, you shouldn't have to have a closet to stockpile your stuff. If you don't have enough closet space, consider making an open-air closet out of an empty wall. Using various cupboards, drawers, and hanging hooks, you can design the ideal "walk-in wardrobe."
Concentrate on Double Furniture
It stands to reason to pick as many double-duty furniture elements as possible for a studio space. Don't simply get a bed; look for one which helps to consolidate beneath. If you don't have space for a dining area, consider a coffee table large enough for you to rest at when you eat.