A fresh coat of paint can enhance the appearance of your commercial building. Painting can dramatically improve curb appeal and breathe life into an old building. It is more than changing the color of the walls. But did you know there are some unique challenges in commercial repainting projects that are not found in residential projects? Treating a commercial project and a residential project, in the same way can be a costly mistake. So, before you start planning to repaint your commercial building, you must be familiar with some painting essentials and hire a professional commercial painting contractor. Continue reading this post to learn more about repainting commercial buildings successfully – 
Top Reasons to Repaint Your Commercial Building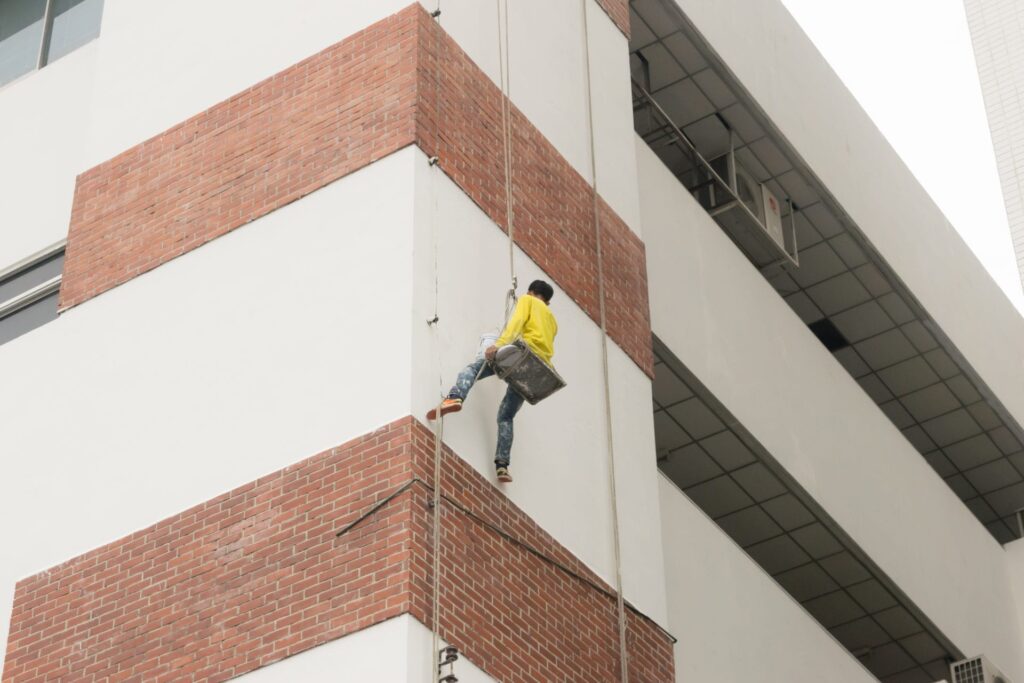 source: pinterest.com
Before you invest in repainting your commercial building, you must check out the benefits of repainting listed below –
Improve curb appeal – Most companies invest a lot of money and time in deciding the landscaping, lighting, and fixtures, but they forget about repainting. All these factors play an important role in improving the curb appeal, but repainting can be the game changer. 
Repair exterior damage – If there are any damaged or faulty façade issues in your building, repainting can help fix those issues. Professional painters offer restoration services to make the building look good and eliminate exterior damage.
Increase property value – Whether you want to maintain your current investment or want to put your commercial building on the market, a fresh coat of paint is an affordable way to increase its value. The tenants and buyers prioritize a well-painted building.  
Boost the mood – If you have ever heard of color psychology, you must be aware of the fact that color can boost mood and raise morale.
Important Commercial Repainting Tips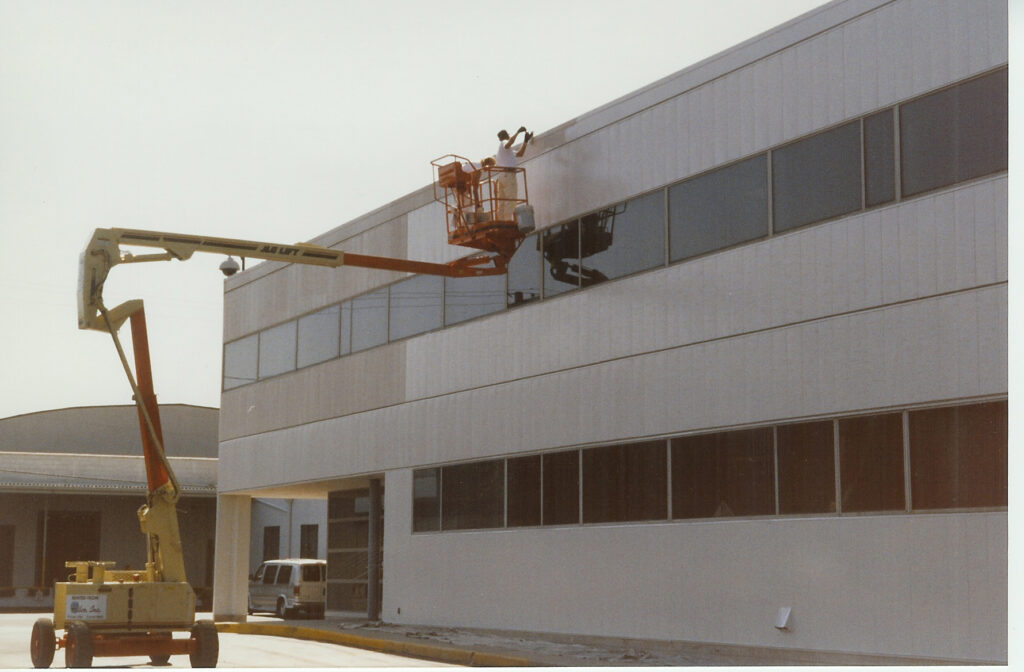 source: pinterest.com
Here are some tips that will help you ensure a successful commercial repainting project – 
The first step is choosing the right color for the building. Every color has a meaning – blue signifies stability and safety, and white stands for a fresh and clean aura. So, you can take the help of a professional to choose the best color for your building. 
Setting up a budget is another important step if you want the best regular painting services without breaking the bank. Establishing the budget and schedules at the initial stage also helps avoid problems in the future. 
Make sure your building is up-to-code and everything is functioning properly. Also, if there is something you want to repair, do it before hiring the painting services.
Learn about the prep work that is important before starting the painting project. If painters start the work on unprepared surfaces, it will result in the peel, crack, bubble up, and flake. Also, you must take the help of professionals for the prep work.
Don't forget to include the final walk-through and post-project meeting in your repainting project schedule. 
Lastly, make sure you choose the right contractor for your project. The services you choose should meet your needs and expectations. 
How to Choose Professional Commercial Repainting Contractor? 
source: pinterest.com
Now that you know hiring a professional commercial repainting contractor is important for the successful completion of the project, you must find the right professional. The following points can help you –
Insurance and Licensing 
The painting company you choose should be fully insured and licensed. They should ensure to work according to the book.
Experience 
Experience is another important consideration when hiring a painting company. Usually, commercial projects are complex, so you can't take the risk.
Timeframe
Ask the contractor about the time frame and make sure they complete the project within the decided deadline. 
Budget 
Hiring painting services are worth the investment. But everyone has a limited budget. Discuss the painting fees and find professionals who ensure to deliver the best services within your budget. 
Reviews 
Check out the online customer reviews of the company before finalizing. It will help you get an idea about their services and customer support. 
Previous Work
You can also ask the contractors to show their previous work, as it will help you understand their talent and capabilities. If you have a certain style in mind, you can share your idea and preference and ask them if they can bring that look to life. 
The Final Word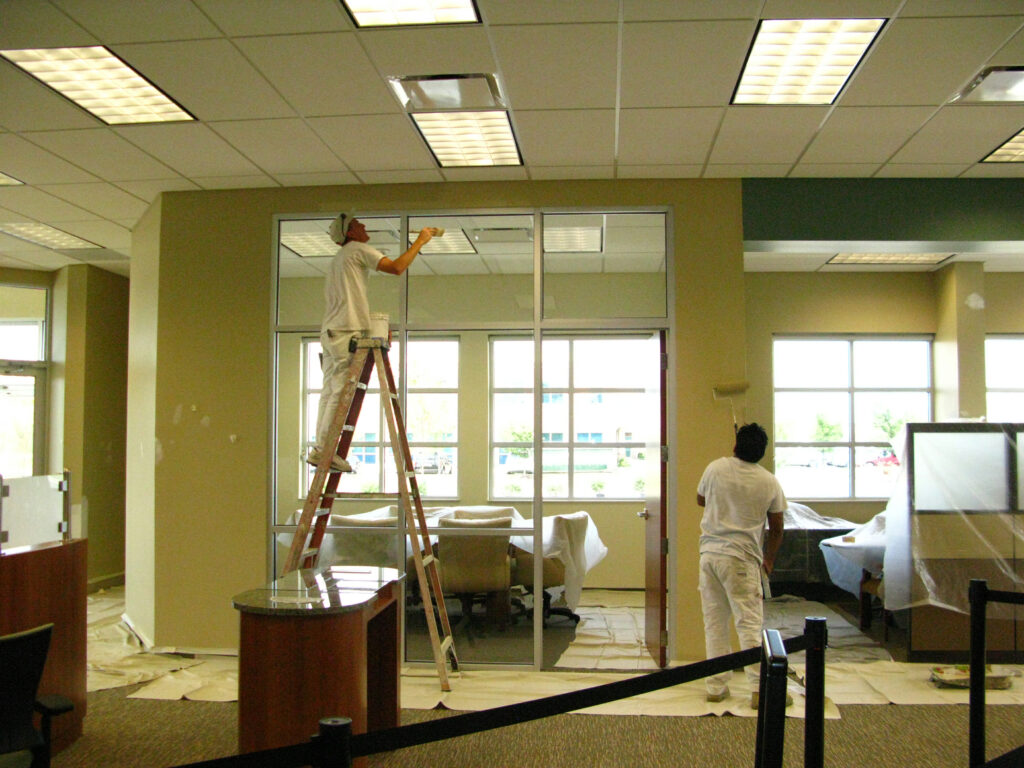 source: pinterest.com
Business owners should consider repainting their commercial buildings every 7 to 10 years. When potential clients pass by your place of business, a well-painted building will grab their attention. So, we hope this post help you learn the various aspects of commercial repainting. Follow the tips and tricks shared above to find a reliable contractor for a professional evaluation of the painting project. With a skilled and experienced painting company, you can expect superior-quality repainting services. So, consider repainting your commercial building for a positive first impression!