Whether you're looking for backyard ideas for a total overhaul or just a fast makeover, a combination of creative, imaginative methods is the secret to a successful garden. 
Starting with the architecture of your home and the surrounding neighborhood and finding your way up is a good place to start. But, in the end, it's all about your vision.
Follow the classic garden design rules described here to get the hard landscaping and planting just perfect, then add your own personal touch to make your place truly unique. 
Lounge Zone
source: hgtv.com
Consider how you want to use your outdoor space. Consider constructing an outdoor dining area for entertaining and unexpected barbecues, as well as a separate lounge area for quiet leisure.
Another method to add interest to the yard is to include a tucked-away bench where you can have your morning coffee or mocktails at the end of the day. This should ideally be revealed as a surprise that cannot be viewed from the house. Covered patio concepts perform well in this way.
Pick Subtle 
Courtyard gardens is an excellent method to capitalize on the 'inside-outside lifestyle trend, in which the patio is viewed as an extension of the home.
A good compact area always necessitates careful thought and the addition of all the elements that allow interaction between the house and garden. Select hard surfaces for entertaining and relaxing, and add a surprise design element, such as geometric tiles, for a wow effect.
Bridge Between In & Out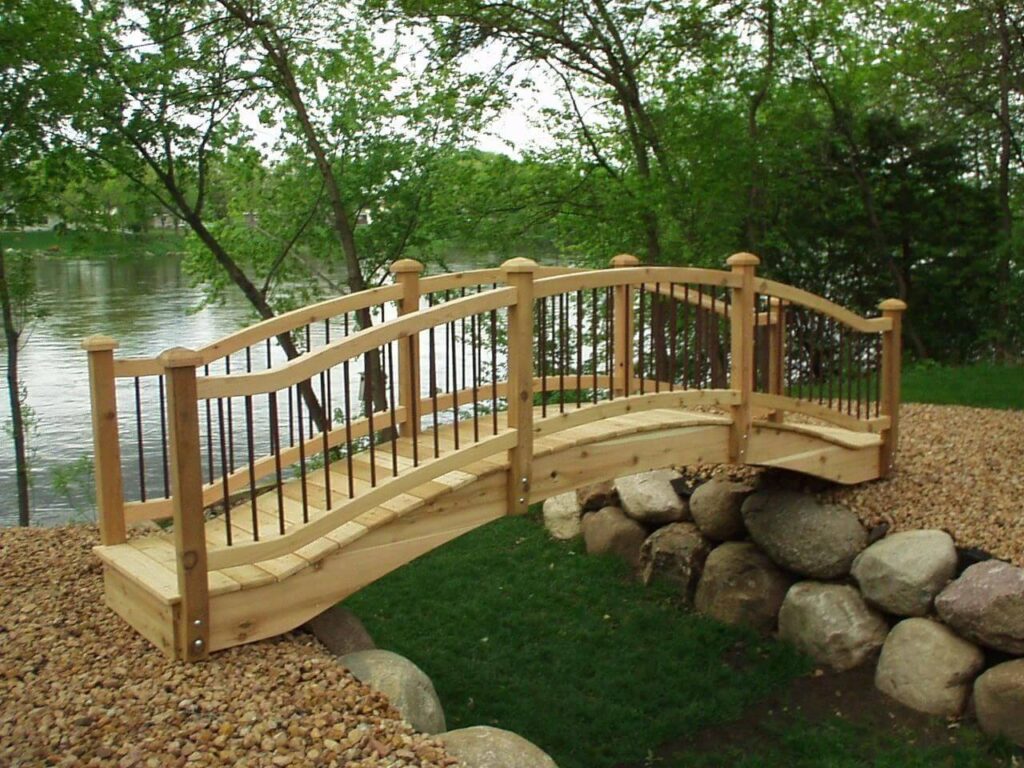 source: pinterest.com
Use a minor feature, such as a landscaping material, to create synchrony between the house and the garden. This garden's subtle hand-thrown clay pavers give a smooth and natural aesthetic that fits well in both contemporary and classic design schemes.
The clay pavers that can use on this home extension have been recreated on the garden path in the same layer bond pattern, creating a visual link between house and garden.
Advance Seating
To add interest to your backyard ideas, incorporate several different seating spots if space allows. This would include food and resting options, as well as the occasional wild card, such as a hidden spot for quiet reading or browsing.
Add personalized materials such as stone, brick, or wood that have been particularly intended to blend with your environment. Stylish seat pads that match your overall theme can then be applied.
Consider using a lift-up design to create storage space for cushions when they are not in use. When you need extra seating, freestanding benches are also a good option.
Add Canopy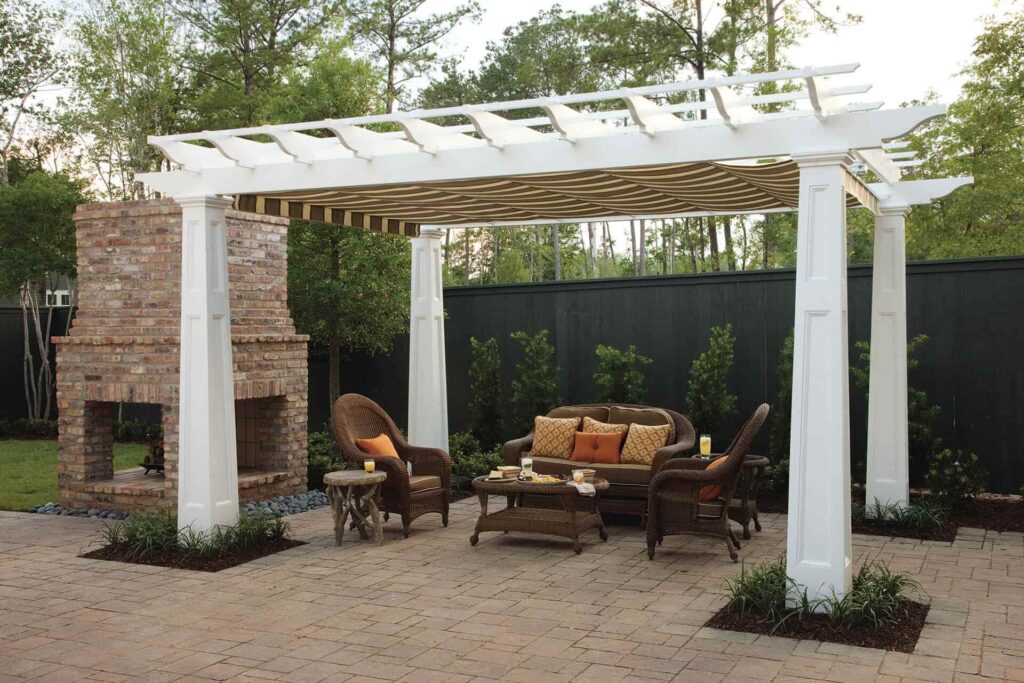 source: shadefxcanopies.com
Consider thinking vertically to take advantage of the area above your backyard as well. 
A pergola-style structure will offer an eye-catching architectural element, especially if left unplanted so that the clean lines can serve as a design highlight.
It will give a new dimension to the options for entertainment in your back garden, providing a location that can be used regardless of the weather.
If the weather turns cold, just add a fire pit or heater to increase the amount of time you spend outside.
Bring Plants & Lights
Gardening ideas that are subtle and add drama to the nighttime garden and create a pleasant atmosphere. It adds another dimension to an outdoor space, making it usable all year. When plants are uplit, they take on architectural features, providing a dramatic quality that is totally different from daytime.
Uplights recessed into the ground or mounted on a moveable spike is great for illuminating plants and can change to suit the mood. The sun filters up through the plants, casting sculptural shadows against the backdrop of a wall or fence.
Uplights work best with architectural shapes like decorative grasses, bamboo, and palms.
Tranquility Space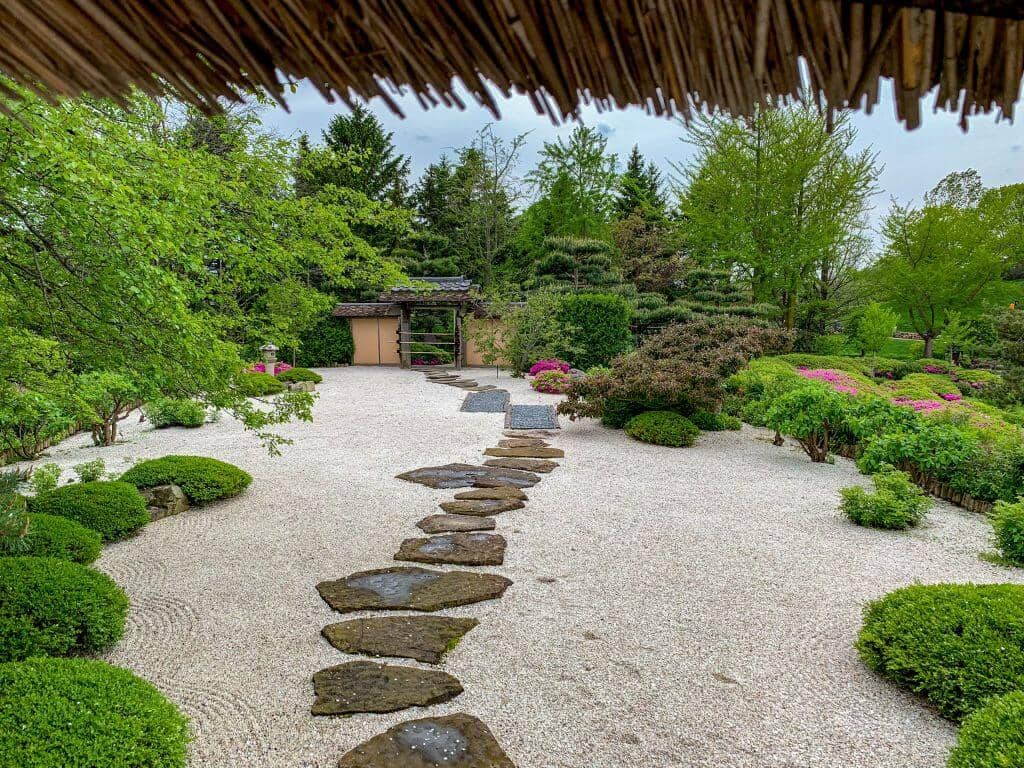 source: hearstapps.com
Consider what items you can add to make your room feel more private, especially if it's close to other people's homes.
A huge pot is a good way to create a quiet space. Choose Mediterranean-style plants that will thrive in this sheltered setting, but keep in mind that the size of your plants will need to be factored into your plan.
'The addition of trees in these corten planters gives an overlooking terrace a sense of enclosure. 'Corten steel works well in both traditional and modern designs. It's a great approach to incorporate a modern material with a vintage vibe. 'The orange tint also works well as a backdrop for plants.'
Include A Water Element
When it comes to ways to include a relaxing aspect in the garden, soothing water features are at the top of everyone's wish list. They look best when matched with luxuriant plants.
A simple and low-cost method to include water into your design. 'Simplicity is the secret to its success.' The black river is motionless and reflecting, creating a peaceful environment surrounded by lush green bamboo plants.'
A reflection pool like this is simple to create and looks great if you prefer a sleek and simplistic aesthetic. There is also no pump, electricity, or water supply.
Personal Touch 
source: ptlandscapeinc.com
Personalize the style with carefully chosen items that tie the whole thing together.
Whether it's cushions, blankets, and outdoor rugs, or larger objects like furniture and garden sculpture, these finishing touches should complement the overall design motif. Foldaway tables and chairs are a nice complement to have on hand when gathering.
Rugs, pillows, and throws in subtle tones of dove grey are both modern and timeless. Grey is another fantastic neutral to incorporate into your planting strategy, complementing the cool lavender and white tones displayed here. It also goes well with landscape materials like concrete and stone.
Summer Backyard Decoration
Are you planning to arrange a backyard for this summer, this weekend? This summer begs for a camping trip, and what better place to do so than in your own backyard? It's cheap and simple! Make a designated sleeping area, spread out your sleeping bags, set the ambiance with string lights, and gather around the fire pit to grill hot dogs and marshmallows. This is an idea that will appeal to adults as well as children.