Winter is a season when most of the color in the outdoors has disappeared. The leaves have dropped, and white snow and dreary sky have become more uncommon. December is also a time of joy and celebration when you spend time with your loved ones. Christmas 2021 plants for home ideas are a terrific way to improve the mood and offer a sense of love, laughter, and pleasure to your Christmas celebration. This article will discuss some of the most popular Christmas plants for home.
Amaryllis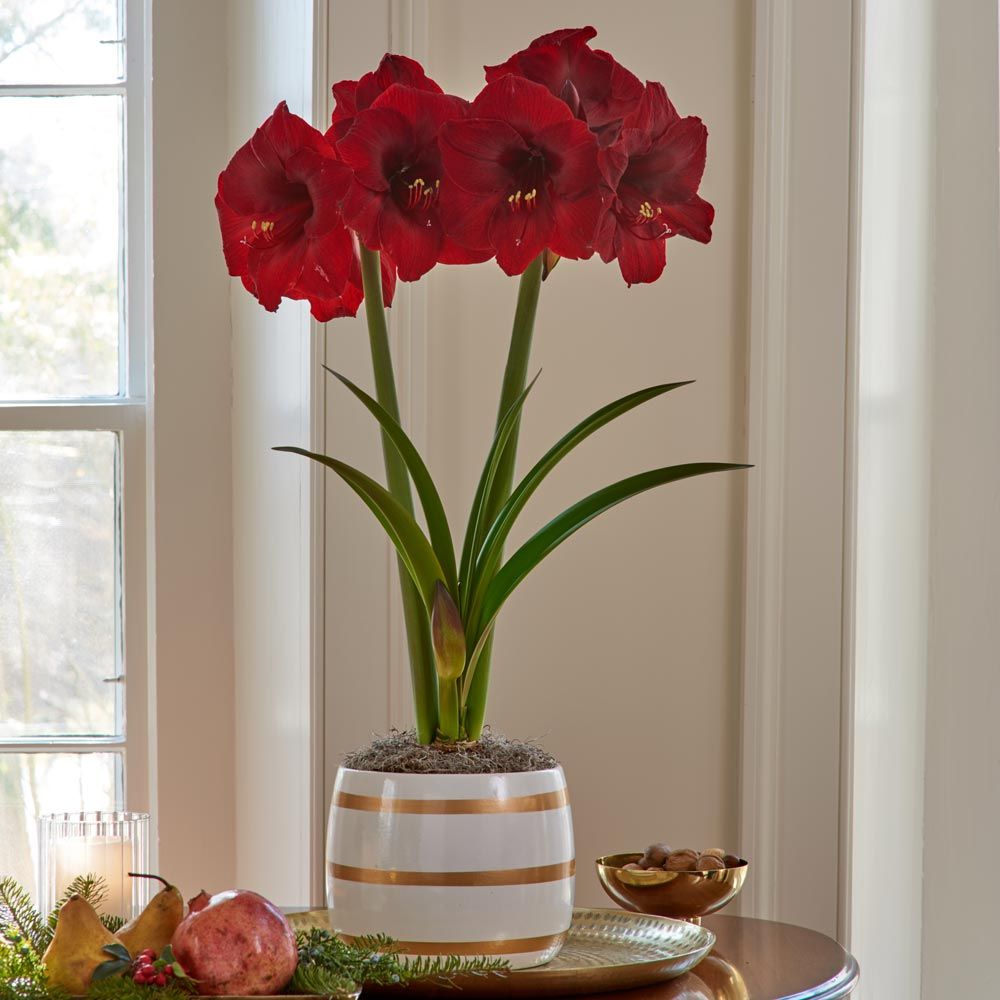 source: upshotcommerce.com
Amaryllis is a plant that is rapidly being featured as the best christmas plants for homes around the holidays. The bell-shaped flowers are frequently gorgeous tones of crimson that provide a warm and welcome ambiance in your house. Because these attractive plants are tropical, they demand quite warm temperatures and a high level of humidity in the air. This is a plant that enjoys bright sunshine, but it should not be put in direct sunlight since it will inhibit blooming and result in a lack of color for your Christmas event.
Mistletoe
Mistletoe is a sign of love that we generally hang in our homes during the holiday season, however, this plant is actually a parasitic plant, thus cultivating it indoors requires a host. Seeding can take place in the soil, but after roots emerge, the plant must be inserted in the bark of a host tree. A mistletoe plant takes around four years to develop, and male plants do not bear white berries.
Holy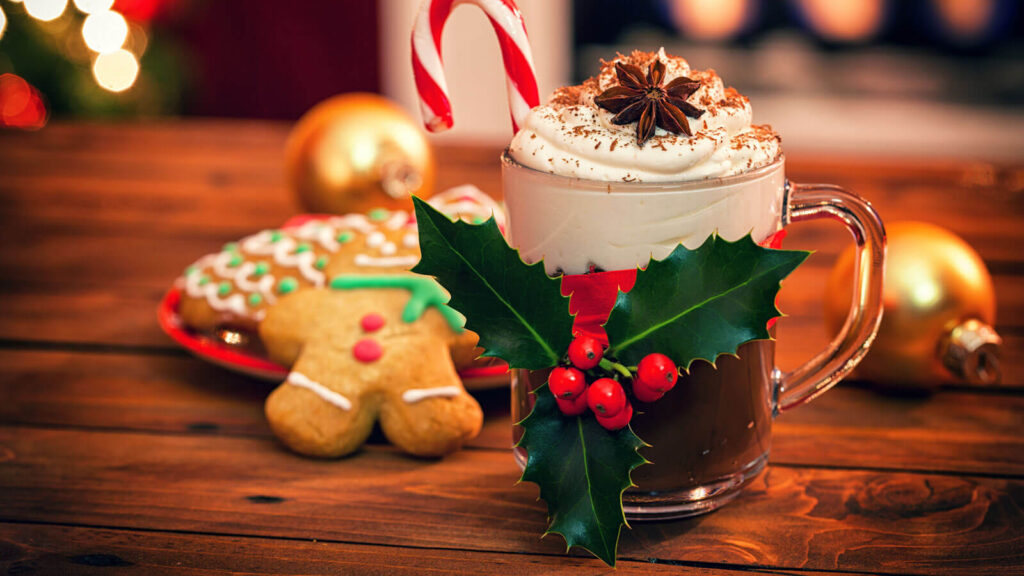 source: hswstatic.com
Holly has been associated with the holiday season since it was included in the popular Christmas, although holly and berries have long been used to brighten the bleak winter. The traditional Christmas plants for home, holly bushes, feature pointed leaves, crimson berries, and little white blossoms. Holly is a plant that grows best in full sun and very well soil that is somewhat acidic.
Christmas Berry 
The Christmas berry is a shrub that grows throughout the majority of the California coast. The plant's leaves are darkish and shiny, and in the summer, it produces star-shaped blooms that are white and lovely. The plant will produce large, crimson fruits over the winter season. The plant needs many hours of direct sunshine every day and loves to flourish in warm temperatures with relative humidity.
Paperwhite Narcissus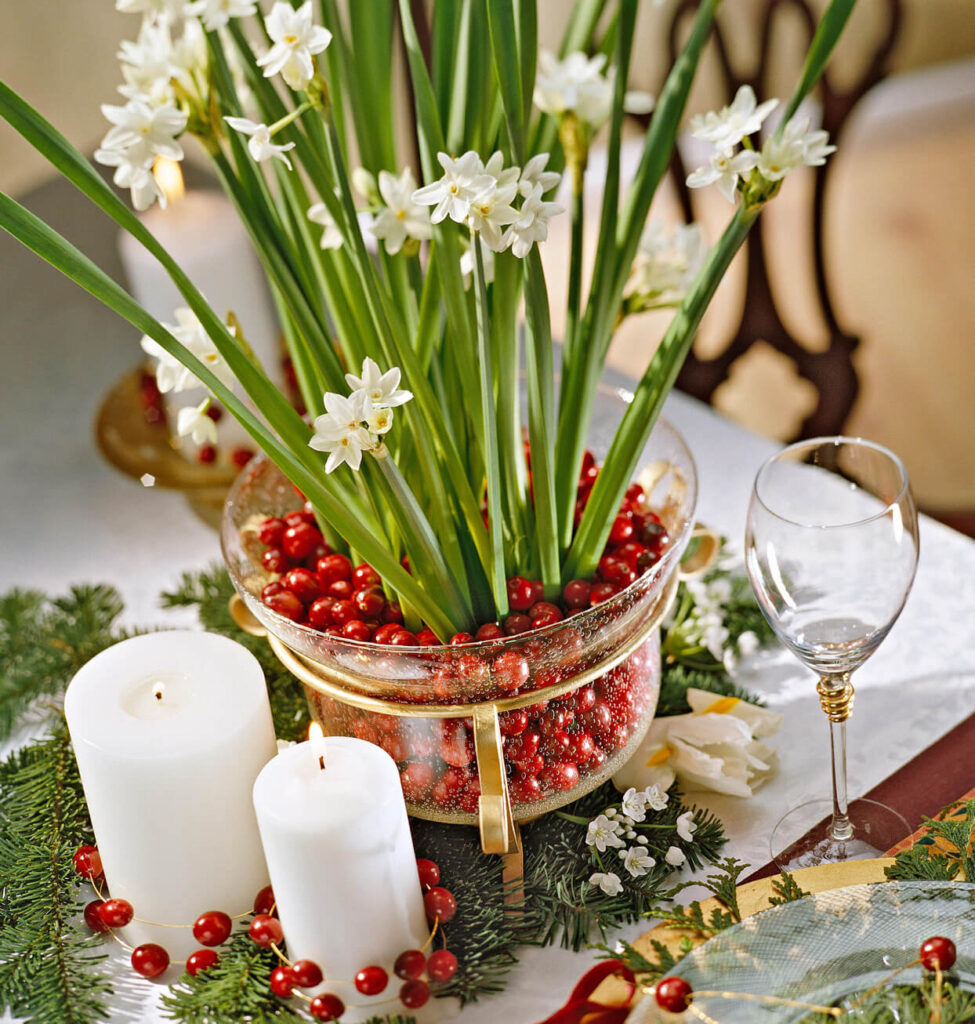 source: meredithcorp.io
This is a lovely Mediterranean plant. It is a close cousin of the daffodil, which is also a plant that produces bell-shaped blooms that are incredibly fragrant and ideal for your house throughout the holiday season. The stalks of this houseplant are normally approximately a foot to a foot and a half tall, and the blooms are a star-shaped delicacy that is pure white in color. The flowers can be yellow or orange, however, these colors are frequently more unusual.
Cyclamens
Cyclamens plants are great Christmas plant for home that will provide a festive vibe to your home. It is a plant native to Europe and the Mediterranean region, and the flowers are frequently gorgeous tones of red that complement the rest of your Christmas decor. Temperatures below 40 degrees Fahrenheit, temperatures over 50 degrees Fahrenheit during the night, or temperatures above 68 degrees Fahrenheit are not tolerated at all by this plant.
Winter Cherry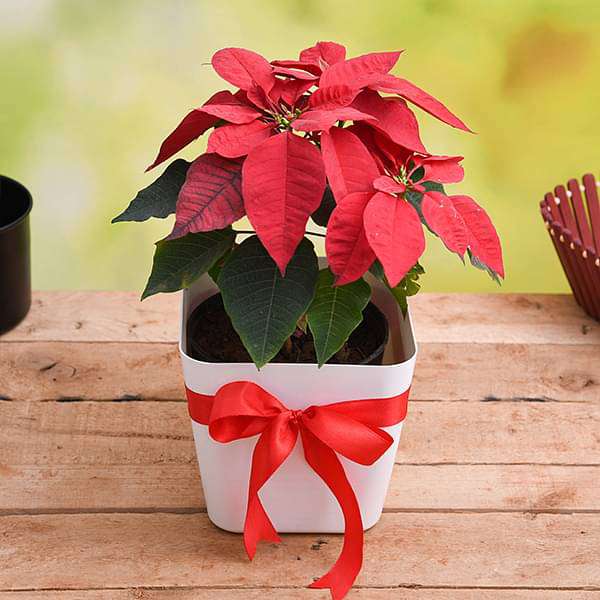 source: shopify.com
Winter cherries bloom with little white petals in the summertime, and they are also most known for their tomato-like berries that bloom during the Christmas period.The berries will get redder the longer they remain on the stalk. These plants prefer intense sunshine, but not too much of it. They also require a cool environment, but not one that is excessively draughty. Furthermore, this plant is hazardous, so be cautious if you have pets or little children in your house.
Christmas Cactus 
Christmas cactus is a tropical plant native to southern Brazil's tropical jungles. The plant's divided stems are green for most of the year, but during the holidays, vivid red, orangish, pink, purplish, and white blossoms appear. They thrive in damp soil with plenty of indirect sunshine. If you really want your Christmas cactus to unfold during the holiday season, make sure to give it 12 hours of darkness every night for 6 to 8 weeks before Xmas.
Poinsettia 
source: whiteflowerfarm.com
A poinsettia is a hooked red flower that is frequently associated with the holiday season. This plant is most usually seen in red, although it may also blossom in pinkish and soft yellow. Because these exotic plants are driven to flourish over the holiday season, they require a little additional care to re-bloom. They thrive in direct sunshine and humid conditions with temperatures ranging from 65 to 75 degrees Fahrenheit.
Kalanchoe Blossfeldiana 
Kalanchoe blossfeldiana, despite its small stature, makes up for it with an abundance of blossoms. For a stunning Christmas plant for home display, each flower stalk carries hundreds of blossoms. Double-bloom kinds (like the one seen above) remind me of bunches of little roses. Give this flowering succulent a spot in the sun, and it will provide you with a colourful display throughout the holidays and far into the new year.
Glory Of The Snow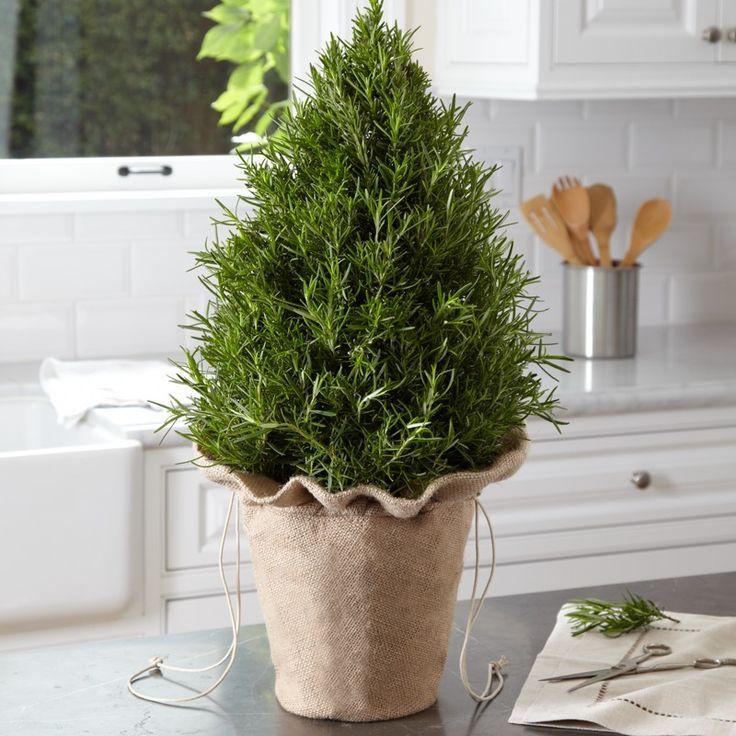 source: lrgarden.com
The name of these lovely flowers comes from the season in which they bloom. They frequently blossom early enough to push their heads above the snow. The blooms of the glory-of-the-snow (Chionodoxa forbesii) are petite, blue and white star-shaped. Usually, these plants emerge in late winter or early spring.
Rosemary
Rosemary, whose stems resemble little evergreen trees, is a herb you can always depend on during Xmas time. Their aromatic leaves may be utilised to enhance meals and pastries, and they're simple to cultivate indoors for convenient access to the cooking area. You can grow rosemary both indoors and outdoors. Plant rosemary in pots on a sunny windowsill inside.
Snowdrops
Snowdrops bloom in the late winter or early spring. When grown in groups, they look lovely and produce little white bell-like blooms throughout the winter. They are among the earliest bulbs to bloom, adding a splash of colour to the landscape and may even be encouraged to bloom sooner. Snowdrops should be planted in the fall in a sunny or partly shaded specific area.
Christmas Tree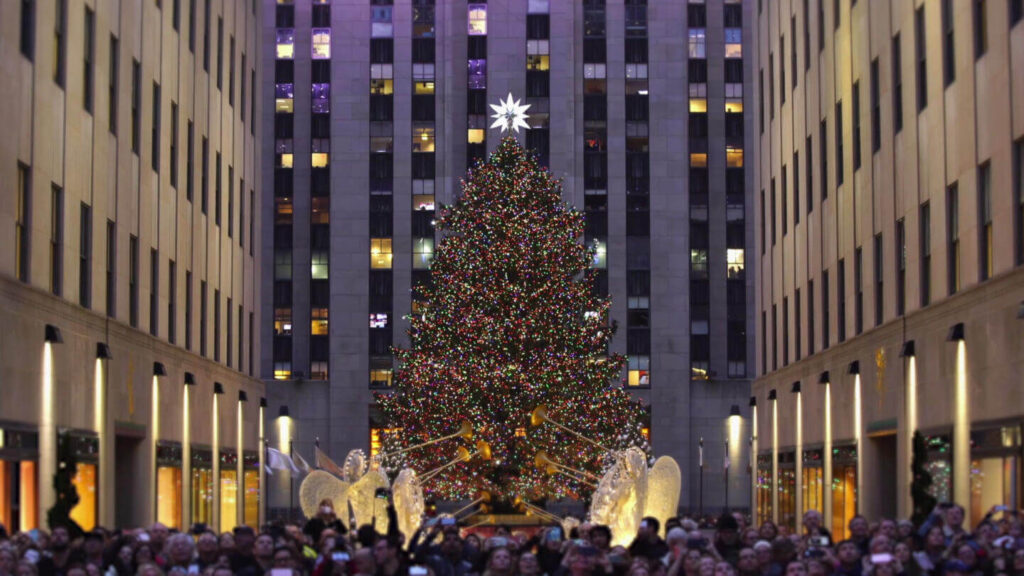 source: pinterest.com
How will we make this list without naming the most cherished of all? The Christmas tree is the ultimate emblem of festive enjoyment, standing tall and strong in everyone's living rooms.
We won't tell if you choose with a traditional pine or a little cheesy artificial choice. – Make sure you get inventive with your ornaments and turn this needle-like tree out to be something your Instagram followers will envy.