People who like to think outside the box will love an eclectic bedroom design. It's not just one style of design, but a mix of styles that work well together. With an eclectic design style, you can add different layers to your bedroom over time to show off your personality without putting in a lot of work. It's a fun, easygoing style with a common thread that ties all the different pieces together. In other words, this style doesn't stop you from doing what you want, but it's also carefully put together to fit the needs of your bedroom.
Available design elements and accessories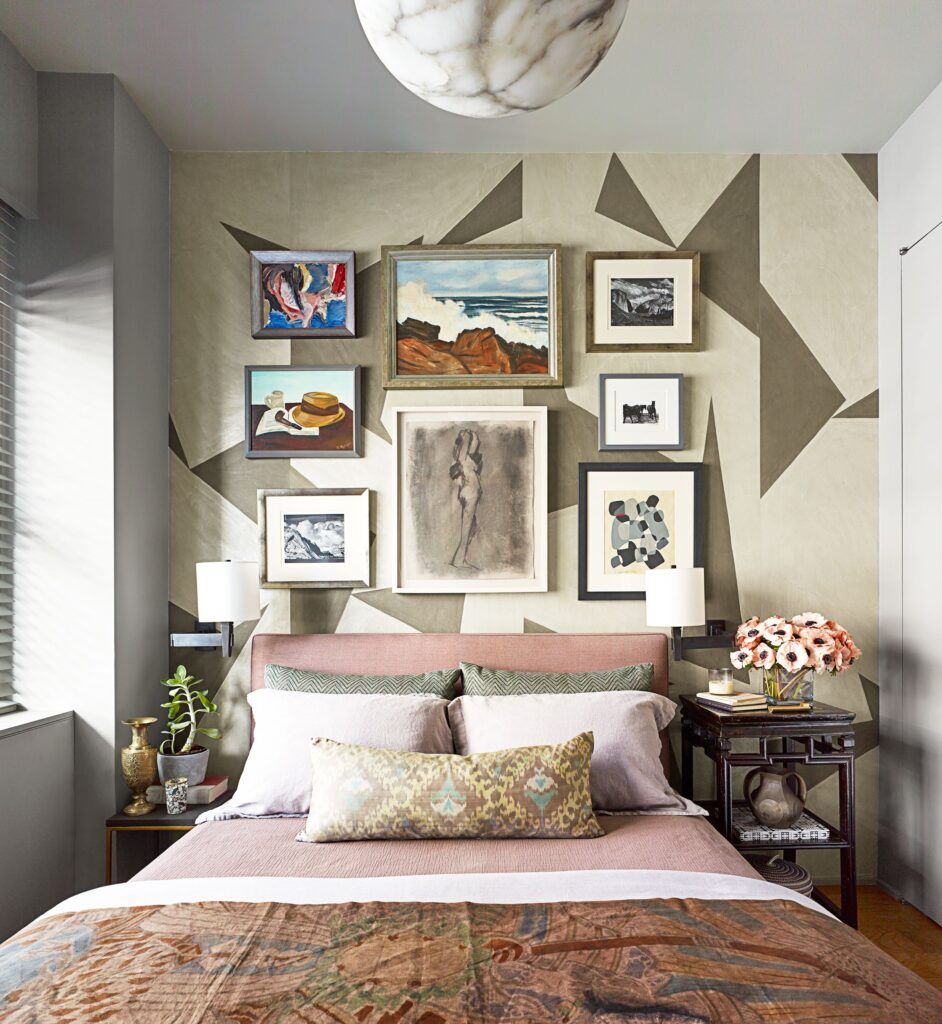 source: pinterest.com
Wallpaper with a design. A great way to change the look of the wall panels inside your home. By using asymmetrical shapes, botanical prints, or geometric patterns, you can make your bedroom feel unique and full of life. Choose a dark, bold wallpaper if your linens and furniture are the same color or are neutral. Choose wallpaper with a simple pattern if the rest of the room is too busy.
WPC wall panel. The WPC fluted wall panels is a man-made interior wall panel that comes in many different colors and patterns. You can make one or two walls stand out by putting WPC wall panels in colors like yellow, blue, or amber on them. On the other walls, you can put up WPC wall panels in neutral colors. These colors are different and unique. For example, cream, beige, white, or gray WPC wall panels for the inside of a building.
Cushions. You can put as many throw pillows as you want on the bed or the recliner in the room to make it cozier and more comfortable. Use colors like mint, orange, yellow, and lilac to add a splash of color. You can also pick throw pillows with different patterns or textures.
Modern nightstands. Whether it's made of wood or metal, a modern nightstand is an important part of a bedroom. It's a great place to keep your most important things, like a water bottle, cell phone, charger, and favorite book. Put a stylish night light on a side table to make the room feel different.
Area rugs. If the floor in your bedroom is tile, composite decking, or wood, put a rug of the right size on top. They add some visual interest and make the room feel warm and cozy. They also come in different styles and materials, so you can choose one that goes with the rest of your bedroom.
Mix and match lighting and art by a designer in the master bedroom
source: pinterest.com
You can make your boring bedroom into an eclectic delight by adding some interesting lighting and a few pieces of abstract art. Use light paint or pink wallpaper on the walls to make the room's decorations stand out. The eclectic design of this bedroom also includes a small study table with a corner for putting on makeup. This takes up less floor space.
A smart color scheme gives the bedroom a colorful look
This bedroom looks very rich and stylish because it has a mix of styles. Darker colors like black and brown are weakened by lighter colors like white and beige. Give your room a lot of character by adding some soft, brightly colored throw pillows, a fur rug, a light blue armchair, and some lively houseplants.
Urban-themed mix-and-match bedroom
You can feel like you live in the city with this small, eclectic bedroom design. One accent wall is made of uneven wood paneling, and the other is a white wall with a large cityscape painting on it. Track lighting draws attention to the room's main features, and two industrial chandeliers show off the room's craftsmanship.
A mix-and-match bedroom from the 1950s with fancy details
source: pinterest.com
The texture is a big part of making an eclectic bedroom design work. The classic black-and-white bed frame and bedding stand out against the cream-colored walls in this large, high-end bedroom. Gold textures here and there, both on the ceiling and on the mirror, add visual interest.
A beautiful accent wall in a stylish, eclectic bedroom
This bedroom is a mix of bold and beautiful styles. Behind the bed, the wall paper has a three-dimensional geometric pattern that gives the room some shape and personality. The black and gray accents in this bedroom look great with the white and beige in the room. The big windows make this small bedroom look bigger and brighter.
A master bedroom with a wide range of furniture
source: pinterest.com
Adding layers of different textures, like in this bedroom, is the easiest way to make a room look eclectic. The most interesting and attractive parts of this bedroom are the brick-textured accent wall and the panel lights on the ceiling. The room feels warm and unique because of the textures of the curtains, the soft bed, and the other things in it.
Overall, there are no hard and fast rules for how to choose the best eclectic bedroom design ideas. So feel free to try out different pieces of furniture, color schemes, WPC wall panels, decorations, etc. in your bedroom. But make sure everything fits together well and nothing looks like too much.