Your master bathroom should be a serene sanctuary. Your guest bathrooms and powder room should be spaces that you are proud to have your visitors use. So how do you upgrade these spaces to make them as stylish and functional as possible? 
Like designing kitchens, bathrooms can be a challenge to perfectly balance aesthetics and functionality. You want these highly used rooms to be practical to allow for tasks to be easily completed. However, they should also look great at the same time. 
These bathroom upgrades can make your space more stylish and functional. From small changes to major bathroom remodeling projects, you can create the space of your dreams. Check out these tips to take your bathrooms to the next level.
Upgrade and Upsize Shower Tiles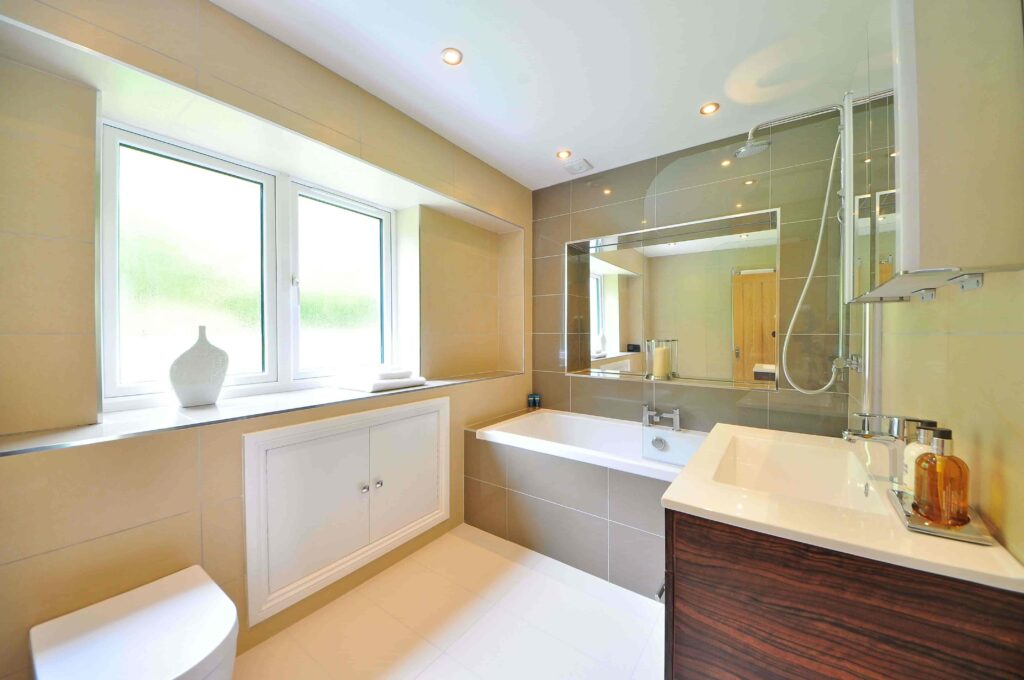 source: pinterest.com
Your shower walls and floors are likely the toughest to clean surfaces in your bathroom. When the shower is used frequently, the tiles see a noticeable build-up of grime and soap scum. Opting for larger tiles can make this task much easier and even less frequent. Being mindful about your grout choice can also give yourself a surface that's easier to keep looking great!
Small or mosaic tiles can be a nightmare to keep clean. With these tiles comes a ton of grout and crevices for dirt to settle in and hide. Larger tiles simply mean less grout and fewer areas for tough grime and stains to set in. 
Large-format tiles are an economical choice that can create the same modern look as marble slab shower walls. Look for 12 by 24 or 24 by 48-inch choices to make a sleek statement. Continue with the same tile on the shower floor for a seamless, clean design. 
When choosing grout, look beyond standard white and consider opting for a color that complements your tile. Grey grout can look stunning with an oversized white subway tile. Pairing a grey tile with black grout can create a sophisticated look. Plus, darker grout equals fewer stains and an easier surface to keep clean. 
Update Bathroom Fixtures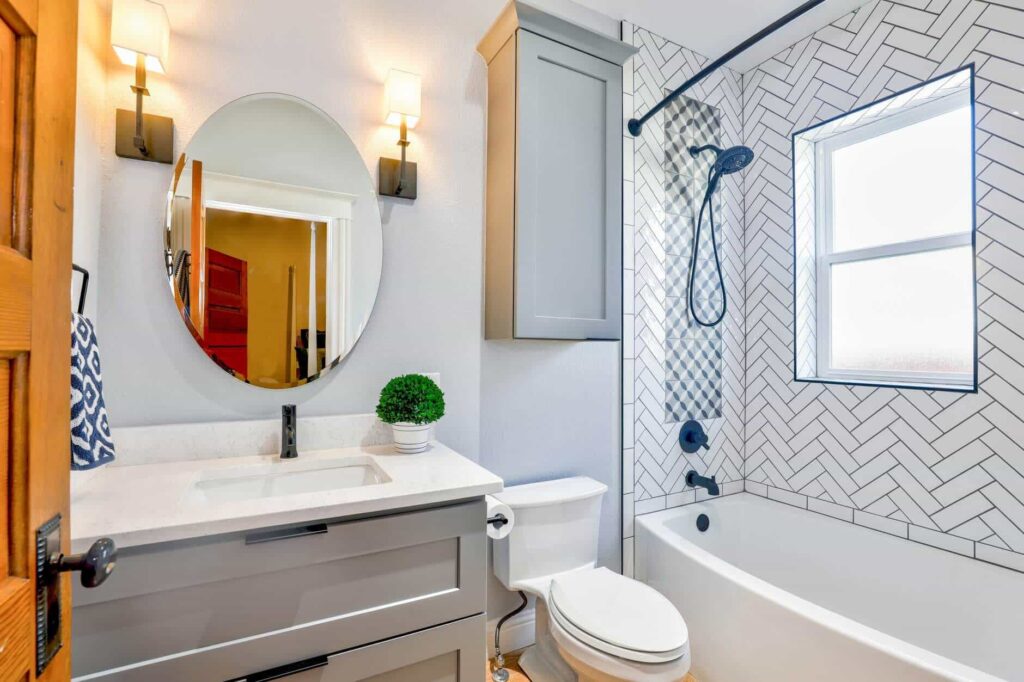 source: pexels.com
Upgrading your bathroom fixtures can be a huge overall or include just a few simple swap-outs. Either way, updating lighting, faucets, and vanity hardware can give your bathroom a whole new look. It can also make it more functional.
Lighting should add both style and function to your bathroom. If you are selecting a light for a bathroom that's used to prep for the day, make sure it's bright enough to apply makeup properly. Whether you go with sconces that flank the mirror or an overhead option, you want to make sure the lighting is natural and diffuses evenly throughout the space. 
In a powder room or half bathroom, you can get a little more creative. Opt for a dimmer light option if you are looking to create a dramatic or formal vibe. You can also choose a vintage or rustic design with Edison bulbs for a warm and welcoming feel. 
A new faucet can also bring new life to a bland bathroom. Dramatic, high neck options make a statement and create more space to wash hands and faces easier. A waterfall style can give your bathroom a more luxurious feel. Sleek styles in gold and matte black can add a touch of glamour.
Look for function when selecting a bathroom faucet as well. Low flow options reduce water usage and are friendly to the environment and your water bill. Hands-free faucets are another awesome choice if reducing germs is a priority for you. 
Adding cabinet hardware can take a simple vanity from drab to fab. Look for sturdy metal choices that will withstand wear and tear and look great over time. And don't worry about matching your faucet, lighting, and cabinet hardware. The mixed metal look can give your bathroom a fun, eclectic vibe.  
Make a Statement with Graphic Tile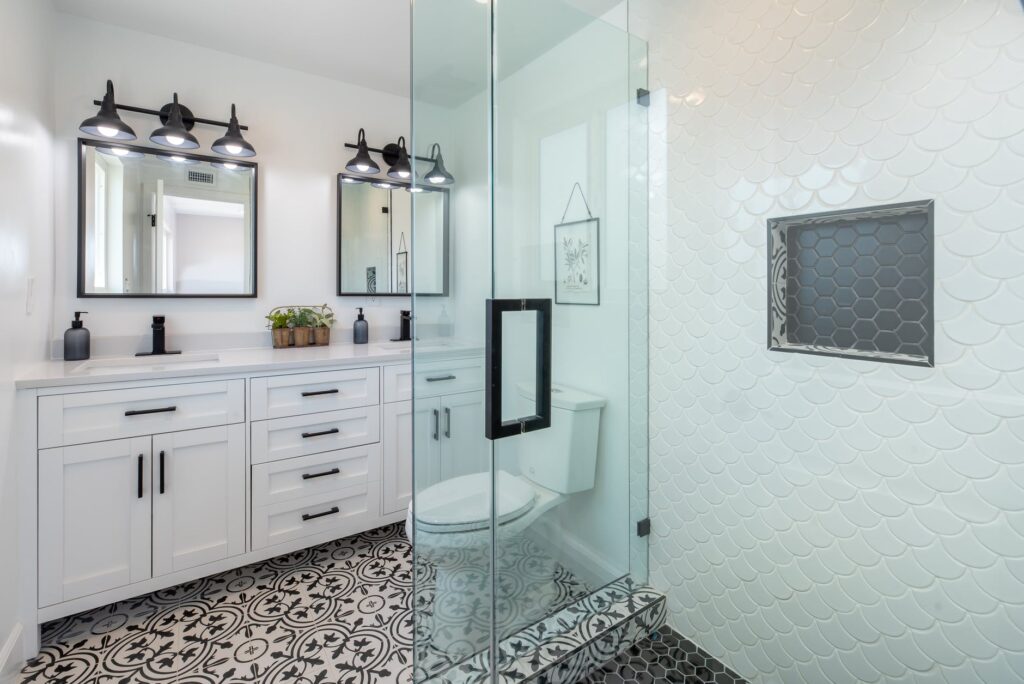 source: pexels.com
Have you had your eye on the fun, graphic tiles that have been trending big recently? Maybe you are scared of the commitment to such a bold statement. However, the bathroom is a perfect opportunity to experiment with these awesome design components.
Graphic tile can be subtle with monochromatic patterns that make a small statement. Or, they can be bold with bright colors and stark contrasting designs. Find one that you love to add to your bathroom for a huge impact. 
Your bathrooms likely have smaller footprints than the other rooms of your home. This makes them a great place to add these statement designs with little commitment. The smaller square footage may also allow you to splurge on a more expensive tile choice. 
A graphic tile can create a stunning bathroom floor. It also looks awesome as a backsplash or an accent wall. Looking for a minimal way to get a big impact? Create a border around your shower with a row of graphic tiles for a fun look for a little investment of time and money.
Ceramic and porcelain tiles can be intimidating for some homeowners. They are heavy, expensive, and not always a good project to take on without a contractor. Hiring a pro can be pricey and the dry time can be frustrating. However, you can get the same look as graphic tile with a lightweight option that you might be able to install yourself.
Peel and stick vinyl tiles are a fraction of the price and come in some pretty awesome patterns. They are lightweight and super easy to install. Plus, they have no dry time. So you can bring new life to your bathroom floor and have a ready to use space in no time at all!
Your Stunning and Functional Bathrooms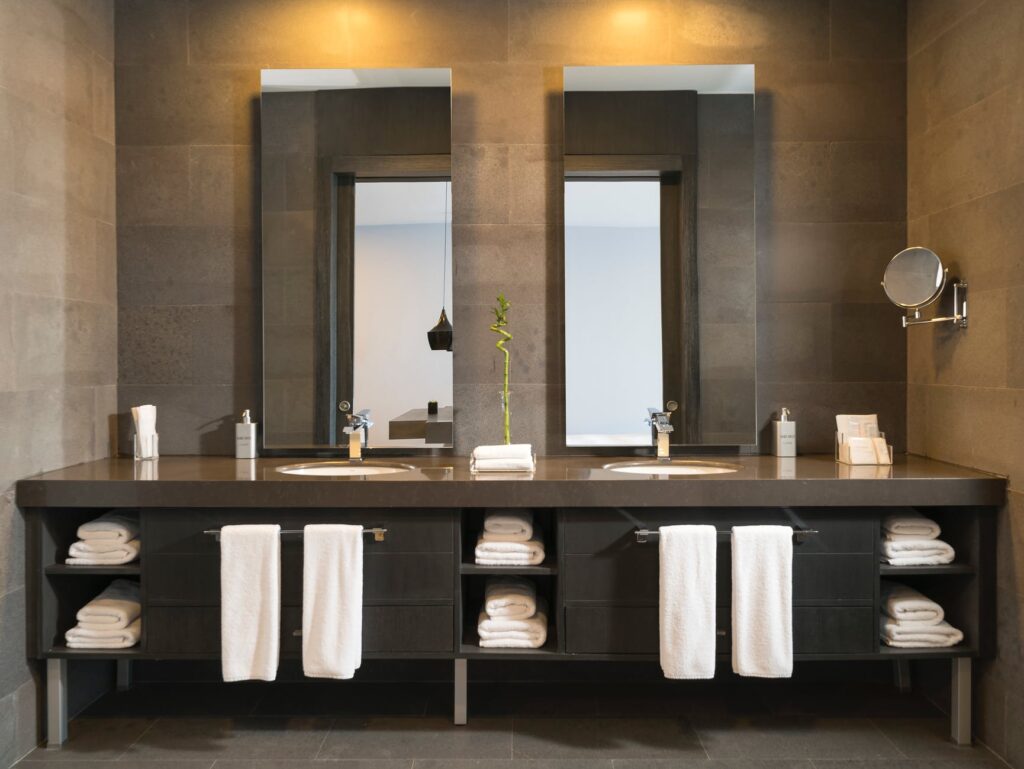 source: pexels.com
Your bathrooms should be a reflection of your style and taste. They should also be designed to be practical and functional. Balancing these two priorities will give you a space that you truly love. 
Use design upgrades to give your bathroom that little extra something. From stylish lighting and faucets to stunning shower and floor tiles, you'll create a look that's sure to impress. Plus, you'll create a space that's easiest to keep clean and allows you to function your best. The right upgrades can perfectly pair form and function to give you the bathroom of your dreams.